BMW is expanding physical logistics at Spartanburg ahead of EV production, whilst implementing more digital and autonomous technology.
BMW production in Spartanburg, South Carolina, is supported by a huge physical logistics operation across multiple logistics centres, warehouse and crossdocks within the plant itself. More than 2,000 BMW associates work in these logistics operations, performing deconsolidation, sequencing, inventory management, packing and line feeding, as well as managing returnable and disposable packaging. The plant's logistics team processes the 34,000 different part numbers used across production in Spartanburg to simplify handling for the plant's multiple body shops and assembly halls.
The variety of parts and packaging across BMW's physical logistics requires a lot of manual handling. However, BMW has consistently invested in digitalising operations in Spartanburg. That has included rolling out a BMW warehouse management system, integrating SAP and other systems to support parts handling and accuracy. In logistics centres, associates wear scanner gloves to validate parts and containers. Inventory is managed across high bay racking, supported by hydrogen-fuelled forklift equipment. There is also automation across lifting and sorting small parts and full pallets.
Over the coming months, there will be a significant increase in the use of autonomous logistics systems. In the body shop logistics areas, BMW has implemented a fleet of more than 50 smart transport robots (STRs) to deliver containers to the line and return empties. The logistics centres for each assembly hall, meanwhile, are also implementing automatic tugger trains and STRs. The plant crossdock, which opened last year, is testing an autonomous hostler to move trailers in its yard.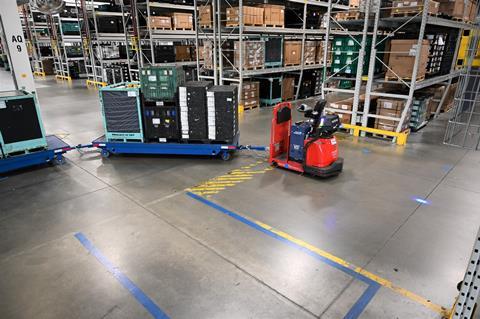 "We are using more autonomous logistics systems to help improve the efficiency and safety of our material handling processes," says Jan Collins, head of warehouse operations at BMW Manufacturing. "We can reallocate associates to other, more value-added operations."
These innovations will be even more significant as the scope and footprint of the plant grows with the arrival of new models and electric vehicles. A new press shop will expand logistics handling, while a forthcoming battery assembly plant in nearby Woodruff will lead to more automated logistics and just-in-sequence deliveries of the battery packs. And for the XNF – the codename for the future electric SUV that will be built at the plant from 2026 – BMW is significantly expanding its logistics centres.
The lay of the logistics land across Spartanburg
Spartanburg's logistics operations are spread wide across the plant. Logistics centre one (LC1) is attached to Hall 50, which is the assembly area for X5, X6, X7, and XM models (currently the largest single assembly hall for BMW globally). LC1 handles around 90 different part families (large groupings of related parts), and carries out a range of material handling, picking and sequencing across just-in-time and just-in-sequence deliveries. LC1 includes an automated full pallet warehouse operation and an automated small parts warehouse. The small parts operation was the first globally at BMW to introduce automation, which is used for loading parts onto carts and then into workstations for automated put away. Associates at LC1 load 6,640 containers per shift, or 2.33 per minute.
Logistics Centre 5 (LC5), meanwhile, serves Hall 52, which assembles X3 and X4 models. LC5 carries out a similar range of logistics operations, and currently handles more than 60 different part families. It currently has slightly less automation than LC1. However, BMW is expanding the assembly hall and logistics areas in Hall 52 for production of the XNF – the BMW codename for the electric vehicle it will build in Spartanburg – which will increase capacity of assembly and eventually make LC5 larger than LC1, according to Jan Collins.
Late in 2022, BMW opened a new warehouse at the plant, Logistics Centre X (LCX), which serves as a crossdock for a wide variety of functions across the plant. Shipments arrive at the crossdock, for example, where they are processed for distribution across the campus. It is also where returnable containers are managed for loops with suppliers. Parts from across North America, Europe and globally move through a container freight station, where they are sorted and deconsolidated for BMW's export warehouse located next to the Greer inland port.
"We are using more autonomous logistics systems to help improve the efficiency and safety of our material handling processes. We can reallocate associates to other, more value-added operations."
-Jan Collins, BMW Manufacturing
In a unique arrangement implemented in collaboration with US Customs and Border Protection, LCX is classified within a free trade zone (FTZ) with capability to process non-FTZ content. The warehouse area is divided by fencing that separates the FTZ content from non-FTZ, with a blue door for entry of only authorised personnel. Parts and goods, both duty-paid and duty-unpaid, enter the warehouse on one side to be separated. The duty-paid material is cross-docked and sent to the inland port, while the duty-unpaid, BMW Manufacturing-owned parts enter the FTZ for temporary storage or onward delivery to production lines.
LCX is currently handling 55-70 trailers per shift, and up to 140 per day. And it is already primed for expansion. One wall at the end was built from metal rather than concrete so that it would be easy to expand its 1m sq.ft area more easily. When fully electric models come into production, for example, LCX will become a central crossdock for common parts across production, consolidating the material and processing it for delivery to assembly lines. "Currently, the common parts are split between LC1 and LC5, but we will centralise them through this facility, and create more efficiencies," Collins says.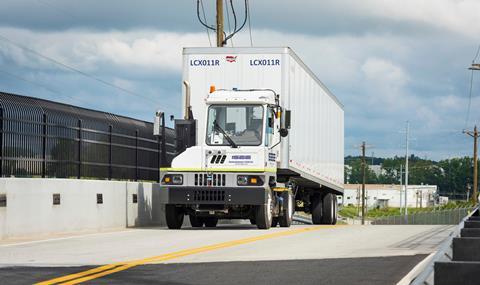 Driverless trailer yards
BMW Manufacturing VP of logistics Oliver Bilstein believes that autonomous logistics will be an important part of keeping BMW's logistics lean and resilient, including STRs, tugger trains and, eventually, trucks. At Spartanburg, BMW is taking steps towards at least partial automation of trucking operations with the trial of autonomous hostlers to move trailers.
BMW has been experimenting with the equipment moving trailers from LCX's docks across private bridges within the Spartanburg campus and delivering parts to another hall. "We have many yard movements thanks to our 'warehouse on wheels' concept, in which truck drivers drop off trailers of material in our bays," says Bilstein. "We currently rely on a logistics provider to then haul those trailers to different docks. Our pilot last year in automating these movements was very successful."
A full rollout of the autonomous hostlers needs further development, but Bilstein and his team are keen to push the technology further. One of the advantages in Spartanburg is that BMW has set up its own private 5G network, which will significantly improve connectivity between devices at the plant, including outside, where internet connections are usually less reliable.
Bilstein said that mobile and internet providers were not able to guarantee the 99.9% reliability that BMW wanted, so the OEM has built the network itself. "When we talk to start-up companies about outdoor, autonomous systems, they are very excited to find out that we have the 5G network, as it helps them to gain more data, faster. It's a real win-win," he says.
Oliver Bilstein will speak at the Automotive Logistics & Supply Chain Global conference in Dearborn, Michigan September 26-28, 2023. Find out more here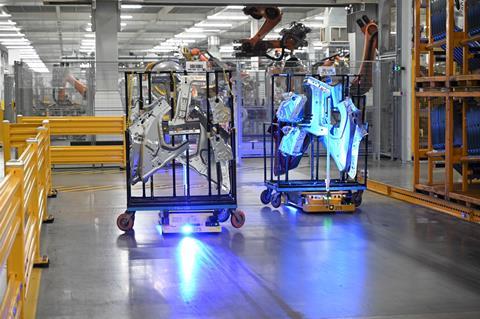 Autonomous body shop logistics
The rise of autonomous logistics systems is one of the most notable developments across the plant's logistics. These systems are most advanced in the body shop, where an automated staging area has been established in the inbound logistics area. Since January this year, BMW has implemented more than 50 smart transport robots, or STRs, to move parts and containers between staging areas and line-side body shop.
Bins of parts come out of the trailers, where human-operated forklifts set them down on special designed handover stations in the staging area. The STRs, which are linked to BMW's production and warehousing SAP systems, receive missions based on part requirements. They automatically move to the relevant parts from staging – which are entered into the warehouse SAP system – to be retrieved and move to various areas of the line when called for.
As the mission is based on parts consumption, there are empty bins at the line, which the assembly worker places in designated areas for the STRs to return to the staging area. Each STR is paired to another, so that as one collects parts and moves to the line, the other STR gets the signal to return empty bins.
The STRs currently complete around 3,500 missions per day across 165 different part numbers in body shop production, according to head of body shop logistics, Marwan Qubti. Automating this process allows the organisation to rebalance its workforce in areas where required, he says. The savings must be significant enough to cover the leasing and maintenance costs of the equipment, however Qubti points to other advantages of the automation.
For example, accuracy levels for parts delivery to the line are higher than for the previous manual process. "Using robots eliminates some of the potential scanning errors that humans make. So, unless something is wrong in the box, what we deliver to the line is exactly what came from the supplier," says Qubti.
The process is also helping BMW to standardise returnable packaging for the body shop. The current part numbers are moved in M1 containers, which cover around 70% of its fleet in the body shop. Qubti says that BMW could use the same equipment to automate the flow of M2 and M3 containers, which would cover 90% of the packaging moving through the body shop.
"Our engineers are now looking at how to eliminate larger packaging above M3, which would mean we entirely automate the movement of parts in the body shop," Qubti says.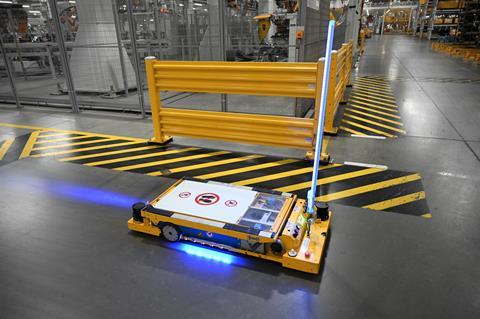 The robots are from idealworks, an autonomous intralogistics specialist founded by BMW. The equipment has GPS and vision technology to help guide them, with an array of sensors to detect persons or objects that may get in the way. The STRs, which are equipped with batteries from BMW's i3 EV, automatically move to charging stations when they fall below certain charge levels. BMW also has its own fleet management system to track and monitor all the missions and movements of the fleet.
The carmaker plans to double the number of STRs in body shop by 2026, says Qubti. BMW is setting up a maintenance area to service the equipment, including hiring dedicated teams in body shop. Close alignment between logistics and manufacturing engineers is also key in expanding the operations, including managing layouts and timings.
"We have to work closely with manufacturing and come to agreements, because in some cases this adds a bit more work on the production line, so we have to make sure it fits with takt times," says Qubti. "However, the overall benefits have been significant."
Ghost riders on the storm
BMW will also add more autonomous logistics in its assembly areas. It started a trial at LC1 this spring to use an autonomous tugger train to return dunnage from containers between the warehouse's sequencing area and the returnable container area. Currently, one associate is driving the tugger train and doing the loading and unloading of dunnage. By the fourth quarter of this year, autonomous tuggers will move back and forth, helping workers to load more frequently. This automation will save time, effort and space.
Over at LC5, a similar trial has been underway with a Seegrid autonomous guided vehicle (AGV) that retrieves dunnage back to the empty container area for processing, making 12 trips per shift across the length of the warehouse. The team in LC5 have affectionately nicknamed the AGV 'Ghost Rider'.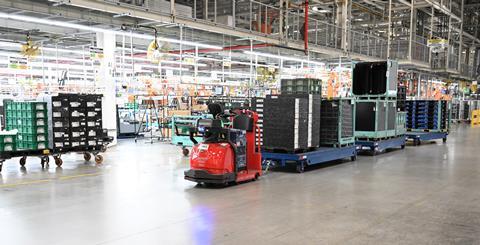 Over the coming months, BMW will bring in more autonomous tugger trains to automate the 'train station' in LC5 – a fleet of tugger trains currently driven by humans that move containers from storage areas to the assembly line. By the fourth quarter, BMW will implement up to five autonomous tugger trains, with plans to ramp up to 40 by the end of 2024, automating the whole fleet.
The new equipment will be more advanced than Ghost Rider – which follows a pre-programmed path – using GPS and vision systems to navigate the warehouse. The equipment is expected to bring significant efficiency gains.
STRs like those in the body shop will also be rolled out in LC5 and Hall 52 assembly by the end of 2023, with further expansion as BMW prepares to produce EVs. Collins and her team have also requested STRs for use at its new crossdock. "The whole of Hall 52 is the priority, but LCX will be next on the list," she says.
For Collins, one of the most important factors has been garnering enthusiasm among workers for autonomous logistics and automation opportunities across plant logistics operations. Ghost Rider served as a proof of concept for automation in LC5, says Collins. Its success, and especially associates' acceptance of the technology, encouraged the rollout of other equipment.
"Along with proofs of concept, it helps that the teams work cross functionally, so that innovations in LC5 are talked about shared in LC1," says Collins. "We encourage this further with 'go to gembas', where we bring teams to see operations in action. It helps get everyone excited."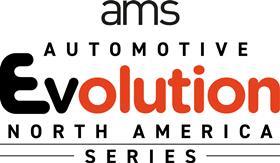 Read more about manufacturing changes for BMW in Spartanburg, including new technology and processes for battery pack production and training for producing high-voltage vehicles, in a special series in Automotive Manufacturing Solutions (AMS), a sister publication to Automotive Logistics. More on BMW Manufacturing here
'Performing while transforming' BMW's logistics in Spartanburg: Special series
1

2

3

4

5

Currently reading

BMW rides the path of logistics automation

6