Capacity constraints are the leading concern for the FVL industry, according to a survey by Automotive Logistics in partnership with Cognosos.
The survey, which received 271 responses globally, asked respondents to rank the three biggest challenges likely to impact their business over the next six months. Almost half (46%) said capacity constraints were the most concerning, followed by labour shortages (32%) and volume volatility (29%).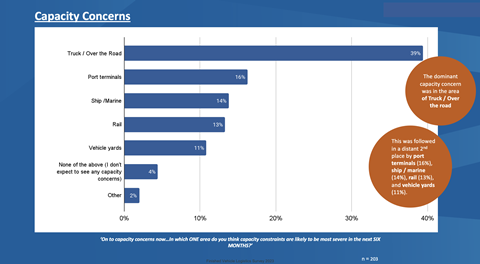 On a global scale, more than a third (39%) of respondents said that truck and road capacity constraints were likely to most severely affect their business in the next six months. In recent months, OEMs such as Stellantis have opened up about capacity concerns and how a shortage of vehicle haulage drivers in the US has been affecting the delivery of finished vehicles.
Rail ranked fourth worldwide (13%) when it came to most severe capacity concerns. In North America, rail capacity has been a particular logistical concern, with carmakers like GM and Hyundai Motor having faced challenges in securing rail allocation.
Several factors have combined to disrupt rail and vehicle logistics, including a decreasing number of rail workers since the pandemic, a lack on investment and imbalances in railcar allocation. Changes in vehicle logistics flows have exacerbated the issue, including a rise in volume from Mexico, and more vehicle imports at west coast ports from Asia, which have required a 'land bridge' by rail to reach other parts of the US.
Jeff Morrison, global purchasing and supply chain vice president, GM, recently told Automotive Logistics that he puts the issue of rail capacity in his top five concerns globally, and said he is ready to take strategic measures to secure long-term logistics capacity.
The full results of the survey will be published on Automotive Logistics' upcoming livestream, taking place on 13th September, in partnership with Cognosos.