The Greek port of Piraeus is to benefit from a supply chain IT system supplied by German systems expert Inform, which will improve operations at the port's car terminal by providing greater operational transparency.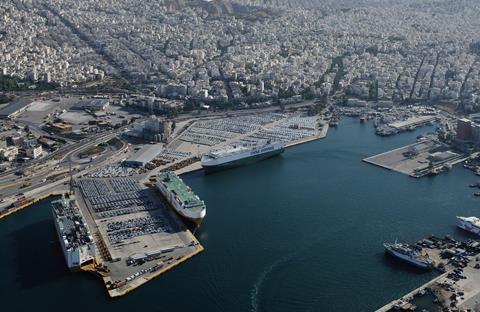 According to the Piraeus Port Authority (PPA), carmakers and logistics providers will be able to track the location and delivery time of each vehicle via a web portal. The system will also be able to optimise operational processes in the vehicle compounds using real-time data and advanced planning.
"Digital decision making for us means both making automated optimised decisions as well as helping our customers' management to make operational and tactical decisions more easily by providing reliable real-time data," said Hartmut Haubrich, director, Vehicle Logistics Systems at Inform. "In the case of PPA, for example, we will automatically generate workorders and optimize the workorders in real-time to ensure that operations are smooth and target dates are met efficiently. In this way, we will increase the service capacity of the terminal, but also the availability and intelligent allocation of storage spaces."
The PPA said the system will enable it to more effectively use available resources and continuously improve vehicle processing. In addition, it will help increase capacity at the port's car terminal, which covers more than 14.5 hectares and has annual capacity to move 600,000 vehicle units annually.
"Under this new cooperation, PPA targets to increase its car terminal's efficiency and competitiveness and to make it more attractive for its customers," said Yu Zeng Gang, board chairman at PPA. "We believe that the vehicle logistics system of Inform can guarantee the successful digital transformation of PPA car terminal."
Piraeus occupies a strategic position for the eastern Mediterranean region and is considered an important transit hub for vehicle trade in the region and more widely between Europe and Asia. Last year throughput at Piraeus decreased by 5.9% because of the reduction in transhipment cargo, though the PPA noted that for the domestic market volumes increased by 3.5%. The 9.4% drop in transhipment cargo was a result of both reduced demand from the main markets in the eastern Mediterranean, in particular Turkey and Egypt, and reduced sales in Europe.
Inform provides IT systems to some of the world's busiest ocean and air ports, as well as to leading carmakers around the globe.