Speakers from GM at last week's Automotive Logistics and Supply Chain Global conference in Detroit, detailed how the carmaker was dealing with disruption and building in resiliency to its network, including through collaboration with its lower tier suppliers.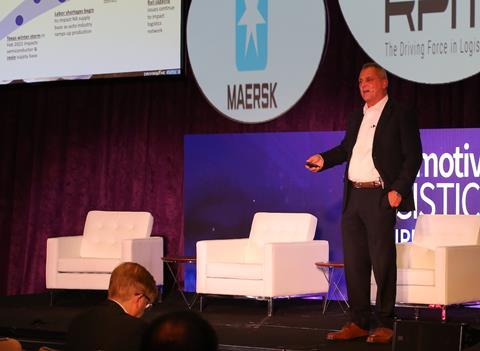 Carmakers are currently watching up to 45% of their annual profitability disappear in dealing with supply chain disruption, while only 6% of them have full visibility of those supply chains, which makes them more vulnerable in interruptions in supply, according to a keynote presentation from General Motors at the recent Automotive Logistics and Supply Chain Global 2022 conference in Detroit.
The problems in the supply chain have grown since the first onset of Covid 19 at the beginning of 2020. Those working in supply chain are currently facing a potential of 200 unique global supply chain disruptions a week and there are no signs of that changing any time soon, said David Leich, executive director of global supply chain at GM (see a full video of his presentation here).
Parts shortages, container congestion and lost labour are just three factors that have combined to almost double lead times for the delivery of both inbound parts and the delivery of finished vehicles, according to Leich.
Fast ships
Parts shortages have hit US car production, resulting in historically low inventory at US dealers. Intercontinental container shipments are still recovering from misalignment and delay, the result of ongoing shutdowns in China and port congestion across the world.
"From a vessel standpoint we see the wrong container at the wrong place at the wrong time," said Leich, who has led supply chain operations, including supplier forecasting and capacity management since January 2020, adding that the carmaker had worked proactively to secure additional capacity, a move it made when Covid first hit China, where it has a lot of suppliers.
"We had a team mapping the progress of Covid in China and as we saw regions shutting down we were anticipating that our vessel pipeline would deplete between China and North America," explained Leich. "So, very early on, we knew that logistics capacity was going to be very important for us. We secured two months' worth of extra logistics capacity all at one time."
That came in the form of smaller, faster vessels that cut the ocean lead time between China and North America.
"We were very proactive in doing that and it worked out very well for us," said Leich. "We were able to keep all of our operations flowing." (Watch an interview with David Leich from GM here.)
Complex crisis
The semiconductor crisis continues to be one of the bigger issues when it comes to the impact of parts shortages on production.
"The semiconductor crisis has been by far the most complex and challenging crisis that the automotive has ever seen and will ever see," said Leich.
He explained that there were a number of factors that made the semiconductor shortage complex. One was that the components are supplied from sub-tier one and two companies and historically carmakers do not have visibility at this level and are therefore blind to the constraints on semiconductor production.
The semiconductor shortage is also a significant cross-industry problem and the automotive sector is competing for supply with a number of other sectors. In fact, automotive only accounts for 10% of overall cross-industry demand.
As noted, that shortage has hit production and the US currently has around 1.3m units of vehicle inventory available compared to the 3-4m it had around two and half years ago. What is more, it has taken 15 months to grow inventory from the low of 1m units last year.
"We are a long way away from getting back to what we would call normal inventory levels," said Leich.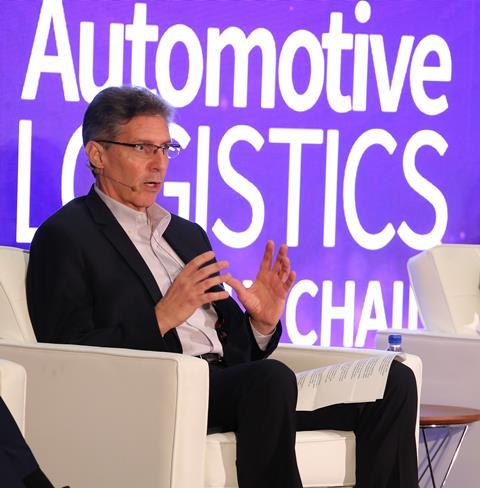 Supply chain strain
He continued to say that supply is decoupled from demand because inventories are so low that all carmakers will be working at maximum production for the next few years to rebuild inventory. Though he added that it would probably not return to the highs of 4m, given the lean lessons that have been learned over the last two years. However, that emphasis on maxing out production will put more stress and strain on the supply chain and logistics network, said Leich.
Dealing with that strain is going to continue to cost GM as it will wider industry. Given GM's annual profitability is usually between $12-14 billion, a 45% loss to solving supply chain issues is a sizeable expenditure but it still beats lost production.
"From a GM business case standpoint logistics is very expensive but losing EBIT and revenue from lost production far outweighs the logistics cost," said Leich. "We really don't want logistics to impact our production."
As well as spending on solving the logistics pressures, Edgard Pezzo, executive director of global logistics and containerization at GM, said the carmaker had been working since the start of Covid to make its logistics function more resilient. That is achieved through cross-functional teams internal to GM, as well as increased partnerships with logistics service providers. The carmaker has also invested more in end-to-end visibility in the supply chain and is refining its data analytics to predict where problems are likely to arrive. (Watch the panel discussion at the event featuring Edgard Pezzo here.)
"We've learned how to be more flexible and dynamic in managing surprises and crises," said Pezzo. "In dealing with the pandemic we've changed transport modes or ports. We have learned to gather information [with our providers] to adapt and protect plants from disruption."
(Read an exclusive interview with GM's Edgard Pezzo here.)
Talking to tier N
To deal with the semiconductor shortage GM has been working to include direct communication with suppliers at the tier N level. That was a process that started six years ago when GM developed a visibility and mapping tool to get full transparency across its tier one and two suppliers.
"We have a system where we get global real time alerts to potential disruptive events," explained Liech. "It bounces against this visibility tool and within minutes we can see what exposure GM might have at the tier one or tier two level."
The system is linked to GM's bill of materials (BOM) and the carmaker can quickly see which part and which plants are affected by the disruption.
However, that tool became redundant when the semiconductor shortage hit so GM went a step further and mapped out its tier N suppliers.
"We fully mapped our entire semiconductor supply chain for all electronic modules," said Leich. "The benefits have bene absolutely phenomenal."
He said the process has allowed GM to engage fully with the sub-tier suppliers to head off supply problems.
"We get everyone on [the phone] and talk about where the constraint is and what we need to do collectively," added Liech. It's amazing what solutions get generated as you have those relationships built down through the sub tiers.
That has led to commercial engagements between GM and the semiconductor manufacturers, which allows GM to have an influence at that tier level. In turn, the manufacturers are invited to GM business meetings and form teams, which has never been done before with sub tier suppliers.
"They see our production forecast, they understand what GM's vision is and what our new launches are, and what are our long-term demands," said Leich. "It has been fascinating and we are going to do that across our other commodities."
GM has a cross-function team dedicated to making its logistics and supply more resilient through integration like this, according to Pezzo.
GM has also learned where it makes sense to build inventory of critical parts, rather than adhering too rigorously to lean principles.
"Lean was the word used previously, but through Covid we learned to work with finance to increase some inventory in critical parts," said Pezzo. "We have done some of that now and it works as a good insurance policy."
GM has been increasing inventory since end of last year in an effort to rebalance stocks but also to avoid having to resort to costly airfreight services, which would only add to the already high costs of making its logistics network more resilient.

Videos and interviews from the 2022 Automotive Logistics and Supply Chain Global Conference, which was held September 20-22, 2022 in Detroit, are available to view in full to registered users of Automotive Logistics.Watch all videos here