Lisa Kline was appointed as vice president of vehicle planning and logistics for Subaru of America in April, having climbed the ranks of the carmaker for the past eight years. She talks to Automotive Logistics about how she will lead the carmaker's logistics team to more success through a balanced logistics and distribution network design, and through the power of saying 'yes' as Subaru's "north star" to customers and long-standing logistics partners.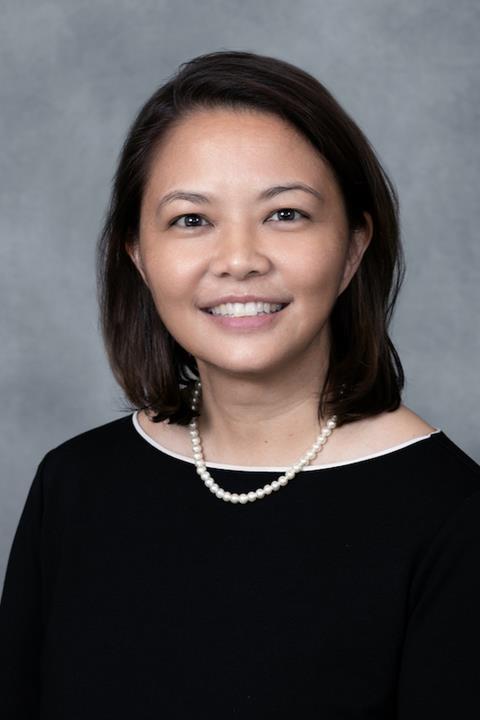 Kline began her time at Subaru as its zone retailer development manager, moving up to zone director in 2019, and now has taken the reigns from Matt Ritter, who is now vice president of the eastern region for the carmaker. Having worked "in the field", she has first-hand experience of how strong relationships can nurture the automotive supply chain – which is why she is leading the logistics team to elevate long-standing partnerships.
Stability is the name of the game at Subaru of America. Kline tells Automotive Logistics how she will lead her team without disrupting the norm. Here she discusses her role in keeping clients, logistics partners and staff feeling secure, while balancing the company's imports, production for the domestic market and exports across the country, and utilising various shipping modes.
Nurturing and developing partnerships
Kline has taken on the role during a changing of executive leadership. At the same time as she was appointed, Tadashi Yoshida stepped into the chairman and CEO position at the carmaker, Jeff Walters assumed the role of president and COO, and Thomas Doll stepped down to become corporate advisor. Speaking to Automotive Logistics early in her tenure, Kline says that taking on the role following a few years of turmoil in the wider industry is difficult, but she plans to build upon the work her predecessors started. "I see this change in leadership as an extension of the work that Tom Doll and Jeff Walters started," she says, as she moves Subaru forward to achieve more volume production, more sustainability and more diversity and inclusion.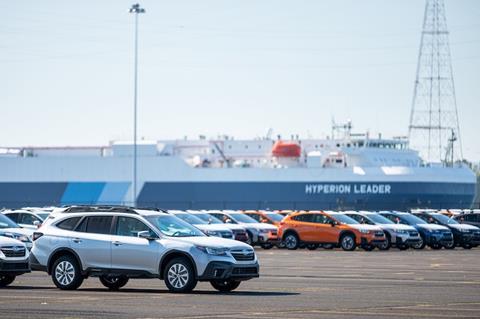 Subaru has a goal of 630,000 new vehicle sales for the year, which seems very achievable, given that the carmaker's sales to date hit 467,223 by the end of September, a 23% increase on the same month in 2022 and year-to-date rise of 16.5%. The company is pacing 675,000 units in annual volume currently, with a relatively even split between imports and vehicles produced in the US. Subaru has recovered steadily since the industry-wide impacts of the pandemic and the semiconductor shortage and has been tracking ahead of the overall market in its recovery.
Despite the pace of volume growth, Subaru appears to be facing fewer of the capacity and service constraints that have hampered carmakers across North America, including significant challenges in rail lead times, which had led some OEMs to meet earlier this year with the Surface Transportation Board, an independent regulator. OEMs have also faced shortages in ocean ro-ro shipping capacity. Subaru's stability is especially notable even though Subaru's logistics network features multiple ports of entry in the Pacific northwest, where a lack of ro-ro capacity had led more OEMs to use these ports and then ship by rail across the country in a so-called 'land bridge'.
Kline says one of the main reasons for this relates to the carmaker's long-term relationships with its suppliers and logistics providers, and the ethos of the Subaru Love Promise that extends across the supply chain and production. "It's through our long-standing partnerships within our logistical network," she explains. "Subaru is fortunate to have the support of these long-standing business partners who have remained steadfast in helping us deliver as many vehicles as possible."
Thanks to these nurtured relationships, there is a lot of trust, transparency and communication. Kline says this meant the company was able to weather adjustments in the supply chain's infrastructure – for example, exploring alternative intercontinental transportation modes. Subaru's logistical partners have been "highly responsive and willing and able to pivot where needed and support us when business conditions required them to pivot or evolve". She says this applied during the crises in recent years, and also now as the carmaker moves back into a state of growth. Kline says she also doesn't need to implement any alternative domestic shipping methods, being relatively unaffected by land bridge issues. However, she says the carmaker will continue to study the shipping landscape should any challenges arise in the future.
"I can frankly say that we haven't been in a position to need to strongly renegotiate anything, because they value our partnership just the same as we value theirs," she says. "In the short time that I've been in this department, I've had more outreach from our business partners, because they want to ensure that I have confidence in the fact that they will continue to deliver on what they have historically done."
Kline says the company's rail partners remain "steadfast in their service levels" to Subaru. In fact, she says their rail partners have "come to the table with more capacity and more equity" depending on where in North America they are operating.
A coast-to-coast balance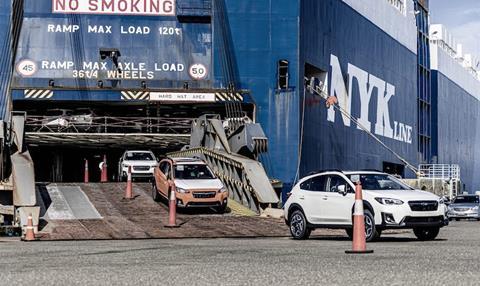 Subaru's vehicle logistics and distribution network design is one factor that likely supports its stable and reliable operations. Out of the OEM's yearly volume of roughly 675,000, 337,000 are imports and 338,000 are produced domestically at the carmaker's plant in Lafayette, Indiana, run by Subaru of Indiana Automotive, Inc. (SIA). The carmaker's import ports are evenly spread throughout the country, for example, helping it to balance distribution flows. It exports around 50,000 units out of Indiana per year and serves 639 retailers across the US.
Subaru also has an almost 50/50 split across rail and road shipping, with 52% of vehicles shipped by railway and 48% in truck volume. "It's very unique that those volumes are so close to one another right now," says Kline.
Sizing up the competition
Although Subaru is not the largest OEM in the US, in terms of production volumes and footprint, it doesn't shy away from the competition. In fact, Kline sees its size as an advantage. "It allows Subaru to be nimble when needed." She says that it also helps the carmaker to maintain its close-knit relationships with partners. "When we've had to pivot and be more agile, that hasn't resulted in dire circumstances. I think [Subaru's scale] works to our advantage. If we're not the biggest player, that allows us to negotiate and stay consistent with our business partnerships."
Instead of focusing on size, Subaru focuses instead on meeting deliveries with accuracy. Rather than focus on shifting vehicles at the end of a quarter to meet or beat sales goals, Subaru has a well-planned, stable logistics flow, following the principle of heijunka – Japanese for levelling – to even out distribution flows. Through its planning and allocation system, the carmaker keeps production and therefore logistics steady and consistent.
"When we allocate cars, we want to guarantee the best accuracy of arrivals and deliveries to our retailers and ultimately our customers," she says. Subaru's production planning and allocation system, which Kline says "has withstood the test of delivering equity in the best way possible" helps keep its retailers in the loop with up-to-date information about deliveries, so each location can plan accordingly. The result is that Subaru and its retailers have long grown more accustomed to operating in a relatively low inventory environment. Having started at Subaru as its zone retailer development manager before moving up to zone director in 2019, Kline knows first-hand how integral the planning system is on the ground, as she worked directly with Subaru retailers to find the right balance of vehicle inventory.
"Our vehicle planning and allocation system withstands variances, either in the marketplace or in business conditions overall," she says, adding that there is always going to be someone who feels a process doesn't fit what they expected, especially when used to other OEMs churning out more cars at the end of a quarter. But Kline "stands firm" in her confidence in the system. "Even in conversations with a retailer who felt that way, once you go through the explanation of how we allocate cars and what our planning system is, there is never a need to explain any further."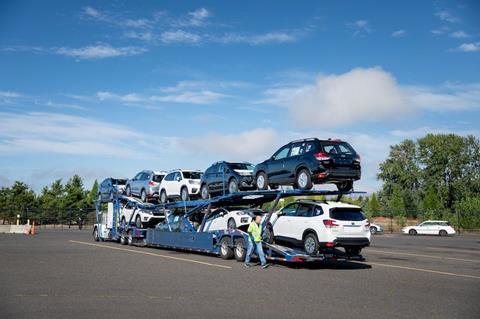 Like every other manufacturer, the company was affected by the pandemic and other supply chain and labour challenges. Using a traffic light system to measure how the carmaker was meeting delivery time goals and quality, Kline says that from 2020 to 2021, Subaru was a yellow. "I think our retailers understood what the conditions were, and we were able to pivot through our business partners to make sure that ultimately the consumer got their vehicle in a timely fashion," she says.
Kline says that even following the pandemic, this system has remained steady – mainly because the 'new normal' for many OEMs since the pandemic of built-to-order vehicles and low inventory has long been Subaru's normal. "Subaru pre-pandemic already maintained relatively low days supply," she says. "It becomes more of a demand system, instead of a push system, when allocating vehicles. Because we lived in a world where everything was pretty much limited over the last couple of years, sold orders helped us navigate those times more effectively. It was a scenario where it was an equitable way for all retailers to participate and be able to meet their market demand."
She adds: "If you're talking current times right now, [logistics performance] is probably in the green. Are we immune to logistical hiccups here and there? Well, nobody is. But I think the confidence that we have throughout our network, as well as amongst our retailers, helps us to deliver the end result to our customers."
Don't fix what isn't broken
In August, Subaru expanded its partnership with supply chain management solutions provider Kinaxis to improve its demand forecasting, optimise inventory and increase operational efficiency. The cloud-based platform combines artificial intelligence with human intelligence, helping monitor risks and opportunities within the supply chain.
In keeping with its habit of nurturing existing relationships, the Japanese OEM was already using Kinaxis for accessory and service parts planning before expanding its use across the global supply chain.
While keen to plan for the future, Kline says that she is not actively looking to integrate any other technologies or systems into the business. "It's not something that's front and centre," she says, "but we definitely evaluate how to mould our business models to make sure that we're as efficient as possible."
Similarly, Kline says it is "not on her radar" currently to look to collaborate logistically with other OEMs. Instead, the company's divisions and plants are relying on and collaborating closely with each other. She says that the plant, run by SIA, the carmaker's only North American production base, helps Subaru of America plan for the future.
SIA has had a sharp growth in production over the last few years, and Kline says that reinvestment into the plant facilities there have been ongoing. Subaru Yard Operations (SYO), which is adjacent to the SIA plant, acts as one of the company's port locations – including approximately 50,000 exports from the facility heading to Canada and other countries. Because of this, SYO has been able to expand its operations to keep pace with the incremental growth that SIA has experienced and additional production capacities that they deliver on – without needing to make adjustments to its partnerships.
Kline doesn't intend to make any radical changes in her new position. "With the way Subaru runs our business, I wouldn't say that anything radical would be necessary," she says. "We live the Subaru 'Love Promise', but us being able to deliver cars to our retailers, and ultimately our customers, is the first promise in that process."
And it doesn't just apply to how the company treats its customers and partners; Kline plans to also use the pledge to drive sales and enhance deliveries. "It helps us focus our competitive efforts at the same time," she says. "With our vehicle production gradually stabilising, we can resume our sales plan efforts and continue to work towards our goal for this calendar year of 630,000-plus new vehicle sales. It will also help us envision what our additional potential is, beyond 2023."
Retaining talent with the Subaru Love Promise
With labour shortages affecting most of the industry, it's become an increasing challenge to gain and retain talent in logistics, particularly with drivers and carriers.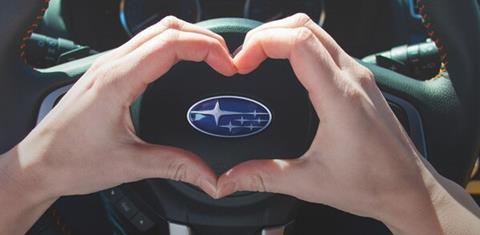 "I don't think I've heard of one instance where a truck driver would not go the extra mile if they have just received a little bit of kindness," Kline says. "It matters." She says that a recent effort by the team at Subaru Yard Operations (SYO) and their other port locations was to honour National Truck Driver Appreciation Week, from 10th to 16th September. "We chose to recognise a key component of our logistical network, as we can't survive without our truck drivers," Kline says. Subaru gave each driver gifts and thanked them for their hard work. "These small ways we've found to recognise our truck drivers leaves a lasting impact," she says.
She adds that she received feedback from a truck carrier that said: "This is the first time I recall an OEM taking part in this for our drivers. Your participation means a lot to our organisation."
Kline says: "We're not just here to sell and move cars, we're here to make an impact, and if we can make an impact with this part of our network, it means a lot."
Making 'yes' a guiding principle
Kline says she will focus on extending the work of her colleagues before her, but she also wants to further improve the company's sustainability, and diversity and inclusion.
"The greatest need is for everyone to be EV ready, which means improvements are being made across the board," she says. "Balancing these efforts for EV and returning to pre-pandemic capacities is equally as important. As our production volumes progressively stabilise, we need both of those to be balanced out."
She says Subaru's current distribution network can scale for its transition to moving more EVs and is currently in discussions to make sure regulations such as the CARB and ACC2 (California Air Resources Board Advanced Clean Cars II) are being met and any possible adjustments needed to the logistics network are made. "But we're fortunate that our current distribution network has been able to scale for the transition and will be there to support us going forward," she says.
As far as diversity and inclusion, Kline says the company takes pride in how diverse it is. Within the logistical network's eight port locations, she says half of the leadership team has a diverse background. "Our diversity efforts are an extension of living our Subaru Love Promise and needs to be grounded in that," she says, "not only with our own associates, but with each of our business partners."
As she begins her tenure, Kline is using a positive attitude to satisfy the carmaker's partners and customers. "Our team is fully dedicated to making 'yes' our North Star, it's our guiding principle," Kline says. "Delivering on that promise every day is what drives us as a department."