OEMs are on a race to achieve supply chain sustainability goals over the next two decades, but Volvo Cars may be miles ahead. Head of inbound logistics and packaging Sean Bricknell explains how sustainability in logistics has moved beyond pilot to become a way of working at Volvo.
Volvo Cars has for years been at the forefront of supply chain sustainability ambitions. The Swedish carmaker was one of just 11 original carmaker signatories at the COP26 climate conference and has been setting strong targets since then. It has already committed to make its manufacturing plants climate neutral by 2025; plants in Sweden and Belgium already run on hydropower, whilst its upcoming plant in Slovakia will also run on renewable energy. The carmaker continues to transition overseas plants, including in China, where its Chengdu plant has been carbon neutral since 2020.
The OEM has also set strong targets in the supply chain, including a goal to reduce emissions produced across a vehicle's lifecycle – including operations and logistics – by 40% between 2018 and 2025. The company has also been upfront about the emissions that need to be offset to make electric vehicle and battery production truly sustainable and has set a mission to do so just for its EV supply chain, aiming to reduce emissions from the supply chain by 25% by 2025.
"I want to share with my competitors about what we're doing to make it easier for them to do too" – Sean Bricknell, Volvo Cars
Meanwhile, the OEM has been evaluating the sustainability of all its operations and logistics, putting in place measures to reduce emissions and waste from manufacturing to its shipping and fuel use. It has been a pioneer in the use of renewable biogas and hydrotreated vegetable oil (HVO) biofuels at scale for trucking in Sweden, for example. Recently, it made a bold move to shift its global container shipping freight to biofuels as well. It's even part of project Orcelle Wind, which is developing the world's first wind-powered deepsea ro-ro vessel, which aims to set sail in 2027.
Now, after testing a wide variety of sustainable solutions in its inbound logistics and packaging and putting more into action, the OEM is ready to be more vocal about where it is ready to lead in sustainable logistics – and where it wants its competitors to join in.
Challenging competitors
Sean Bricknell, who joined Volvo Cars just over two years ago as head of global inbound logistics and packaging, believes it is the carmaker's responsibility to not only be a leader in sustainability, but to challenge competitors to lower environmental impact. Having previously worked at a much larger OEM, he thinks that if a smaller OEM like Volvo can do it, anyone can, and everyone should.
"We want to challenge our competitors," he says. "In terms of volumes, we're not the largest brand, and we're not going to change the world on our own. We need the industry to change, and we're showing the industry that you can do it and that people want it."
And it's not just Bricknell that thinks this. When talking about Volvo becoming the first OEM to switch all intercontinental container shipments to more sustainable fuels, Javier Varela, the carmaker's chief operating officer and deputy CEO, said that Volvo "doesn't see the initiative as a competitive advantage". Varela said: "On the contrary, we want to spark other carmakers into action as well, to increase demand for carbon-efficient ocean transports and to establish renewable fuels as a mid-term solution that works. We all have a responsibility to act."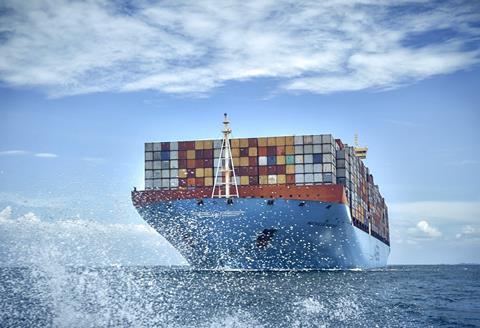 Volvo, in partnership with Maersk, Kuehne+Nagel and DB Schenker, now has around 90% of all its ocean container freight running on biofuel, and Bricknell says the carmaker is aiming to up this to 100% by the end of the year. He says: "We know this is not a long-term solution, but it's sending a message to our shipping lines that we're prepared to invest, we're prepared to work with you. It's sending a message to our customers, our suppliers and our competition, that we're changing, and we want you to be part of that change."
In Sweden, Bricknell says all of Volvo's less-than-truckload shipments and local sequence trucking are running on renewable biogas or HVO biofuels. "We're doing this for every movement, every truck," he says. "We've been doing this for the last three years. It's not just a pilot, it's a way of working. And the majority of our FTL [full truckload] trucking within Sweden follows suit this summer."
Bricknell said that the shifting importance of sustainability intergenerationally will also play a significant role in making the industry greener – and Volvo is listening to the younger generation. "We recently had a university intern conduct a feasibility study for inbound logistics and packaging to become CO2 neutral by 2040. When presenting the results he said to us: 'Most of you didn't grow up with such a high importance on sustainability, but it's a priority for the younger generations.' He said that being sustainable could be a competitive advantage, but he actually sees it as the opposite, where the younger generation will punish those companies that have neglected sustainability and not shown their initiative. Nobody can afford that."
He adds that sharing is caring when it comes to sustainable solutions. "I think we've got to help each other," he says. "I want to share with my competitors about what we're doing to make it easier for them to do too. The more we all share, the more we all do it and the more affordable it becomes for all of us. We really want to try and get that snowball effect going. We know we have a long way to go to deliver on our ambitions, with higher production volumes comes higher transport needs, and we can't allow CO2 to follow that trend like it has in the past."
Rectifying rounding errors
As well as making big steps with its suppliers and with competitors, Bricknell also acknowledges that the key to sustainability in logistics is also in the detail. For example, an almost-instant win is to address rounding that is common in part orders and packaging.
"If you go into a plant and pick up a random box of parts and look at what the unit load is, the number very often ends with a zero or a five," he explains, "Because human nature is to round it out, you could have a box with 25 parts that could actually have 27 or 28 in there."
He says that the Volvo team are working on this now and hope to see small changes make big reductions in emissions as a result. "If you're adding 10% more into a box, you'll get a 10% reduction in the number of boxes, which could mean a 10% reduction in the number of trucks, meaning a 10% reduction in your CO2. So, this is a big win."
While the fix is simple in theory, it is time-consuming in practice. "There are many thousands of part numbers that you've got to look through, and even then, it's not just about going in and changing it from 25 parts to 27 parts on a system," he explains.
Instead, Volvo must change every packaging instruction for every part, and then test to ensure that adding more parts into a box won't damage them or impact quality. The changes then need to be negotiated with the suppliers and agreed. "If you don't actively try to do it, it doesn't just happen. So that's what we've been working on recently, really trying to break it all down, because there is no silver bullet."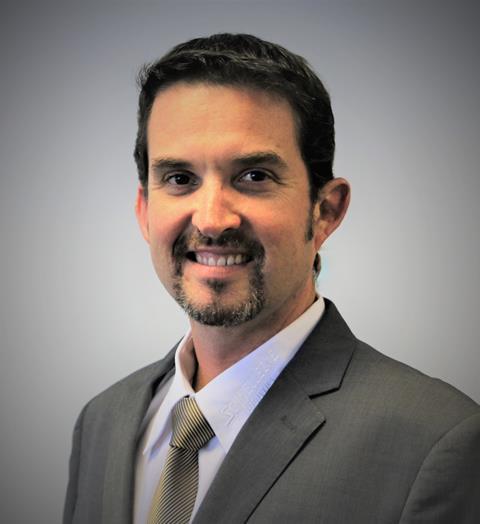 Sean Bricknell has led global inbound logistics and packaging at Volvo Cars since 2021, responsible for engineering and operations across both functions for Volvo Cars production in Europe, Asia and the US. He is also playing a key role in the carmaker's global supply chain management transformation, including for digitalisation, sustainability and electrification. Prior to joining Volvo Cars, Bricknell was new business development manager for BLG Logistics in South Africa, having previously worked in various leadership positions at Schnellecke Logistics. He spent 18 years at General Motors in a range of logistics roles in engineering, planning and management in South Africa, Asia Pacific and North America.
Designing parts and networks for logistics
A major impact in the supply chain would of course be to reduce logistics and shipping distances, for example through greater sourcing and manufacturing localisation.
Whilst Volvo is looking at sourcing parts from closer suppliers ­– and has made important investments in localised supply including in a joint venture battery cell factory in Gothenburg with Northvolt, and in establishing a foundry to gigacast aluminium parts ­– it is not feasible for Volvo to localise all suppliers nearby.
For logistics, however, Volvo still has the potential to reduce emissions and waste across the supply chain without direct localisation. As an example, he says the team has done a tremendous job lane by lane to increase the filling degree in full trailers and containers by several percentage points, which directly translates into lower CO2. But he says that Volvo's logistics team is not limiting itself to the prerequisites given to it by engineering, for example. Instead, the logistics wants to influence engineering and design.
For example, one of the most important measures can be to influence the design of parts in ways that make them easier to move. Bricknell says that Volvo has put together a team of people that work with the design, engineering, manufacturing and procurement teams to investigate this. "Some parts are just horrible to move, and we know what those parts are, so we've identified these commodity lists and we're looking to see if we could possibly design or assemble it in a different way," he says. "Maybe it comes in two pieces instead of one, or maybe you could fold it and then double your density per cubic metre."
He adds: "And of course, we've got logistics engineering teams that are always looking at the most effective way and shortest distance to create the best networks."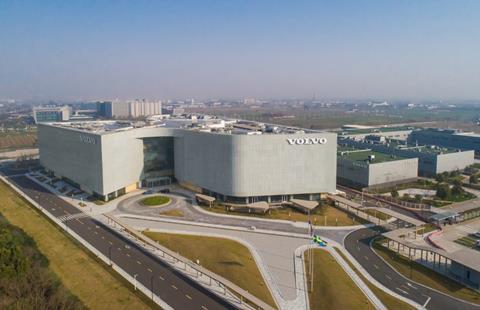 This includes taking advantage of multimodal offerings, especially increasing the use of rail freight in Europe to move parts and materials. As part of this, Volvo introduced rail as the main transport mode for volumes coming from the carmaker's Eastern Europe Crossdock, located in Prague, towards Sweden a few years ago, which has been followed by further projects to increase the share of rail in the overall network. Volvo also uses short-sea shipping with ro-ro vessels taking truck trailers between Sweden and Belgium, UK to Sweden and Poland to Sweden.
In China, Bricknell says that the carmaker already uses short sea to move parts from Shanghai to its plant in the north of the country. To move parts in and out of the Volvo plant in Chengdu plant, located inland in Sichuan Province, the OEM uses barges on the Yangtze River, and is in negotiations to use rail as its last mile transport. Volvo is pushing to increase rail freight across other parts of China as well. The barges in China normally run on diesel, but Volvo has started to shift gradually into liquified natural gas (LNG). The OEM says this can reduce emissions by more than 20%, and introduced two LNG-fueled barges into the network this spring with additional ones planned for the end of the year. Volvo is also evaluating if electric barges can be an option for this route.
Partnerships in new technologies and trials
While Bricknell believes that the industry needs to be open to cooperating on this issue, it's an extremely competitive sector and partnerships don't always come naturally. He says Volvo has been taking the time to encourage trust in strategic relationships.
"I think a lot of our logistics partners are willing to invest, but it's really difficult for them to throw a whole chunk of money at something if there is no guarantee that their customers will buy into it. This is where we are putting in a lot of effort," he says.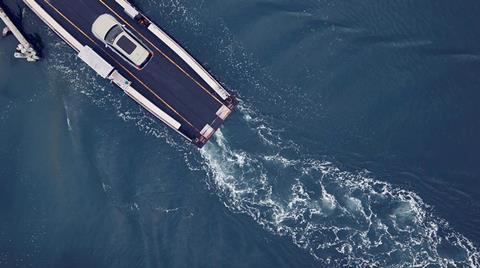 Volvo has partnered with Danish shipping line DFDS to test the logistics and effectiveness of electric trucks, for example. DFDS, which recently invested in 150 electric trucks, is now running trials with Volvo at the OEM's Ghent plant in Belgium and its Swedish facility in Gothenburg. Bricknell says that the companies first trialled the trucks as short-distance shuttles, but found that they actually get used most effectively when driving for a medium distance. By conducting trials such as these, he says Volvo can learn the best ways to use these future technologies at scale.
Of course, for electric trucks to work on a large scale, there needs to be sufficient charging infrastructure. Bricknell says Volvo is tackling this problem by starting with the basics, by trying to figure out "where the buck stops".
"We're looking at how you put a commercial agreement together for that," says Bricknell. "Today, trucking companies put fuel in their trucks and it's included in their price, but if they're going to be parked at our plant and charging on our electricity, you have to look at different commercial structures."
In China, the OEM is trying to solve the issue of charging infrastructure for electric trucks a different way, including battery swaps. Much like swapping out dead batteries from a remote control, this solution could see electric trucks have batteries swapped out (by crane) with fully charged ones at a facility. Rather than having to carry out a heavy charge that could take a truck off the road for hours, a battery swap could be done at a facility in under ten minutes. Volvo is working with an undisclosed partner on this and is currently trialling six trucks with this potential solution.
Watch: Volvo's Sean Bricknell and Audi's Dieter Braun debate the competitive advantage of supply chain management
Both Bricknell and the wider Volvo team know there is still a long road ahead, but they are hopeful that by implementing changes and sharing with competitors that they will make an impactful change overall. "We're proud of what we're doing, but we know we have got such a long way to go, and we know that we aren't the leaders everywhere," Bricknell says. "We know that our competitors are doing other things with other technologies. We want to learn about it. Historically, we as automotive companies have been secretive and protective about what we do. But I think for this subject, we should loosen up a little bit and share ideas."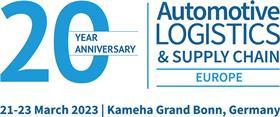 Volvo Cars will be speaking at out ALSC Europe event in Bonn, Germany from 19-21st March 2024.