A bid between 11 parties including Wallenius Wilhelmsen and Volvo Cars has been accepted by the EU's Horizon fund for research and development, to accelerate the ro-ro project.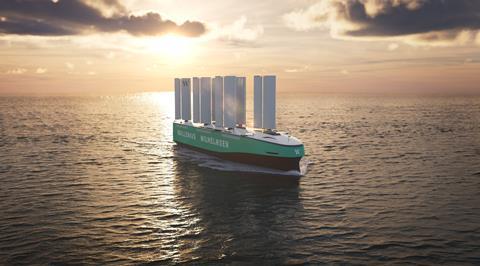 Wallenius Wilhemsen first announced the Orcelle sail-propelled car carrier project in 2021, with the intention to have the vessel operational by 2025. The project, still underway, has now received €9m ($9.7m) in funding from the Horizon Europe research and development fund from the European Union, split between the 11 partners.
Roger Stevens, vice-president of global sustainability at Wallenius Wilhelmsen, said that the backing was proof that there was confidence in the project.
"The Horizon Europe EU funding shows the concept stood up to the scrutiny of the EU funding authorities and that they had the confidence to give it their support."
All 11 partners were involved in the bid and will all receive some part of the funding. The parties involved are Wallenius Wilhelmsen, Wallenius Marine, AlfaWall Oceanbird (a joint venture between AlfaWall and Wallenius), Volvo Cars, StormGeo, Maritime CleanTech, DNV, Rise Maritime, KTH Royal Institute of Technology, Ugent and NTUA. The proposal submitted was to make the Orcelle project suitable for commercial trading, not to investigate viability or develop any further initial designs.
Collaboration between all 11 parties, Stevens said, was essential to the project's success and a key part of the funding bid. "The EU funding project is based on a collaborative approach – we need strong partners to lead the way to zero emissions as soon as possible," he said. "We are proud to have a group of the best technical, operational, and academic partners, as well as one of our key customers, for the project. All have committed to working together to help make Orcelle Wind a reality."
Horizon Europe is a funding programme specifically for research and development tackling climate change and decarbonisation. Its budget of €95.5 billion is for projects that create long-term sustainable jobs and which specifically encourage collaboration
The intended timeline for the first Orcelle Wind vessel becoming operational is now late 2026. However, Wallenius Wilhelmsen did caution that it was conditional on overcoming technical challenges and finding a viable business case for the vessel. Yard availability is another dependency on the project that could cause further delays.
Orcelle is not the only ro-ro sail project currently underway. Neoline announced its 136-metre Neoliner vessel was funded and would move to production earlier this month. The project, which is funded by French finance and regional grants, is expected to cost €60m and includes EDF Energy and the Renault Group as backers. Renault has been a partner of the project since 2018, as part of its efforts to decarbonise supply chain and deliveries.