With supplies of LNG from Russia cut off by the current crisis, Germany is accelerating a range of projects to localise the production liquified natural gas (LNG), part of a bid to keep to climate goals in the face of steeply rising prices for the alternative fuel.
LNG is a form of biomethane, considered a sustainable 'drop-in' alternative to fossil fuels, including petrol and diesel, and is being widely adopted in the maritime and commercial vehicle sectors. Engines do not need to be modified but vehicles do have to be fitted with a special tank to store the LNG at -160°C.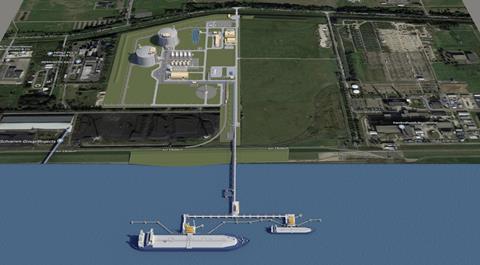 Supplies of LNG from Russia, one of the world's biggest producers of LNG, are now out of bounds for a lot of companies in Europe following that country's invasion of Ukraine and the subsequent sanctions imposed on the country (read more). The conflict is raising concerns over the future of Europe's gas supply, with a knock-on effect on LNG futures pricing and the global gas index. It is also thwarting plans to push the use of LNG across the transport sector.
In response, mainland European countries are making a push to develop local supplies, with Germany out in the lead. Germany currently relies totally on imports of LNG but on February 27, German Chancellor, Olaf Scholz, announced the fast tracking of two LNG terminals there.
"[W]e have made the decision to rapidly build two LNG terminals in Brunsbüttel and Wilhelmshaven," said Scholz. "I would like to expressly thank federal economics minister [Robert] Habeck for his efforts to facilitate this."
Development of the LNG terminal at the port of Brunsbüttel was halted last November when one of the investors – Vopak – pulled out of the development. Plans at Wilhelmshaven port were also curtailed last year, but the current crisis has reversed those decisions.
Shell bioLNG plans
Simultaneously, Shell is also building a bioLNG plant in Godorf near the German city of Cologne. Construction on that plant began on February 9 this year. BioLNG is made by processing organic waste flows, such as organic household and industrial waste, manure, and sewage sludge.
"This site will allow for an annual capacity of 100,000 tons of BioLNG," said Patrick Carre, vice-president global commercial road transport at Shell. "By autumn 2023 we aim to offer a carbon neutral fuel to all our customers who refuel at any Shell LNG sites in Germany."
The plant will receive biomethane via a pipeline and will liquefy it for distribution to filling stations. Shell currently operates around 26 LNG filling stations in Germany and aims to have 40 by year end.
Increasing demand
LNG has a key role to play to further the use of renewable energy and as a backup in the event of intermittent supply of other fuels or sources of energy. Overall, global LNG demand is expected to cross 700m tonnes a year by 2040, a 90% increase on 2021 demand. Asia is expected to consume the majority of this growth as domestic gas production declines, regional economies grow and LNG replaces higher-emissions energy sources, helping to tackle concerns over air quality and to help progress towards carbon emissions targets.
The EU aims to be carbon neutral by 2050, with Germany aiming for an earlier 2045 deadline, which is why there is a surge in alternative, low-emission fuels. Biofuels, such as LNG, are considered 'stepping-stone' fuels because they are not zero-emission alternatives. However, they do provide significant reductions in greenhouse gas (GHG) emissions, bringing the EU closer to its goals.
Greece-Bulgaria supply
There are a number of other plans for LNG development in wider Europe. On February 1, the operator ICGB, which is building a gas interconnector pipeline between Greece and Bulgaria, said it was advancing plans for an LNG terminal near the Greek city of Alexandroupolis.
"This will allow gas deliveries at competitive prices from various new sources, like USA, Qatar and Algeria, to reach Bulgarian consumers. Both IGB and the LNG terminal in Alexandroupolis are crucial for achieving diversification for Bulgaria, Greece and the Balkans, boosting competition and enhancing the security of gas supplies in the region," the company said. The project is co-financed by the EU.
Other LNG projects involving member states are being fast-tracked such in an effort to tame the soaring prices of the fuel. For the immediate future, however, the sudden dearth in supply will mean prices will continue to rise.
Read more about the impact of the Russian invasion of Ukraine on the European and Russian supply chains