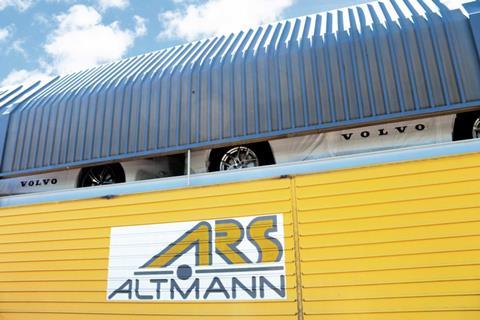 German vehicle transporter ARS Altmann and Intermodal Container Logistics (ICL) have transported Volvos by train between Xi'an in China and Gent, Belgium.
Volvo Cars expects to transport around 40,000 vehicles a year between the two countries through several round trips per week. The service is one of a growing number of automotive cargoes transported by rail on the New Silk Road.
Volvo's vehicles are transported via an integrated hybrid concept, developed by ARS Altmann of Germany and ICL of Austria. The process involves covered, double-deck car transport wagons on the section between Belgium and Poland and 40-foot containers on the section between Poland and China.
It is not confirmed whether the existing containerised service between Poland and Belgium, which was operated by Lineas and DB Cargo is still in operation.
The new service was launched in early June and runs via Belarus, Russia and Kazakhstan. Depending on the destination, the journey takes about 18 days.
"Customers benefit from the advantages of rail transport with more reliable and shorter throughput times and far greater sustainability and climate compatibility compared to sea freight," said Frank Lehner, director internationalisation at Ars Altmann.
"In recent years, the Chinese automobile market has gained enormous importance for European OEMs.
"At the same time, the export volumes of vehicles produced in China by international manufacturers and the exports of electric vehicles by up-and-coming Chinese manufacturers are on the rise," he said.
Lehner added: "We are currently in talks with potential customers from Europe and China, but also from South Korea and Russia in order to win them over to the New Silk Road."
One of the company's medium-term goals is to establish covered automobile transport wagons as a fixture on the New Silk Road, part of China's Belt and Road development policy.