Logistics solutions company PSA BDP has opened a 22,000sq.m warehouse in Dunkirk, France that will provide specialist services for electric vehicle (EV) battery logistics, including for Automotive Cells Company (ACC).
PSA BDP said it chose the Northern France location due to the "accelerating development of EV technology" within the area. Earlier this week, ACC (a joint venture between Stellantis, Mercedes-Benz and TotalEnergies) officially opened its first gigafactory in Billy-Berclau in Northern France. It is the first of three planned European battery gigafactories.
French battery startup Verkor is also currently building a gigafactory for battery cells in Dunkirk that is scheduled to start production in 2025.
The PSA BDP warehouse will have specialist services for battery logistics, including in-rack sprinklers, temperature and humidity cameras, quarantine containers and water basins for the safe storage of the batteries.
The warehouse is situated near the Port of Dunkirk logistics zone, offering connectivity for trucks, barges and rail transport. The logistics firm said this will support EV battery producers' ambitions of achieving zero emissions and enabling circular supply chains. That includes additional infrastructure to help use sustainable transport technology, for example electric trucks.
At the inauguration of the warehouse this week, the first all-electric truck from Mercedes-Benz, the eActros, was taken for a test drive from ACC's new gigafactory to the warehouse in Dunkirk.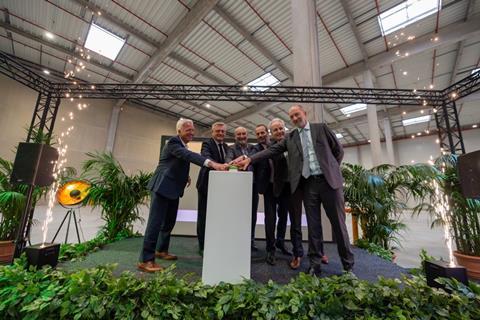 "This new and specialised warehouse addresses all supply chain needs of the burgeoning EV battery industry in Northern France," said Pascal Reinards, head of business development for PSA BDP. "EV battery manufacturers are seeking to partner with companies that offer the full suite of services and are also flexible enough to adapt to their constantly changing needs."
ACC's CEO Yann Vincent said moving more EV battery factories to France and Europe is a response to multiple challenges, including controlling the production chain, reducing the environmental impact of transporting batteries, and "helping to consolidate the European automotive industry in the face of global competition".
Last year, ACC's Vincent told a panel discussion hosted by Elite Experts Conferences that the coincidence of the pandemic and the rise of EV production presented an opportunity for European battery suppliers. "Building a battery industry in Europe is very exciting," he said. "It contributes to the protection of the planet thanks to its contribution to CO2 reduction and it contributes to the re-industrialisation of Europe, so it is a very ambitious project."
Similarly, battery experts at this year's Automotive Logistics and Supply Chain Europe conference said that the European automotive sector has to start localising suppliers to get supply chain logistics as close as possible to certain hubs.
Automotive Logistics spoke to an analyst at Bloomberg Intelligence last week about the increase in requirements for lithium batteries for EV production, and how this demand could cause a bottleneck from 2025 as it outstrips the available supply.