BMW has started to pilot rail shipments of cars between its Dingolfing plant in Germany to Chengdu in China, together with Changjiu Logistics.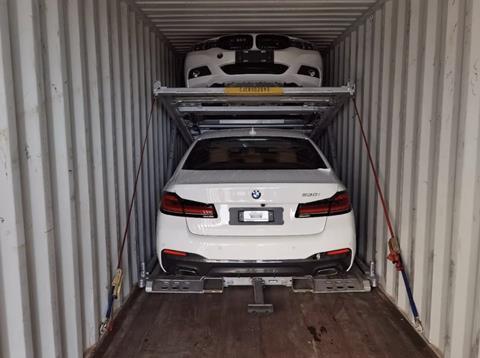 The cars are transported from the Dingolfing plant to the Małaszewicze rail terminal in Poland, where they are containerised for transport by rail through Belarus, Russia and Kazakhstan on the northern corridor of the new Silk Road. Each container holds two vehicles.
The journey time between Małaszewicze and Chengdu is 13 days according to Changjiu Logistics, which is providing the service. It is the first time BMW has worked with the Chinese logistics provider for finished vehicle exports.
The test shipments will last for eight weeks and are limited to four trains. A total of 480 vehicles, including 3 Series, 5 Series and 7 Series models, will be transported to China this way.
A spokesperson for BMW said that the company was trialling the use of rail for exports to China to assess the advantages over sea shipment, with a view to shorter lead times and greater sustainability.
BMW has used rail links between Germany and China for component shipments for some time. Back in 2011 the company started moving complete knockdown (CKD) kits by rail from its Leipzig plant for assembly at its joint venture plant with Brilliance Automotive in Shenyang.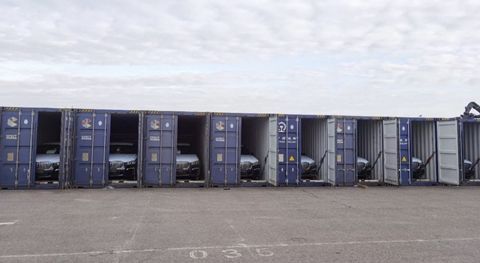 BMW has previously conducted trials on vehicle exports in containers by rail with logistics provider Gefco and since then services for finished vehicle shipments between Europe and China have grown. Among other carmakers, Mercedes-Benz began using rail for vehicle exports to China from Germany in 2018 and last year Porsche also began making containerised vehicle shipments to China.
China announced it would reduce its 25% tariff on imported vehicles back in 2018.
Changjiu Logistics is one of the largest third-party providers serving the automotive sector in China, both for finished vehicles and parts shipments, and one of the only companies in the sector that is not state-owned. It has been expanding its international presence since its public offering in 2016 and began moving volumes of the Volvo S90 from China to Belgium in 2017. It has a 40-hectare distribution centre for imported parts and vehicles from China in Poland.