Stellantis and Samsung SDI have signed a memorandum of understanding to build a second battery gigafactory in the US through their StarPlus Energy joint venture.
The plant will have an initial annual production capacity of 34 GWh from the start of production, which is set for early 2027. The location of the new gigafactory is yet to be decided as it is currently under review. The joint venture's first plant in the US, announced in May last year, is being built in Kokomo, Indiana and is set to launch in the first quarter of 2025 with an annual production capacity of 33 GWh, up from the previous target of 23 GWh.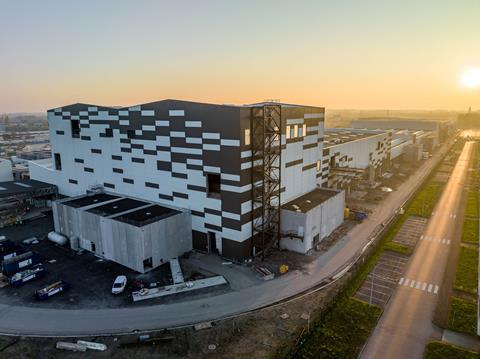 Stellantis said the gigafactory will contribute to its target of offering 25 new battery EVs for the North American market by the end of the decade. Carlos Tavares, CEO, Stellantis said: "We are continuing to add more capacity in the US together with our great partner Samsung SDI and laying the next steps to reaching our carbon neutrality commitment by 2038."
The new gigafactory is set to be the sixth battery facility to support Stellantis' 'Dare Forward 2030' electrification plan, which aims to reach 100% passenger car battery EV sales mix in Europe and 50% passenger car and light-truck battery EV sales mix in the US by 2030. To achieve this target, the OEM is planning on securing 400 GWh of battery capacity.
Stellantis has been entering strategic joint ventures and partnerships across the US and Europe as it moves towards its emissions goals. Two years ago Stellantis announced its partnership with Samsung, days after forming a partnership with LG to produce battery cells and modules for the North American market.
In Europe, Stellantis signed a five-year agreement in 2021 with lithium producer Vulcan Energy Resources for the sustainable supply of lithium hydroxide used in the EV batteries it makes in the continent. The deal will supply Stellantis with up to 99,000 tonnes of the material over the five-year term, produced with a reduced environmental impact. Stellantis also announced in 2021 that it would invest $137m in Vauxhall's Ellesmere Port, England for the exclusive production of EVs.
In the same year, the OEM teamed up with Mercedes-Benz and energy provider TotalEnergies to invest in battery cell manufacturer Automotive Cells Company (ACC) and increase ACC's industrial capacity to at least 120 GWh by 2030. In June, ACC opened the first of three planned European battery gigafactories in Billy-Berclau, Douvrin, France. The 60,000 sq.m factory has three production blocks and will eventually have an annual production capacity of 40 GWh to supply batteries for between 200,000 and 300,000 EVs per year. ACC later announced it would use logistics solutions company PSA BDP's 22,000 sq.m warehouse in Dunkirk, France and its specialist services for EV battery logistics.
Read more about the transition to EVs in Europe in our exclusive European Automotive Logistics Market Report 2023-2033.
Samsung has also been teaming up with other OEMs to provide components for EVs. In 2019, Samsung SDI agreed to provide battery cells and modules to Volvo Group, as part of the pair's alliance formed to develop battery packs for Volvo's electric-powered trucks.
Commenting on the newly signed MoU for Stellantis and Samsung's second US gigafactory, Yoon-ho Choi, president and CEO, Samsung SDI said: "By establishing the joint venture with Stellantis last year, we laid a solid groundwork for marking our presence in North America. The second plant will accelerate our market penetration into the US and help Stellantis push froward the US transition to an era of EVs by supplying the products featuring the highest levels of safety and quality."