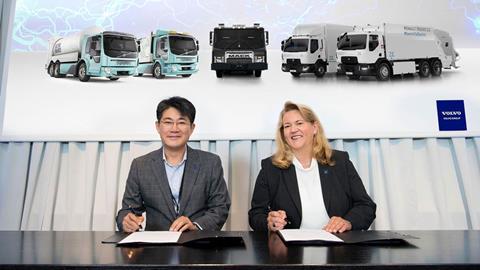 South Korea's Samsung SDI has agreed to provide battery cells and modules to Volvo Group. The deal is part of an alliance the pair has formed to develop battery packs for Volvo's electric-powered trucks.
The alliance will cover joint development of battery packs specifically developed for Volvo's trucks, with Samsung SDI's battery pack technology used for assembly in the Swedish group's manufacturing operations.
"We welcome the expertise Samsung SDI brings into Volvo," said Andrea Fuder, the group's chief purchasing officer. "With this collaboration we are well-positioned to meet the increased market demands. By utilising Samsung SDI's strong battery technology knowledge, we have strengthened our powerful electromobility technology even further."
Group president and CEO Martin Lundstedt commented: "The alliance with Samsung SDI is an important next step on our journey towards offering the world's most truly sustainable transport system with fossil-free alternatives for our commercial vehicles."
Young-Hyun Jun, CEO of Samsung SDI, said: "As we stand at the crosscurrents of the mobility and transportation industry, we are convinced that this alliance will provide superior offerings pertaining to energy, safety and sustainability to the commercial vehicle industry and beyond."
Samsung SDI provides electric vehicle (EV) batteries to carmakers BMW, Audi, Volkswagen, Jaguar Land Rover, Fiat Chrysler, and motorcycle manufacturer Harley-Davidson. It currently manufactures 140,000 EV batteries a year: 60,000 in Ulsan (South Korea), 50,000 in Hungary and 30,000 in Xian (China), according to South Korean media.
The Samsung SDI alliance is an indication of how Volvo is embracing the revolutionary changes sweeping through the automotive sector. Last month it agreed to develop an artificial intelligence (AI) system with US software company Nvidia, with the ultimate objective that fully autonomous trucks can be driven on public roads.
However, in the shorter term, demand for Volvo-made lorries is declining. The second quarter's order intake for trucks fell for a second consecutive quarter, by 21% to 47,821 units, Reuters news agency reported.The group sells under the Volvo, Mack, Renault and UD Trucks brands.
CEO Lundstedt said Volvo will begin to adapt production to expectations of a market slowdown during the second half of the year.
In the past, this has included reducing inventory and cutting working hours. A SEK10 billion ($1.06 billion) cost-cutting programme completed in 2016 saw the shedding of thousands of mainly white-collar jobs. Lundstedt ruled out a repeat, saying: "My firm conviction is this type of big programme is a story of yesterday."
Volvo has seen strong demand in recent years as truck buyers renewed fleets starved of investment during the last downturn, but that led to it facing supply chain bottlenecks which added to costs and put pressure on profits.