GM has signed a long-term agreement for the supply of semiconductors from GlobalFoundries. The carmaker said the agreement would establish "a dedicated capacity corridor exclusively for [its] chip supply".
GlobalFoundries will make the semiconductors at its facility in Malta, New York state.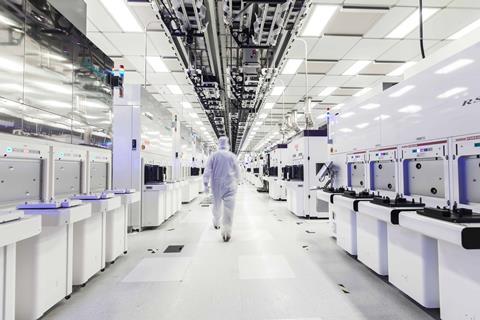 The agreement marks a first for GM in directly securing the supply of subcomponents from a semiconductor maker, rather than relying on agreements at the tier supplier level. GM said through this agreement it has secured dedicated capacity at GlobalFoundries that will be used by its microchip suppliers.
That point was backed up by the semiconductor maker. "GM will reserve dedicated manufacturing capacity at GlobalFoundries for GM's designated key chip suppliers to use to deliver their products in support of GM automobiles," said a spokesperson for GlobalFoundries.
In 2021, GlobalFoundries committed to investing $1 billion to double production capacity at its existing Fab 8 facility in Malta, as well as starting work on a new fabrication plant nearby. Last week, Dr Thomas Caulfield, president and CEO of GlobalFoundries said the company will expand its production capabilities exclusively for GM's supply chain.
"We are expanding within our existing footprint at our Malta New York facility to expand capacity for a dedicated corridor for GM," confirmed the supplier's spokesperson.
GlobalFoundries said it was not sharing specifics on production or wafer output related to the GM agreement. It did say that the aim of the deal was to shore up semiconductor supply for the automotive industry while at the same time bringing critical production back to the US.
GM is also playing its cards close to it chest at this stage, but the carmaker anticipates its demand for semiconductors more than doubling over the coming years as vehicles become more electrified, connected and autonomous.
Localising the dedicated supply of semiconductors in the US to meet that demand is a strategy designed to avoid the sort of supply chain disruption the automotive industry has experienced over the last three years. The announcement comes on top of efforts made by the Biden administration to fortify US supply chains, including those supporting production of semiconductors for the automotive industry.
Streamlining supply
As part of the new contract, GlobalFoundries is going to standardise a limited set of semiconductors able to meet the technology requirements of GMs components and finished vehicles, and produce them in greater volumes.
That falls in line with previous comments made by GM president Mark Reuss indicating that GM was moving away from using a variety of different chips to focusing on 3-4 chip families, which he said would help streamline development, thereby reducing complexity while enhancing quality.
"The supply agreement with GlobalFoundries will help establish a strong, resilient supply of critical technology in the US that will help GM meet this [doubling of] demand, while delivering new technology and features to our customers," said Doug Parks, GM executive vice-president of global product development, purchasing and supply chain.
This is the latest move by GM to better secure the supply of semiconductors and related material. In 2001 the carmaker signed an agreement with US electronic subcomponents maker Wolfspeed for the supply of silicon carbide devices. GM said then that the silicon carbide supplied by Wolfspeed will be used in the integrated power electronics built into GM's Ultium Drive units, which will power the next generation of GM's EVs. Last year Wolfspeed opened a wafer fabrication facility (fab) at Marcy in New York state to support semiconductor production in the US.
GM is also bolstering the upstream supply of materials for its battery production, with the announcement at the end of January that it had invested $650m in Lithium Americas to secure the supply of lithium carbonate from the Thacker Pass mine in Nevada, US. That followed a deal with Vale for the supply of battery grade nickel sulphate from Vale's proposed plant at Bécancour, Québec, Canada. GM said it secured supply of nickel sulphate to support its fast-growing EV production needs in North America.
Read more about how GM is localising the supply of key components in the US.