BMW's new battery cell pilot plant close to Munich will help the carmaker standardise and increase production and supply chain process across battery manufacturing and supply
The opening last week of a new pilot plant for battery cell production is expected to play a major role in BMW Group's 'local for local' battery supply chain and production strategy. It also represents a diversification from China to Europe and other regions – even though the plant itself won't produce a single battery cell for series production of BMW electric vehicles.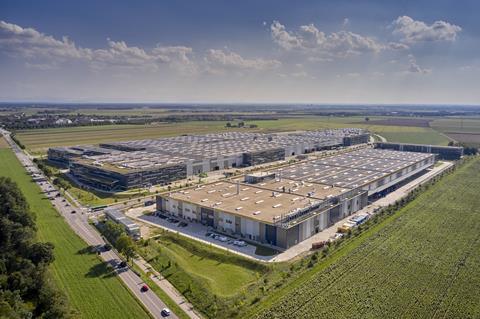 Instead, the Cell Manufacturing Competence Centre (CMCC), in Parsdorf, near Munich, Germany, will produce cylindrical cells like those that will be used in BMW's Gen6 batteries, which will power its upcoming Neue Klasse range of EVs from 2025 onwards. To help manage the shift to cylindrical cells – the carmaker's current generation uses prismatic cells ­– BMW is bringing together a unique blend of engineering, supply chain and manufacturing expertise at the CMCCC to help it better refine and scale the manufacturing process, with a view towards efficiency, quality and stability in battery production and supply.
The CMCC, which spans 15,000 sq.m and employee 80 people, will work with BMW's Battery Cell Competence Centre (BCCC), which is located nearby in Munich. The BCCC is an R&D centre that works on the 'recipe' for the battery's chemistry, according to Milan Nedeljković, member of the board of management for production at BMW Group. This recipe is then passed to the CMCC, which tests it for production. Once testing is developed and complete in the 'kitchen' of the CMCC, it moves to BMW's suppliers to produce the battery at scale.
The OEM will also use the CMCC to work with its suppliers to standardise the production of its cells and improve performance, quality, costs and environmental standards. The innovations in production and handling processes will be developed together and shared with battery suppliers and manufacturers globally. They will also help BMW manage technology changes, and complex regulatory and homologation requirements for global markets.
"With the CMCC we are strengthening Germany's capacity for innovation," said Nedeljković at the opening of the €170m ($180m) facility, which received financial support from the federal government in Germany, state government in Bavaria, and from the EU. "In this way, we are making an important contribution to the quantum leap in technology in the Neue Klasse."
Voltage in the vicinity
Unlike other OEMs that have entered joint ventures or made investments to develop their own gigafactories for battery cell production, BMW works with battery cell suppliers to develop dedicated capacity for battery cell production, which then serve BMW battery pack assembly plants, which are typically located at or near vehicle plants.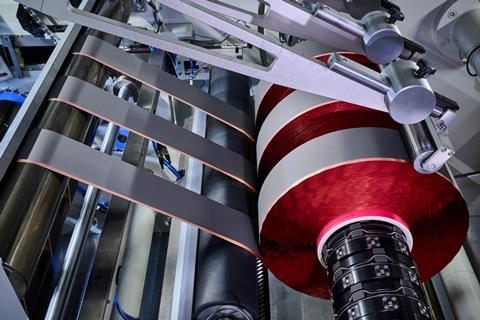 According to Nedeljković, the pilot plant will be used as a template for production processes, technology and standards that will help it to ramp up production of battery cells and high voltage battery packs. "The cells that we build here in Parsdorf will be used to upgrade plant technology worldwide, including the cells that are suppliers produce and the high-voltage battery packs at our plants," he says.
He adds: "Here in Parsdorf we are going to marry our knowhow in battery technology with our knowhow in production. We are optimising and improving manufacturing processes for the next generation of battery cells with our partners, pooling competencies from our entire value chain."
Nedeljković says that the Neue Klasse models will be a "leap in technology" and will have batteries that offer 20% more energy density, 30% quicker charging time and 30% more range.
Managing production complexity
According to BMW experts in manufacturing, engineering and supply chain, the extreme complexity in battery cell production introduces a need for closer collaboration across departments and suppliers to ensure quality. For example, there are very specific processes for mixing and dosing, as well as extreme cleanliness requirements across ageing, drying and assembly processes.
Markus Fallböhmer, senior vice-president of battery production at BMW Group, who leads battery assembly and production processes globally, says that there are more than 3,000 interdependencies in battery production and supply chain that need to be managed, including process and quality control, and data tracking.
"The challenge is to ensure that production and supply meets the standard and quality that we set," he says. "That is why engineering, purchasing and production must work closely to understand and come up with the optimal product. Just knowing what the recipe is helps suppliers, but it doesn't guarantee that the product will work perfectly afterwards."
Philipp Hartig, vice-president purchasing and quality for high voltage cells at BMW, adds that ensuring the most optimal chemistry and advanced production processes will be essential in expanding these regional supply chains, and increasing resiliency across operations.
"We call the strategy 'local for local', which means battery production should take place where the vehicle production takes place," says Hartig. "The second step is to then make the entire supply chain resilient, and able to supply as many formats as possible with the corresponding production structures.
"That is a very exciting task and requires a timely collaboration across relevant partners at an early stage in development and planning," he adds.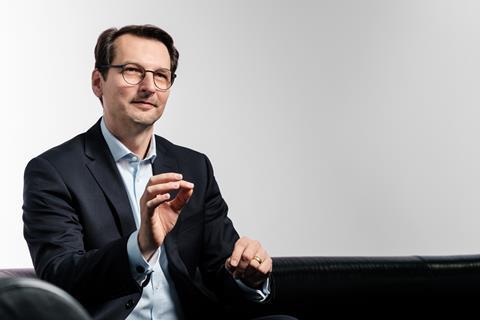 Another important driver of the kind of cross-departmental and supplier collaboration at both the BCCC and CMCC is in regulatory approval and certifying vehicle homologation. Martin Schuster, vice-president of development for battery cells and recycling for high voltage battery packs, points out that battery chemistries were evolving constantly, and BMW had to work closely to keep up. However, it was important to choose a chemistry because each subsequent change to the formula would require a new homologation for vehicles to be sold in different markets.
"Homologation for each country worldwide is one of the most complex issues and one of the reasons that we need this close alignment in the supply chain and across departments to ensure that we manage changes very carefully," he says.
Building regional battery supply chains
Milan Nedeljković stresses the importance of having the right balance of suppliers for each region. BMW currently has contracts with large, Asian battery suppliers, including China's CATL and South Korea's Samsung SDI. But the carmaker is also increasing battery cell sourcing in the regions outside China where it is expanding battery production, including Hungary, Germany, the US and Mexico.
For example, in Europe BMW is currently working with CATL, Samsung SDI and Northvolt in Germany, Hungary and Sweden, respectively, for its current generation of prismatic battery cells. For the Neue Klasse, it has already signed an agreement with CATL, which is building a new gigafactory in Hungary, close to BMW's upcoming plant in Debrecen, where it will assemble battery packs and EVs.
It will define further suppliers in Europe as it ramps up battery production for Gen6 prismatic batteries – not all of which have been revealed, as current suppliers, including Northvolt, do not currently produce cylinder-shaped batteries.
BMW is also expanding its battery pack assembly network. Gen5 batteries are currently assembled at BMW plants in Dingolfing, Regensburg and Leipzig. However, for Gen6 it will concentrate battery pack production at greater scale at a new factory with capacity for 600,000 batteries per year planned in Straßkirchen and Irlbach in Lower Bavaria, for which it will begin construction later this year, and will supply vehicle production in Germany.
The carmaker recently won a local plebiscite in Straßkirchen, where residents voted in favour of the battery plant after there was resistance among parts of the community.
BMW has also signed agreements with AESC, which is building a gigafactory in Florence, South Carolina, that will supply BMW's new battery assembly plant in Woodruff, close to its assembly plant in Spartanburg, South Carolina.
Nedeljković adds that, although the OEM is building up regional battery suppliers and working to trace materials wherever possible, localising battery materials suppliers will be a challenge in some reasons. BMW has just worked with AESC to further localise the upstream supply chain in North America, with a deal that will see Umicore supply AESC with battery materials from Canada, with supplies coming from South Korea to start. But such agreements won't always be possible in every region.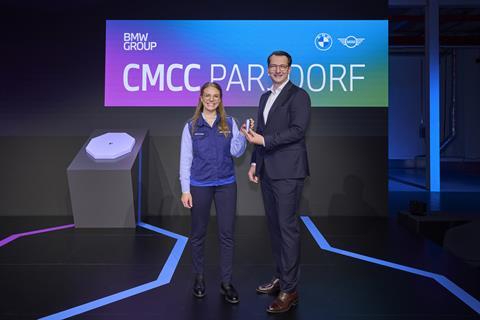 Nevertheless, Hartig stresses that supporting suppliers with production knowhow and capabilities in scaling manufacturing facilities will be essential in ramping up battery cell capacity to meet global demand, and develop nascent supply chains in Europe and North America.
"We are working closely with our partners to create these production structures, which is really crucial, as it is a big step to grow outside of China, as the technology is very specialised and doesn't exist everywhere" he says. "At BMW, we have experience dealing with plant construction, with authorities and logistics, so that we can help to enable our partners, and help them to learn mistakes we have made in the past."
Along with Gen6, cylindrical-shaped battery cells, the CMCC will also look to production applications of future technologies not yet ready for wider industrialisation. In several weeks, for example, a new area at the pilot plant will be converted to test production methodology for solid state batteries.
Growing outside of China but keeping trade flowing
Nedeljković also acknowledged concerns about Europe lagging behind in battery and EV technology, particularly when compared to countries like China, its investment incentives and the lead that it has built in the global battery technology and production race. BMW will also begin production of its Neue Klasse models in China from 2026 at its plant in Shenyang through its BMW Brilliance Automotive joint venture.
However, he points to collaboration like Parsdorf as important locations to consolidate Germany and Europe's existing strengths in production and supply chain.
While he highlights the need for Europe to catch up, he also stresses the importance of having a reliable and efficient regulatory framework, as well as free and fair trade. He says this is often where businesses are faced with red tape which erodes trust and can affect investment activity.
"Protectionism and isolation are worrying tendencies, as they hamper free trade and hit global players the hardest," Nedeljković adds. "We need to join forces to make sure we remain competitive in Germany and Europe. We will only succeed if we stand firmly together in politics, science and business, and this transformation towards electric mobility is an excellent example."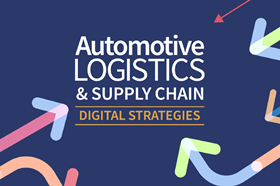 Learn more about how BMW is digitalising its production and logistics processes at Automotive Logistics & Supply Chain Digital Strategies, November 6-7 in Munich, Germany. BMW's lead for digital production and logistics processes, Michael Ströbel, will be joined by digital leaders at Toyota, Volkswagen, SEAT, JLR, Volvo Cars, ZF, Bosch, Autoliv, Gestamp and more. Find out more