In the first of our special focus on the logistics for the carmaker's largest vehicle plant, VP of logistics Oliver Bilstein explains how BMW is investing in digitalisation, space and people to manage complexity, prepare for electrification and mitigate capacity shortages in the US.
Earlier this year, BMW Group's senior vice-president of logistics, Dr Michael Nikolaides, told Automotive Logistics that navigating complexity and volatility in logistics would increasingly be a competitive advantage for carmakers, especially in facing ongoing supply chain disruption, geopolitical uncertainty, technology and market transformation. "Mastering that will be a differentiating factor," he said.
An example of this strategic advantage is BMW's plant in Spartanburg, South Carolina, where logistics management is a strong enabler of flexibility at this high-volume, high-value operation. The importance of logistics is apparent in the infrastructure supporting the plant and its facility layout, in the tight digital control of its supply chain and material flow, as well as in the dedication and enthusiasm of BMW's staff and service providers.
It's a flexibility that has helped the plant maintain high output even during the pandemic, semiconductor shortages and ongoing labour and logistics capacity challenges, according to Oliver Bilstein, vice-president of production control, logistics and material control at BMW Manufacturing Co ­– the local entity in the US that includes the plant's production, supply and export operations.
"We've invested a lot of resources to manage this complexity and volatility, including in systems and in fighting for production volume wherever we could – an extra 100 units here, 200 here, 600 there," Bilstein says. "In a global, complex supply chain some of your suppliers will face strain. But we are in a quite lucky situation."
Spartanburg is BMW's largest global vehicle plant, with total output surpassing 416,000 vehicles in 2022 (of an annual capacity of 450,000 units), including more than 227,000 exports. With the new XM added in late 2022, and improvements in overall chip supply and production stability this year, output has been on the up this year.
Over the coming years, production volume and supply chain variation are likely to increase further, as BMW embarks on the most significant transformation of the plant since it opened in 1994. The OEM is investing $1.7 billion to prepare Spartanburg to manufacture its next-generation, Neue Klasse electric vehicles by 2026. That includes $1 billion to expand and develop facilities for new electric SUVs ­­– including the first, codenamed 'XNF' at the plant ­– and $700m for a new battery assembly centre in Woodruff, about 15 minutes' drive from the plant. BMW expects to build six electric models at the plant by 2030.
The investment will secure the future of the plant for decades. It will also significantly expand logistics operations and the space needed to handle more part numbers and powertrain variations, especially as Spartanburg will continue to produce combustion engine-powered vehicles, hybrids and EVs for the foreseeable future. "The share of EV sales is growing and will do further, but we are still convinced there will be demand for our highly efficient combustion engines," says Dr Robert Engelhorn, CEO and president of BMW Manufacturing. "It will be vital that our supply chain and plant can anticipate and react flexibly, since no one can predict customer demand in three or four years."
Oliver Bilstein acknowledges that plant upgrades will put considerable pressure on logistics and material control teams to "perform while we are transforming". Already, construction at the plant has displaced some existing trailer yards and logistics space.
"We have to prepare and implement these new projects at the same time that we are fully utilised," says Bilstein. "Overall, our biggest challenge will be to manage this change and still reach our output targets."

Lean, green and digital in action for Spartanburg's supply chain
Even before EV production is added, Spartanburg's scale and its ancillary functions demand supply chain mastery. Volume is matched only by the variation in BMW's order and production system. The plant currently produces 10 different variations of X model crossover and SUVs, including coupé versions, along with petrol, diesel and plug-in hybrid (PHEV) powertrains. Like the carmaker's other full-scale production plants, it follows BMW's customer-orientated sales and production process (KOVP), which allows for high levels of specification and customer changes up to 10 days before production begins (slightly longer than in Europe because of longer supply chains, including for wire harnesses).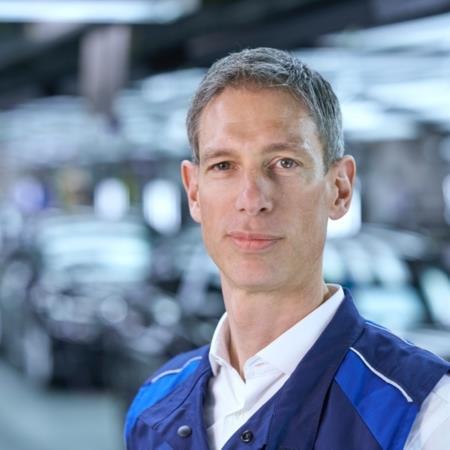 "Every vehicle here is individual, there is essentially no batch building," says Bilstein, who has managed logistics for BMW Manufacturing since 2021.
Spartanburg consumes around 34,000 different part numbers, and uses nearly 400 suppliers across North America, with around 200 supply lines delivered just-in-sequence. As BMW increases production at its plant in San Luis Potosí, Mexico, which will also add Neue Klasse EVs by 2027, BMW's team in Spartanburg is working more closely with those in Mexico to share material flow and manage suppliers south of the border.
Around 20% of the plant's components also come from outside the US-Mexico-Canada trade area (USMCA), including powertrains from Europe, and key components from other global locations including Asia.
Meanwhile, as the lead global plant for larger X models, Spartanburg sends part-by-part exports for full-scale production of models like the X3 and X5 in South Africa and China, respectively, as well as semi-knock-down kits (SKDs) across the product range to other assembly plants including in South America, India and South-east Asia. This material is consolidated and exported at a dedicated export packing centre close to the plant, adjacent to the Greer inland port (read more on BMW export parts logistics from Spartanburg).
Such part and model complexity requires careful logistics design within the plant – especially across Spartanburg's sprawling 8m sq.ft (740,000 sq.m) campus, which includes two body shops, two paint shops, two assembly halls and PHEV battery assembly. Hall 50, for example, is the assembly centre for X5, X6, X7, and XM models, producing on average 950 units per day; Hall 52, meanwhile, produces on average 650 units of X3 and X4 per day.
The physical logistics areas make up a large share of the operation, from automated conveyor systems between body and paint shops, to a network of logistics centres and parts handling operations. One warehouse associate at the plant describes logistics in Spartanburg as the "veins delivering the blood" to the heart of production.
Logistics centres with rows of dock doors are built adjacent to the plant's production centres, including one serving the body shops and one attached to each Hall 50 and Hall 52. These are essential features of Spartanburg's renowned 'fingers' production system, in which docks serve as extension of the assembly centres and help BMW to manage parts deliveries and container returns to and from the production line.
In November 2022, BMW opened a $100m logistics centre at the plant that consolidated two external warehouses, and which serves as a crossdock for parts and container management across the plant, as well as a foreign trade zone (FTZ) for international parts.
"We have to prepare and implement these new projects at the same time that we are fully utilised. Overall, our biggest challenge will be to manage this change and still reach our output targets."
-Oliver Bilstein, BMW Manufacturing
As part of the 'lean, green, digital' objectives of BMW's iFactory strategy, digitalisation and automation advances are evident across the plant's logistics. These include process improvements to reduce paperwork or handling errors, such as an automated driver entry gate for trucks, or parts and packaging verification systems for otherwise manual handling of export parts. Increasingly, BMW is implementing more autonomous logistics systems, including a fleet of smart transport robots (STRs) for the body shop and logistics centres, automated tugger trains to handle material and packaging for assembly logistics and autonomous trailers movements in yards.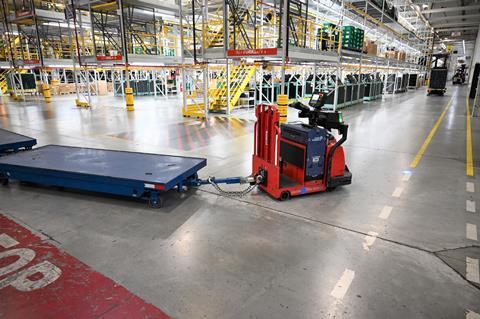 Spartanburg's supply chain strength is reinforced by its transport and intermodal connections, an infrastructure that BMW leaders have developed over the past 30 years in collaboration with state and local officials in South Carolina. Direct motorway connections support deliveries of more than 1,400 trucks per day to the plant. Norfolk Southern runs a rail line directly to the plant, with connection to logistics centres, and with rail service for vehicle exports to the port of Charleston. Just a few miles from the plant, the Greer inland port serves as an extension of Charleston, with a rail line delivering containers of imported material every day from the port and sending export material back. Nearby Greenville-Spartanburg Airport has freight flights across the region and internationally, including daily flights from Germany, and several services per week to China.
BMW's logistics digitalisation strategy is highly advanced for material control and logistics engineering for Spartanburg and across North America. The material control team works in close coordination with BMW's global logistics team in Munich to manage material through the carmaker's global control tower. They use shared digital tools to allocate global parts and track materials in transit, in production and at suppliers. The Spartanburg team also steers regional suppliers delivering just-in-time and just-in-sequence, monitoring the hours and days of inventory on hand. It is increasingly using systems supported by data analytics and artificial intelligence to predict impacts and be proactive. (Read more on BMW's digital material control in Spartanburg here.)
"We can see when a part is leaving the dock at a supplier, when it is at the airport, when it has cleared customs, so that we are ready to make a fast decision," says Bilstein. "Each of these decisions has impacts on other suppliers or internal processes, so we are using machine learning and AI to help learn and plan these scenarios."
As BMW digitalises its global factories to create immersive digital twins, BMW's logistics planning is also increasingly able to benefit from using virtual tools to design layouts and assess the impact of changes on material handling and worker movements. (Read more on the use of digital twins in assembly and logistics planning here.)
Advanced logistics start with a skilled, flexible workforce
Whilst digitalisation is key to regulating complexity, Bilstein and his team highlight the plant's flexible workforce and its strong aptitude for innovation. In material control, planners are pivoting away from spreadsheets and are instead building real-time tracking and analysis through tools like Power BI. Some have been training in AI and machine learning at institutions such as MIT, according to Julia Fuchs, head of material and transport control.
Flexibility is also a key feature of BMW's physical logistics, in which more than 2,000 in-house associates work across the plant's yards, warehouses and packing operations, along with logistics providers operating the plant's export warehouses and external logistics centres. The logistics teams follow the plant's assembly shift patterns, which are currently two daily ten-hour shifts, six days per week.
"We've constantly been maxing out the plant, even during the disruption of the past years," says Bilstein, who has led logistics at the plant since 2021. "It's a hard-working, can-do attitude that is really impressive."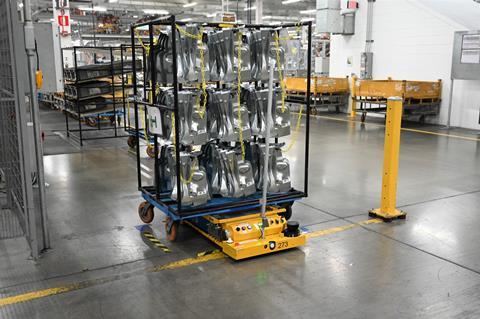 Here, too, there is openness to try new things. The associates working in the logistics centres show off trials of STRs and autonomous tugger trains with pride – they have even named one in trial operation 'Ghost Rider'. The teams point to the efficiency gains from automating container return loops, as well as safety and ergonomic benefits. There is more excitement over the next automation opportunity than fear of reductions in headcount. That is at least partly because these efficiencies will be essential as logistics operations and automation help BMW to reassign workers to more complex tasks, says Jan Collins, head of warehouse operations. (Read more on BMW's plant logistics and autonomous logistics systems in Spartanburg here.)
"With the low unemployment and growth in South Carolina, for example, it is a challenge across the industry to find and retain good people, and so we have to make sure that we support our staff to focus on efficient, high-value tasks," adds Bilstein. "That is making the use of autonomous systems and more automation in logistics more important."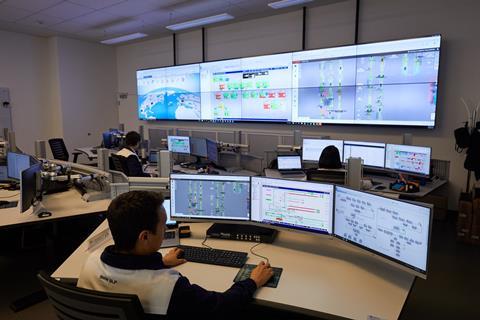 North American logistics organisation: regional plus global connections
Oliver Bilstein's responsibility across BMW Manufacturing's logistics has a similar scope within the US to the carmaker's central logistics group, led globally by senior vice-president Dr Michael Nikolaides. That includes production and programme planning for Spartanburg, along with material control, physical logistics, inbound transport and outbound logistics. Bilstein also has oversight of material supplied for aftersales to models built at the plant.
Many functions are done together with BMW's central logistics team and other regional entities in North America. While Munich manages logistics planning centrally, Bilstein's team oversees local and regional network planning. That task is also done jointly with BMW's team at its plant in San Luis Potosí, Mexico. There is combined material control team across the USMCA region, with the US team steering US-based suppliers for Mexico, and the team in Mexico managing local suppliers in the country for Spartanburg. A pilot is currently under way to jointly manage returnable containers across USMCA from Mexico. Parts and knockdown kit export operations interface closely with material control, whilst the global department coordinates international supply shipments.
For vehicle logistics, Bilstein's team manages exports from the plant to ports, as well as to key delivery points across North America. The team works closely with BMW North America colleagues at the carmaker's regional sales arm based in Woodcliff, New Jersey, which also manages operations at the carmaker's distribution centres at ports and runs vehicle distribution.
Bilstein has been with BMW for 25 years across functions including corporate planning, capacity planning and model allocation, as well as logistics. He spent three years in China leading production projects for BMW's joint venture BMW Brilliance and led logistics and financial controlling for BMW's plant in Munich before taking on his current role in 2021.
Local strength, global scale
Although it has a clear plan and strong investment, the forward march of BMW's production in Spartanburg is not without challenges. Chip supply has improved, but it is "far away from normal" and still subject to supply crunches, says Bilstein. There are shortages in logistics labour – including truck drivers, rail operators and warehouse workers – which are in many ways more acute in South Carolina than elsewhere. There is also rising demand and short supply of high skilled, data-savvy logistics planners and engineers. And there are other risks, too, including the threat of counter-attacks, financial failures among suppliers, especially smaller tier-2 or tier-3 suppliers.
For Bilstein, there is no 'one size fits all' response to such challenges. One approach is BMW's 'local for local' production strategy, which aims to build vehicles close to customers and strengthen local and regional supply chains to mitigate against supplier, capacity and delivery disruption. In Spartanburg, the carmaker already sources most components in the US southeast and North America. It is, however, further expanding its regional network. The plant is building its first stamping facility slated to open in 2024, which will increase in-house press and stamping supply (two suppliers in the region have produced stampings for the plant and will continue to do so).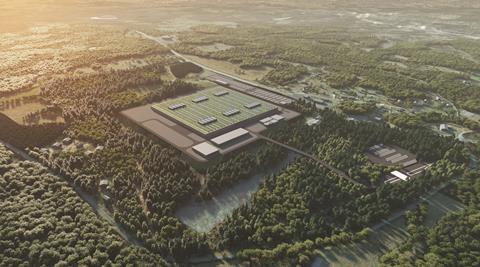 EV and battery production will drive further increases in the regional supply chain. Whilst BMW imports all ICE powertrains from Europe (with PHEV batteries assembled at the plant), next-generation battery packs will be produced and supplied just-in-sequence from the Woodruff battery assembly plant. Battery cell manufacturer AESC, meanwhile, will supply battery cells to Woodruff from a gigafactory under construction in Florence, South Carolina, two hours from the plant.
"This gives us an opportunity to have a strong, local value chain, which will be important as we introduce batteries with new, round cells that require many new processes and equipment in production," says Robert Engelhorn. "It will be important to have close oversight and common qualification as we industrialise and ramp up output of these new products."
BMW will nevertheless still leverage strength across its wider regional and global supply chain. Within North America, growth in Mexico-based suppliers is bringing closer alignment between material planners in the US and Mexico, according to Bilstein. Spartanburg also exports more parts and kits to global plants than it imports material from outside North America.
The plant has been the largest exporter of finished vehicles by value from the US for the past nine years, and its wide model mix and variation suggest that it aims to continue to export in high quantities in the years to come.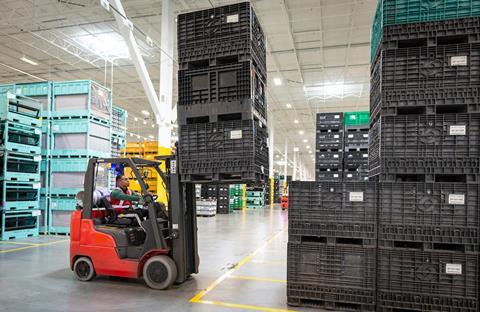 Going green inside and out at Spartanburg
At Spartanburg, BMW is investing in green and energy saving technology. The Woodruff plant will use electricity from renewable sources, low energy equipment, as well as rainwater harvesting and recycling. Smart electrical motors will help reduce energy in HVAC systems by as much as 40%; around 300 of the devices are already in use across the vehicle plant.
The carmaker is implementing green logistics technology, too. The plant uses around 800 hydrogen-powered forklifts and material handling equipment, according to Oliver Bilstein, making it one of the largest such fleets globally. "As well as being green, this is also lean equipment, because rather than waiting to charge it two hours, we can quickly refuel and use the fleet the entire day," he says.
The carmaker has also been trialling the use of electric trucks for material deliveries together with a logistics provider. Since last year, trucks have been used in local just-in-time deliveries, according to Julia Fuchs, head of material and transport control. "We started with JIT flows to use the truck in shorter distances, as it wouldn't make sense to use an e-truck on longer routes right now," she says. "We are currently exploring further pilots using other delivery concepts."
Lean principles, flexible resilience
BMW's lean manufacturing and supply chain strategy also suggests that the carmaker won't pivot towards high inventory levels, either. However, Bilstein acknowledges the need to be flexible, including adding tactical supply buffers or external warehousing where it makes sense.
"After supply chain disruptions, we knew that transfers between the US and China would take longer on average, so we added another day of inventory," he says. The carmaker has also introduced a temporary warehouse at the US-Mexico border to mitigate delays. "Where we see a crisis on the US-Mexico border, we can store several days of critical parts. We have to be ready to react daily to a changing situation."
This flexibility has been apparent in managing capacity shortages in vehicle logistics, which are challenging the entire industry. BMW's response has been to adapt processes and routes across transport modes. For trucking, for example, BMW applied lessons from the pandemic and chip crisis, whereby it shortened the window for trucking companies to drop off or retrieve material. Working with logistics providers, it has cut the average time it takes for car transporters to arrive at the plant and load finished vehicles from four hours to one-and-a-half hours.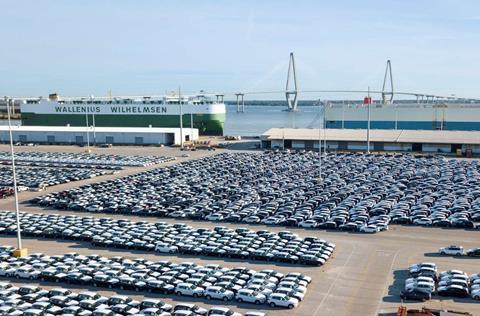 "We were able to do that by improving the quality of the processes and improving load building," he says. "That has helped reduce the turnover time and productivity."
Facing a chronic shortage of railcars and lengthening lead times for rail services across North America, BMW has also made changes in shipping vehicles. Along with the railhead at the plant, which connects to the port of Charleston, the carmaker has added a second Norfolk Southern ramp to move vehicles destined for Canada, about two hours' drive from Spartanburg. "That has helped us to manage constraints together with the rail company," says Bilstein.
For ro-ro shipping, exports from the port of Charleston, which primarily ship to Europe, continue to work well; Bilstein says that any delays are managed in close partnership with the South Carolina Port Authority (which also runs the inland port). More challenging, however, are the smaller ports that BMW uses to export vehicles to markets such as the Middle East and lower volume markets, where shipping services remain infrequent. BMW keeps vehicles for as long as possible on its yards for any inspection and accessory requirements, before moving quickly when shipping slots become available to these markets.
"It comes down again to flexibility. We must manage our inventory and vessel availability and be ready to build loads quickly," he says. "If you can be this flexible, it helps deal with today's capacity issues."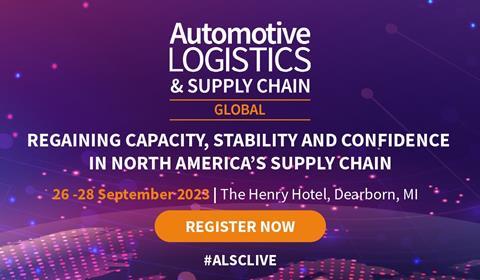 Hear more about BMW's logistics
Learn more about how BMW's logistics and supply chain at Automotive Logistics and Supply Chain Global, September 26-28 in Dearborn, Michigan. VP of logistics Oliver Bilstein will speak about the carmaker's transformation in Spartanburg, and its use of digitalisation to drive resilient and flexible logistics.
A new class of logistics for electrification
Along with near constant shifts and changes, BMW's logistics team in Spartanburg leads on key plant infrastructure, layout and process design. The electric XNF project, for example, will change key areas of production, assembly and logistics. Already, BMW is adapting the body shop for new forms in the body-in-white, including adding new tooling and conveyance systems. At Hall 52, meanwhile, which is the assembly area for X3 and X4 models, BMW is extending the 'fingers' for electric vehicle production, doubling the number of dock doors to receive and process material. Other logistics and warehouse processes will also be expanded.
The logistics team has also been closely involved in planning logistics for BMW's forthcoming battery assembly plant in Woodruff. Central planning teams in Munich lead on standardising global processes for the battery supply chain, while Spartanburg supports local pack assembly, including cell and software integration, and delivery from Woodruff to the plant. The carmaker established a dedicated logistics team in Spartanburg to explore material control, production control, physical and transport logistics, according to Bilstein.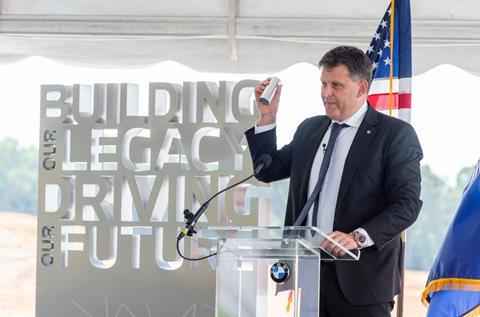 Rich Everly, vice-president of battery line for BMW Manufacturing, points to highly advanced automation and fast cycle times in battery production, as well as the strict data tracking required to meet cleanliness and safety requirements. "It's highly complex, with new types of equipment, technology and IT systems, which is why we have started early to train and prepare our people," says Everly, whose responsibilities include developing and implementing battery pack assembly at the Woodruff site. "There are also many new logistics topics to manage."
For example, the weight of battery packs drives specific processes and equipment in physical and transport logistics. According to Bilstein, BMW is developing specialised equipment and automation to transport battery packs from Woodruff to Spartanburg, including a specialised truck trailer that will stock heavy batteries atop each other, and move automatically from the trucks to avoid using forklifts. "It will require new equipment, but the goal will be for an automated, just-in-sequence flow," he says.
Electrification will also require new infrastructure and processes in finished vehicle handling at the Spartanburg plant and at transport centres. The carmaker will add new charging stations at the plant, and work with railways and ports to ensure facilities to have sufficient state of charge before shipping, as well as to carry out necessary over-the-air software updates. "We need to understand the software and hardware integration, along with charging stations," says Bilstein. "We know that we'll need a holistic view on this."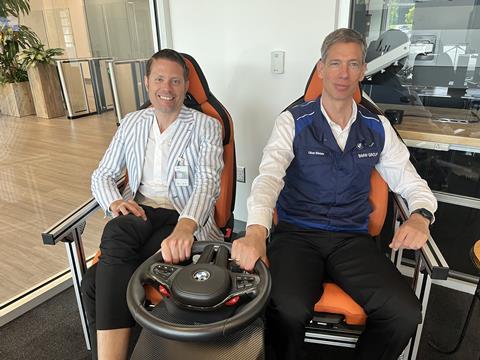 Bringing along all supply chain stakeholders
Along with advanced planning and digitalisation, Oliver Bilstein says that people in manufacturing and logistics are the real secret to success in managing complexity. "You can't solve everything with one IT system – you still need very qualified, dedicated people, which we are working very hard to get, including on the shop floor, on site with suppliers and in logistics," he says.
Skills in the logistics team need to move at the same place of digitalisation. BMW will need more experts who can help it develop data analytics and AI, which are playing greater roles in designing networks and predicting risk in logistics. Bilstein still sees the technology supporting and enhancing what employees do. "We still define the boundaries of AI in terms of input, and it is very far from taking over decisions, as we still depend on human interaction and knowledge," says Bilstein. "But it is helping us to see patterns and find solutions that we otherwise couldn't."
Likewise, Bilstein hopes that the digitalisation of BMW's logistics will be a pull factor for talent interested to work more in cutting edge technology. He predicts that autonomous logistics systems will grow exponentially, as will more advanced automation and robotics in logistics. There will also be a growing need to train AI models for logistics. "But it will again come back to the people, who will have to use all these systems. And my vision is that it is not just large OEMs who are driving this innovation and training, but also logistics service providers, transport provider and suppliers. We need the whole supply chain to come along."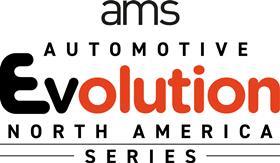 Read more about manufacturing changes for BMW in Spartanburg, including new technology and processes for battery pack production and training for producing high-voltage vehicles, in a special series in Automotive Manufacturing Solutions (AMS), a sister publication to Automotive Logistics. More on BMW Manufacturing here
'Performing while transforming' BMW's logistics in Spartanburg: Special series
1

Currently reading

'Performing while transforming' BMW's logistics in Spartanburg: Special series

2

3

4

5

6