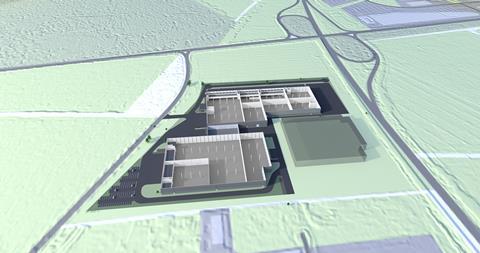 German engineering services provider Bertrandt is moving its production and logistics operation outside Wolfsburg, Germany to a nearby site in Flechtorf next year.
Everything currently handled at the Bertrandt Triangel site in Sassenburg, which includes automotive body work, interiors, electronics and powertrain, as well as the supporting warehousing, is being relocated. The only work not being moved is at the Acoustics Center, which remains in Sassenburg.
Garbe Industrial Real Estate is developing the new 68,000 sq.m site, which will be divided into a 17,900 vehicle and component manufacturing facility and a connected 13,800 sq.m logistics hall for the storage and supply of components such as airbags, shock absorbers and tyres. Garbe is investing €35m ($39m) in the facility.
The automotive logistics hall will be equipped with a total of 14 dock levellers and 16 ground-level sectional doors. The facility will also have parking spaces for 249 cars and six trucks.
"With the new building, we are once again demonstrating our expertise in the field of light industrial, a special type of real estate, which combines production-related and logistics services under one roof," said Jan Dietrich Hempel, managing director of Garbe Industrial Real Estate.
"We've been looking for a way to find a new location for some time," added Ralf Domogalla, technical branch manager at Bertrandt. "A newly built site has the great advantage [that we are] able to design it to our own specifications and thus achieve optimisation in many areas, such as a more modern work environment, efficiency gains through workflow adjustments, improvements in energy and environmental performance, and long-term growth potential."