Brazil's automobile manufacturers' association, Anfavea, posted higher production and sales figures for May but the dramatic fall in exports is predicted to continue, mainly because of the economic crisis in neighbouring Argentina.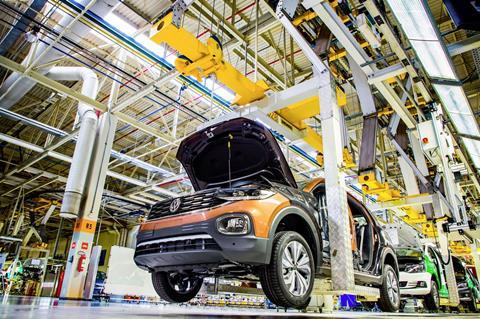 Anfavea reported that 275,700 vehicles were built in Brazil through May while sales amounted to 245,400 units. Overall, production was up 30% on the same period last year and sales up 21.6%. However, in May 2018, Brazil underwent a road haulage strike, which led to lower sales, so while the percentages look good this year, they are compared to a lower than normal figure for the same period last year.
The overall export situation is now dire, with Anfavea predicting that 240,000 units fewer will be exported to neighbour Argentina this year. Last year Brazil exported around 436,500 vehicles to Argentina meaning exports this year are forecast to be down by 46%. Indeed, overall exports in the first five months were down 30.7%. The downturn in exports so far this year means that just 181,600 units were exported up to the end of May.
Production in Paraiba
The economic crisis in neighbouring Argentina is now affecting production at the car plants in Brazil, particularly in the Paraíba Valley, which was down 51% between January and May. In this period in 2018, vehicle exports to Argentina were worth $397m; in the same period this year they had fallen to $193.6m.
Plants in Taubaté and São José dos Campos, which specialise in exports of both cars and components to Brazil have been worst hit.
Vehicle exports from Taubaté to Argentina were down 42.3% in the first five months of this year, from $213.2m to $121m. As for São José dos Campos, the impact was even worse, the year-on-year comparison down 83.57%, from $179.2m to $29.4m.
The plants are therefore having to make adjustments.
In January, Ford made 12 employees redundant at its Taubaté plant, announcing that it had to "adjust production volumes because of the drop in exports to Argentina and the end of the supply of engines and transmissions to Mexico in 2019".
One shift at the VW plant at Taubaté was also asked to take annual leave between May 13 and June 3, given the drop in exports, mainly to Argentina.
The GM plant in São José dos Campos made similar arrangements for two days in May for workers involved in S10 pickup truck production.