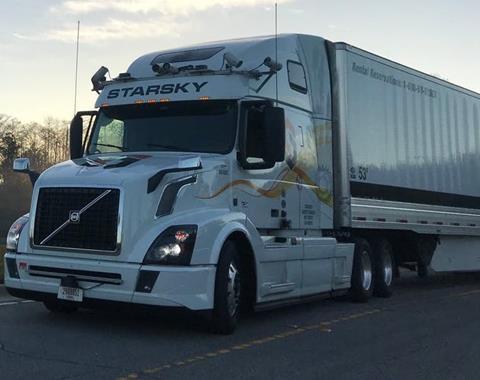 The first dispatch by truck on public road without any human intervention has taken place in Texas, US, say digital freight broker Loadsmart  and autonomous truck startup Starsky Robotics.
For the initial journey, a lorry picked up a load in Dallas and delivered it the 216 km (135 miles) to Longview, Hunter Yaw, vice-president of product at Loadsmart told Automotive Logistics. A second pilot followed two days later for a 462 km-journey between El Campo and Grand Prairie.
The cargo consisted of bottled water, but the company is looking to generate business from the automotive industry, he said.
"Loadsmart has been working with a number of tier one providers in the automotive supply chain as well as a handful of automotive makers," he added.
"The operational efficiency that our AI [artificial intelligence] technology provides regarding pricing, booking and moving freight is an extension of the automation being adopted across this sector.
"As a result, the interest in the segment has been very strong and we are moving in-bound raw materials to produce parts and subsequently moving finished parts to vehicle production facilities.
"Transportation managers," Yaw said, "are most interested in how our technology can help them reduce the operational costs associated with moving of components and the management of the associated fuel consumption.
"The Loadsmart and Starsky collaboration squarely addresses these specific issues for automotive vehicle makers, parts suppliers and logistics services companies."
The first two pioneering journeys were a fully commercial transaction moving freight for a paying customer who was not offered a discount or any other financial incentive to participate in the project, he said.
The dispatch was organised through Loadsmart's AI-powered software with the lorry using Starsky's self-driving technology to pick up and deliver the freight. A pilot driver sat in the vehicle during the trips, Yaw added.
Loadsmart and Starsky have connected their respective transportation management and fleet management systems so Starsky can post truck availability to Loadsmart and Loadsmart can push available loads back to Starsky. Starsky can then accept cargo onto its fleet of regular and self-driving trucks and send status updates from pickup to delivery.
"As a result of the partnership, Starsky is able to dispatch its trucks automatically without human intervention, while Loadsmart can expand its ability to automate the shipping process from quoting, booking to delivery to help its clients move more with less," Loadsmart said in a statement.
The company argues the "historic initiative" is part of a larger strategic partnership paving the way for the future of trucking: autonomous brokerages dispatching freight to autonomous trucks without human involvement.
CEO Ricardo Salgado, who has described the logistics industry as technologically behind the times, said in a statement that autonomous vehicles will provide great value and play an integral role in the company's vision of delivering end-to-end automated shipping and logistics services.
Yaw added: "We are moving from a load-to-truck world to a truck-to-load one."
Stefan Seltz-Axmacher, CEO and founder of Starsky Robotics, commented: "The advances that seem obvious for the ride-sharing services are coming to trucking.
"It's not uncommon for a traditional trucking company to have five full-time employees involved in dispatching each truck for each load. By integrating e-brokers like Loadsmart, we are eliminating all back-office human intervention and making the shipment process seamless, while focusing on ensuring the safety of driverless trucks …
"We will be able to autonomously dispatch autonomous loads on a regular basis."
The company's director of trucking operations, Paul Schlegel, said Starsky is building a trucking company to support and enable its autonomous lorries.
"By partnering with Loadsmart, we've been able to let our driver managers spend more time making sure drivers are happy and they spend significantly less time negotiating with brokers," he added.
Starsky describes trucking as the backbone of the US economy, moving 70% of all freight. It also references American Trucking Association (ATA) estimates of a 60,000-driver shortage in the industry, meaning many freight companies struggle to find drivers to keep up with demand. Automating the traditional delivery of goods will help them overcome the problem, the company suggests.