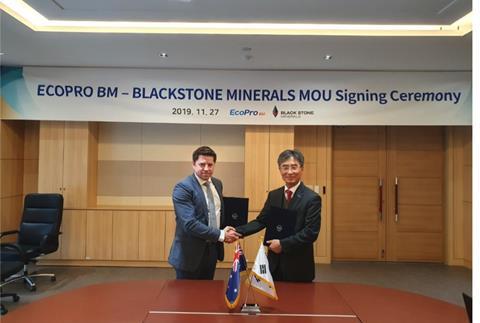 Scott Williamson, Blackstone managing director (l) and Byeonghoon Kim, Ecopro BM president
South Korea's Ecopro BM, a cathode manufacturer for electric vehicle batteries, has signed a memorandum of understanding with Australian mine development company Blackstone Minerals to advance Blackstone's Ta Khoa nickel project in northern Vietnam.
The non-binding agreement envisages the companies forming a joint venture to produce suitable nickel, cobalt or other input material for lithium-ion batteries.
The potential partnership is based on Ta Khoa where a nickel mine with a 450,000 t/y ore processing plant has been under care and maintenance since 2016.
"Our Ta Khoa nickel project has significant potential to deliver the critical raw materials required for Ecopro's cathode manufacturing process and meet the ever-increasing demand for high-nickel content cathodes driven by the imminent electric vehicle revolution," said Blackstone's managing director Scott Williamson.
The company's current plans are focused on further exploring of Ta Khoa's deposits, restarting an ore concentrator and conducting metallurgical testing to develop a product suitable for the lithium-ion battery industry.
Blackstone, based in Perth, describes Ecopro as South Korea's largest cathode manufacturer, producing a high volume of cathode material. Its customers include some of the world's largest battery manufacturers.