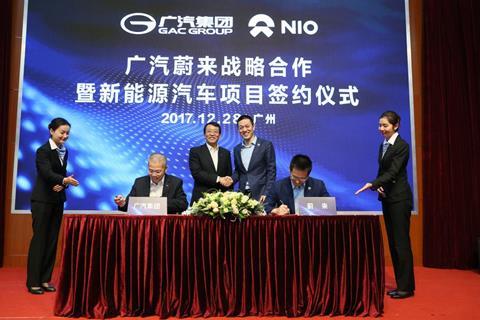 Electric vehicle (EV) maker Nio is to handle full delivery services in China for the forthcoming Hycan electric SUV that it is making as part of its joint venture with fellow Chinese carmaker Gac Motor.
GAC-NIO New Energy Automobile, which was established in April last year, is expected to start production and sales of the Hycan in the first half of 2020. It will be made at GAC's EV plant in Guangzhou, which opened earlier this year.
"Nio will provide complete delivery services to customers of Hycan's first all-electric SUV at delivery centres nationwide," a spokesperson for Nio told Automotive Logistics. "Services include (but are not limited to) warehousing, testing, logistics and license registration for customers."
According to Nio, its 28 delivery centres in China are equipped to deliver multiple vehicles at the same time, including the provision of value-added services such as product guidance and brand insurance.
"The supply chain and infrastructure already exist and the provision of services for Hycan users will not increase the pressure on Nio's [existing] service system or the service experience of Nio users," said the spokesperson.
Nio will also provide mobile services, such as tyre repairs, power-charging and door-to-door maintenance, to Hycan users. "The mobile service capability system of Nio Mobile has been perfected, and can provide for users without time and geographical restrictions," said the spokesperson.
In other news, Nio has reported the delivery of more than 2,500 vehicles in October, an increase of 25% over the previous month, despite the impact from the seven-day national holiday in China at the beginning of October. The deliveries consisted of 2,220 units of the ES6 and 306 ES8s. The carmaker has delivered almost 14,900 vehicles this year.