The London Electric Vehicle Company (LEVC), formerly the London Taxi Company, has signed a contract with the UK division of transport and logistics provider Gefco for pre-delivery services and delivery to fleet customers.
LEVC, which is owned by Chinese carmaker Geely, makes the electric TX London black cab and Gefco has been the distributor of the taxis across the UK and Europe since 2017. Now LEVC is moving into the production of electric delivery vans, with the launch of the VN5 in November, and Gefco will be carrying out conversions and deliveries to customers from its finished vehicle logistics centre in Corby, in the UK Midlands. It will use Moveecar, a digital platform aimed at the provision of value-added logistics services throughout the lifespan of the vehicle to manage the delivery services.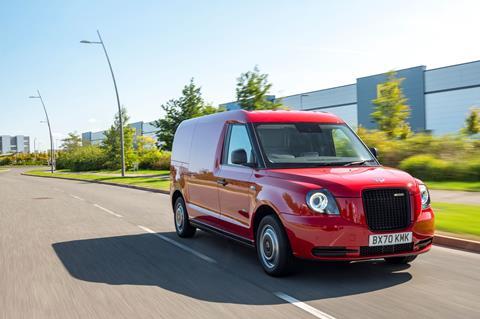 "Gefco has provided invaluable support over the past few years with our ongoing expansion across the UK and overseas," said Leighton King, commercial director at LEVC. "We are now going through a crucial and exciting period with the imminent launch of our VN5 electric van and Gefco's experience and technical expertise in the conversion process is set to play an important role."
Geely has invested £500m ($604m) in LEVC since 2014, including £300m its facility in Coventry, which has capacity for annual production of 20,000 vehicles and from where it has been developing the VN5.
"LEVC is embarking on an exciting new chapter with the launch of its VN5 models, and we are pleased to support its ambitions and explore further areas for collaboration as the project develops," said Victoria Arnold, sales director at Gefco UK.
LEVC expects its new electric van to account for around 70% of production volume by 2022. The first vehicles are being delivered to UK customers and a lefthand-drive variant will go into production in March 2021.