Volkswagen Group of America has contracted Acertus on an initial three-year contract to provide transport management at its railhead ramp in Centerville, Illinois. The finished vehicle logistics provider will be providing last-mile vehicle haulage, as well as using its own software to build efficient loads for VW.
VW moves around 10,000 vehicles through the railhead annually, according to its spokesperson, and is sharing volume forecasts and expected arrival times to the railhead, as well as load information per VIN at the point of origin. Acertus said it would be scaling capacity on demand with a diversified base of equipment ranging from nine-car haulers to flatbed trucks.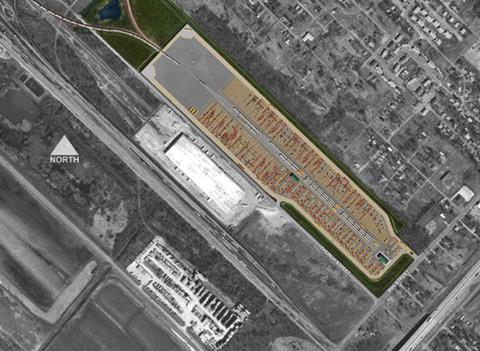 Acertus said VW chose it for services at the high-volume railhead ramp after several successful pilots, expanding its existing logistics partnership.
"The Centerville contract is new, but Acertus has been working with VW for six years, servicing [the carmaker] from a car haul perspective, whether the freight is coming from the factory or railhead," a spokesperson for the logistics provider told Automotive Logistics. "We had the opportunity to establish a strategic, scalable programme that delivers efficiency as VW expands their supply chain to a new ramp/location."
Acertus said it has full transparency on the vehicle freight being delivered by rail, what is produced and what is inbound, for planning and driving efficiency throughout the supply chain. The railhead is a new location for VW and while it would not confirm the rail provider, Union Pacific has been providing services for Chrysler, Ford and Nissan at Centerville.
"As VW expands its rail network, we're helping them grow carrier capacity by driving economies of scale and flexing to meet their demand, on demand," said the Acertus spokesperson.
Integrated digital platform
Acertus is providing a digital platform that integrates directly with the railhead, with Volkswagen and with its carrier network, digitising the entire workflow. The company said that was driving operational efficiency and speed.
"It also helps procure better marketplace capacity, provides mode recommendations, better rates, and the fastest speeds to our customers, while providing end-to-end visibility throughout the process into vehicle status, condition, spend, claims and business performance," added the spokesperson.
More specifically Acertus is integrating its transportation management system (TMS) to with VW for easy order entry, instant shipment tracking and complete visibility to manage orders. That TMS is connected via API and delivers order entry, quick quotes and instant shipment tracking.
"Connecting to our carrier network through our propriety mobile ePod application, which tracks and traces shipments, and pushes updates on status and vehicle condition back to Volkswagen," said its spokesperson.