The first Gdansk-bound train from China operated by Polish logistics provider Adampol has arrived in the Baltic Sea port. A second train from Xi'an is scheduled to arrive in December and weekly services will begin in January. The first train was carrying general cargo but Adampol confirmed the service would in future be carrying automotive parts and containerised finished vehicles.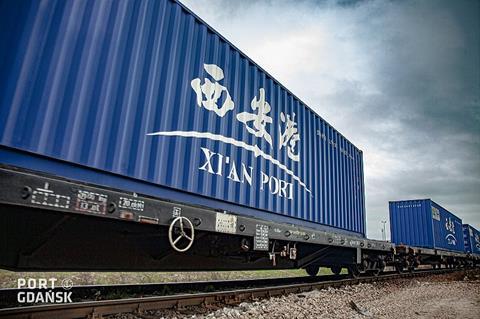 The 12-day journey, which could be shortened to ten according to the company, will reduce onward delivery to the British and Scandinavian markets by up to five days Adampol said.
The container-carrying trains arrive in and depart from Poland through the company's terminal in Małaszewicze near the Belarus border, where it has handled trains from China for many years. The current throughput is 19 a day.
"The connection between Adampol Małaszewicze land terminal and DCT Gdansk terminal opens up new possibilities of transport routes which will be competitive to the existing ones," said Adampol's CEO Elena Łukanowa.
The company, which has a fleet of 611 car transporters and contracted access to 1,500 more, is running the Euro-China Train service in cooperation with DCT Gdansk container terminal and the Port Authority of Gdansk and DCT Gdansk.
DCT Gdansk's CEO Cameron Thorpe said of the new service: "This is proof that sea and land transport can develop and coexist harmoniously."