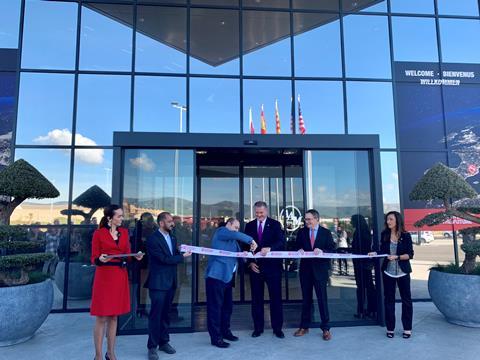 US-based tier supplier American Axle & Manufacturing (AAM) has inaugurated a plant at Viladecans, close to Barcelona, which consolidates two smaller factories in nearby Gavà.
The new, 15,600 sq.m manufacturing plant has a lean, efficient layout and optimised materials flow for delivery of components to the production lines and will support demand and growth from new and current European customers, according to the company.
Among others, AAM Barcelona will supply damped gears to Ford, BMW, PSA and Miba of Slovakia; PV bonded dampers for Audi, Mercedes and FCA; isolation pulleys for Renault; and in-mould bonded dampers for Mercedes, Ford and Porsche. The Spanish unit's portfolio includes press-in compression dampers.
"European automakers are continuing to downsize engines and AAM's segment-leading products support this mission with technology that helps reduce noise and vibrations in the vehicle," said David Dauch, chairman and CEO.
He also commented: "AAM's new Barcelona manufacturing facility is a key part of our continued mission to diversify and expand our global customer base and product mix."
At full capacity the Viladecans factory, 20km southwest of Barcelona, will employ almost 300 workers. AAM, based in Detroit has nearly 90 facilities in 17 countries.