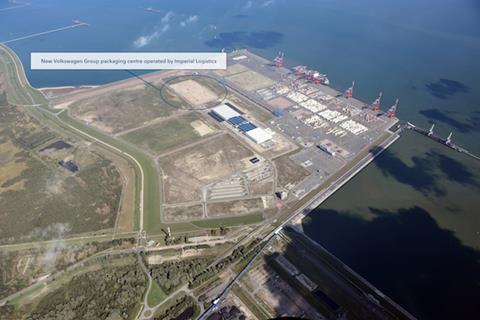 Volkswagen Group has signed a contract with Imperial Logistics International to run its packaging centre at Jade-Weser-Port in Wilhelmshaven, Germany. The centre is due to open next year.
In a statement, Imperial Logistics said it would take over the operation in April.
"We are happy and proud to have been selected to manage and operate this new and important packaging centre for the Volkswagen, Audi and Volkswagen Commercial Vehicles brands," said Remy Hoeffler, director of the automotive business unit at Imperial Logistics International.
Imperial is already working with Volkswagen Group at ten other locations in Europe including sites in Germany, Poland and Hungary, as well as in South Africa.
"We look forward to this further new opportunity to support the global expansion of the Volkswagen Group with efficient logistics services," added Hoeffler.
Cross-brand shipments
As revealed earlier this year, VW's new centre will package up to 7,000 different part lines for Audi, Volkswagen and VW Commercial Vehicles and more than 12,000 containers a year are expected to be shipped to 15 countries overseas, including China, Mexico and the US.
VW said growing demand for its vehicles overseas had driven the decision to set up the new facility as more parts, such as headlamps, audio systems and steering wheels, needed to be exported for local production.
Work on the new centre, which is being built on 100,000 sq.m of land directly next to the Jade-Weser-Port, began in July. It will include four main halls with a total area of more than 40,000 sq.m.
One change being brought in with the establishment of the new centre is a cross-brand approach to parts shipments, according to Astrid Lühring, head of material logistics at Konzernlogistik, the central logistics function at VW Group. Traditionally, most of VW Group's packaging facilities have dealt with a single brand.
Thomas Zernechel, head of Volkswagen Group logistics said: "The decision to locate the facility in Wilhelmshaven is of strategic importance for the Volkswagen Group. The Jade-Weser-Port is the only deep-water port in Germany. With this new packaging site we will create a direct link to a port which enables us to transport parts using the largest vessels in the world."
Running the centre will involve the creation of approximately 500 new jobs at Imperial Logistics.