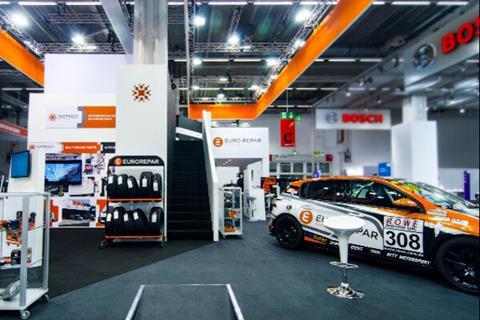 PSA is pressing ahead with a multi-brand aftermarket offering that includes selling rivals' spare parts, as part of the group's corporate Push to Pass growth strategy.
The French OEM said the aim was to fulfill all customers' aftersales expectations worldwide, regardless of their purchasing power or the make and age of their vehicle.
The company's multi-brand spare parts distribution label Distrigo began life in July 2016 with the aim of shifting PSA's focus from purely supplying OEM parts for its own brands to something encompassing the entire independent repair market for all vehicles worldwide.
Distrigo has established a network of 130 hubs as one-stop-shops for distribution of spare parts in Europe to accredited and independent vehicle repair shops. The offering, according to the group, meets virtually all their needs, with more than 100,000 parts stored across Distrigo's warehouses and 29 partner suppliers. The extent of this coverage is unprecedented among carmakers, claims PSA.
At launch a little over two years ago, Distrigo covered just France, Belgium and Luxembourg. Now it is also present in Europe in Germany, the Netherlands, Spain, Portugal, Italy, the UK, Austria and Switzerland.
In China, the service has become available following PSA's acquisition of spare parts distributor Jian Xin earlier this year and the opening of the first distribution hub with the group's long-established Dongfeng Peugeot Citroën Automobiles (DPCA) joint venture. And in Latin America, Distrigo has a presence through joint ventures with SK in Brazil and the Etman group in Argentina.
The expansion continues, with six distribution hubs planned for Germany this year: one managed by PSA Retail in Mainz, three by Dürkop & Dello in Hamburg, Berlin and Kassel, one by Certus in Korschenbroich, and one by the Rahenbrock Gruppe in Osnabruck, a company spokesperson told Automotive Logistics. Nine more are planned next year in Germany, she added, although no further details have yet been made available.
Distrigo was originally based on Peugeot, Citroën and DS Automobiles. The Opel and Vauxhall brands acquired in 2017 will be fully integrated into the label's distribution system by January 2020.
Distrigo also added tyres to its offering earlier this year, with 220,000 now stored at PSA's main warehouse in Vesoul, France.
Distrigo markets original spare parts through its multi‑brand Eurorepar range for maintenance and wear-and-tear replacements. The Eurorepar business also demonstrates the group's commitment to protect its brands and combat counterfeiting, said PSA.
"Sixty percent of its parts are now fitted with the security label introduced by the group in 2017. The label gives each product a unique, traceable identity and features an individual QR code that can be scanned to verify the product's authenticity," it said.
The label, which cannot be falsified, is placed on all packaging for Peugeot, Citroën and DS OEM parts, Eurorepar parts and accessories, and allows customs officers, repairers and customers to check a part's authenticity.
Meanwhile, on the expansion front, PSA's multi-brand maintenance and repair network Euro Repair Car Service has increased its presence in its home base of France and opened up locations in Algeria, Turkey, Russia, Bulgaria, Greece, Morocco, Sweden and Saudi Arabia in the past year. The total number of host countries now stands at 22.