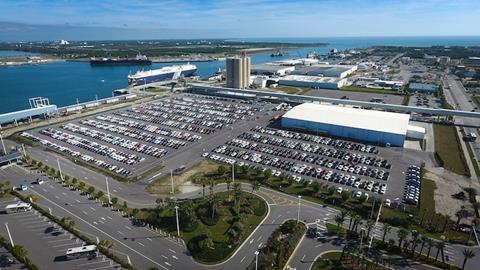 US terminal operator Autoport has chosen not to renew its lease at Canaveral Port's vehicle handling terminal on the east coast of Florida and from the beginning of March finished vehicle throughput is being managed by Canaveral Port Authority (CPA).
The first delivery of vehicles to be processed under CPA management arrives on March 5 (Thursday) aboard the MOL Wisteria Ace, which is carrying 700 vehicles for unloading.
The port only started handling finished vehicle volumes in 2016 when the CPA decided to diversify its business and Autoport leased 65,000 sq.m on a three-year contract.
The port now handles a variety of cargoes, including containers, breakbulk, ro-ro, project and bulk commodities. In terms of finished vehicles, last year handled 9,920 units, but the terminal has available annual capacity for 100,000 and is looking at expand that to 240,000.
According to CPA, nearby Orlando is one of the nation's largest car rental markets and Central Florida is home to some of the world's largest automobile and heavy equipment auctions.
"The port is committed to expanding the terminal footprint and will make the necessary investments to accommodate customer needs and growth demands," said Captain John Murray, port director and CEO. "The port invested in implementing a new advanced terminal operating system using cloud-based technology to allow adaptability to any OEM system. This technology is capable of integrating with the latest vehicle tracking technologies to provide real-time reporting and facilitate tiered supplier efficiency."
According to CPA it has also hired former Autoport Canaveral employees to ensure operational continuity and maintain the quality of service.
Additional funding
The port is benefiting from an $18.5m investment in a multimodal berth – North Cargo Berth 8 – to handle more diverse cargo, the first phase of which is nearing completion and expected to be ready by April. The majority of that investment is through grand funding from the State of Florida ($15.3m), invested in the berth and uplands construction according to Murray, as well as roadway access and egress improvements.
"The berth was designed and has been built to handle all types of cargo – container, high and heavy, bulk, breakbulk, as well as commercial space rocket boosters," said Murray. "The second phase of construction is underway to add a 120-foot [36.5-metre] pier extension to the 900-foot [274-metre] seawall, to accommodate larger vessels at the berth."
According to Murray the pier extension is scheduled to be completed in October.
The port is also benefiting from a $14m-plus Wayfinding and Northside Roadway Improvement project, which is now complete and is reported to be improving traffic flow through the port.
"Additionally, colour coded signage for the north and south sides of the port has been a major improvement and well received by port users and visitors.
As well as MOL, Höegh and NYK are also calling at Canaveral, and Murray said CPA was working closely with multiple ocean carriers to expand its service portfolio.