The US port of Jacksonville in Florida is working on long-term strategic improvements to support finished vehicle processing as it readies itself for a return of volumes.
That includes the investment of $210m to expand and relocate processing facilities for its customer Toyota. The port authority, Jaxport, signed a deal earlier this year with Southeast Toyota Distributors to move operations from two separate locations into on 88-acre (35.6 hectare) property on the Blount Island Marine Terminal.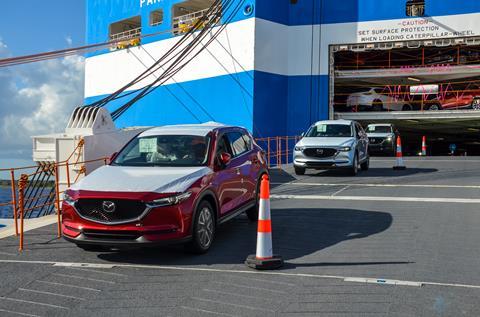 "We are building the auto processing infrastructure now to be ready to serve the needs of the industry when volumes rebound," said a spokesperson for Jaxport. Prior to the pandemic, Jacksonville was processing around 700,000 vehicles annually.
"In addition, the steps that Southeast Toyota has made to diversify its supplier base provide additional volume stability in the short-term."
Ebb and flow
Last year the port managed to maintain a level of throughput consistent with 2020 despite the disruption to the automotive industry from a number of directions. It moved 565,800 vehicle units in 2021.
From January through March of 2022, numbers were down because of the same disruption, including production volatility caused by the shortage of semiconductors to the automotive industry. The port moved just below 140,800 vehicles thorough its terminals in the first quarter compared to 148,500 during the same period in the previous year.
"There was a slight decrease in vehicles moving through in Q1 due to supply chain ebb and flow, stemming from ongoing auto parts shortages," said Jaxport's spokesperson. "While we never want to see volumes decline, the current industry slowdown makes for an ideal time to build new facilities to prepare our port for the future."
Ro-ro upgrades
Jaxport said it is building up its ro-ro capabilities to ensure congestion-free operations for all of its customers, including Toyota, Mazda, Nissan, VW Group and Ford.
That includes $45m in berth upgrades at Blount Island, carried out in partnership with the Florida Department of Transport (FDOT), which will soon be underway.
"The upgrades include expanding one auto berth to accommodate two larger vehicle ships simultaneously instead of one, and the expansion of a second berth to more efficiently accommodate the larger vehicle ships calling the terminal," said Jaxport's spokesperson.
Jaxport has also recently upgraded the Blount Island Marine Terminal electrical grid to provide enough capacity to accommodate charging stations for EVs as volumes increase. That falls in line with efforts being made by the vehicle terminal operators, which along with include Southeast Toyota Distributors includes Amports and WW Solutions, to gear up through additional charging infrastructure, terminal parking realignments and training.
The port is also supporting more sustainable fuelling by providing LNG for the 7,500 capacity vessels operated by Siem Car Carriers – Siem Aristotle and Siem Confucius – which regularly call at the port with VW Group volumes.
"The ships are regularly fuelled at Jaxport's Blount Island terminal by the LNG bunker barge, Clean Canaveral, with fuelling completed by JAX LNG. Eagle LNG has also fuelled the vessels using its on-dock capabilities at Talleyrand," said Jaxport's spokesperson.
Read more about developments at the port of Jacksonville and the other leading North American vehicle handling ports in our annual review soon to be published in the summer digital edition of Automotive Logistics and Finished Vehicle Logistics magazine