Bridgestone is distributing tyres in central and eastern Europe from a new 50,000 sq.m warehouse in Poland. The facility, which is located at the Panattoni logistics park in Poznan, is being operated by ESA logistika as part of a multi-year contract.
The warehouse is able to store and distribute tyres to retail centres across the region on a daily basis. The company has 6,000 retail outlets in the wider Europe, Middle East, India and Africa (Emia) regional unit, with 16 tyre production plants supplying those outlets with products via its tyre distribution centres.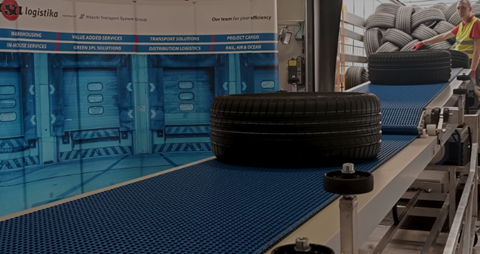 The new distribution warehouse will also be handling tyres made at Bridgestone's new manufacturing facility in Poznan.
As part of its contract with Bridgestone, ETA logistika is providing a warehouse management system (WMS) that controls conveyors for loading and unloading tyres, and will also control robots for transporting tyres to the extensive racking system for storage.
Bridgestone said the facility was organised on a sustainable footing with photovoltaic lighting and systems to save energy and water, and cut emissions.
"Our new project, launched with ESA logistika, reflects our commitment to creating a supply chain and logistics with long-term environmental benefits, and aligns perfectly with the ecology and energy values in the Bridgestone E8 Commitment," said Elżbieta Oussar, logistics and supply chain director, Bridgestone Europe East Region.
Bridgestone has also recently relocated the headquarters for its Emia operations to Zaventem, on the outskirts of Brussels in Belgium.
"This move to our new Bridgestone EMIA headquarters has given us the opportunity to create a desirable working space that meets the needs of our global, hybrid teams as we adapt to a smart working pattern", commented Laurent Dartoux, president and CEO of Bridgestone EMIA.