Automotive press manufacturer Schuler has centralised spare part warehousing operations into an expanded unit at its Göppingen headquarters in southern Germany.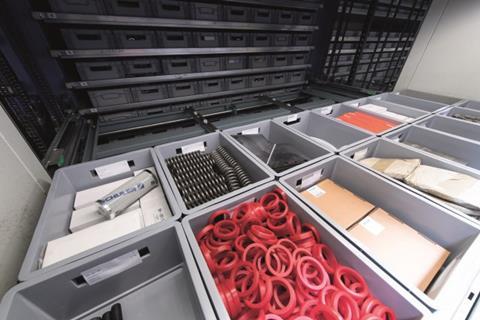 The development improves logistics processes, ensures cross-facility cooperation and standardises order processing for service parts, a company spokesman told Automotive Logistics.
"Schuler Service is planning 46,000 incoming goods, 87,000 order-picking operations and 8,200 dispatches per year at its new central warehouse," he said, pointing out that customers receive modern documentation in compliance with the latest guidelines in addition to the parts ordered.
In the past, the company's warehouses at Erfurt, Remscheid, Waghäusel, Weingarten, Gemmingen, Hessdorf and Göppingen each supplied their own customers separately.
Managing director Martin Habert, who oversees service at Schuler, said: "We stock replacement parts, critical machine components and entire assemblies for all of the machines from Schuler and our other brands, no matter when the machine was built or whether it's a hydraulic press, mechanical press or the accompanying automation."
Explaining the thinking behind the expanded warehouse, the company said: "Unanticipated press downtime can often be extremely frustrating, especially since each additional hour of system inactivity can get very costly. When a component on the press fails, it has to be replaced as soon as possible so that production can resume with minimal delay."
Schuler produces a range of presses and related equipment for the automotive industry, such as stamping, blanking, die, servo, knuckle-joint and multi-station presses, as well as forging, tryout and press hardening systems, and hydroforming.