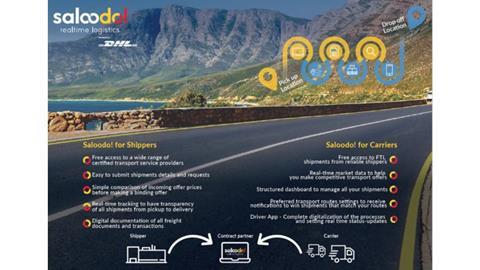 DHL's Saloodo subsidiary, which provides a digital freight booking platform, has introduced its service into South Africa and announced plans for further expansion into sub-Saharan Africa next year.
According to DHL, it is the first digital platform available in South Africa and offers shippers and transport providers cost optimisation, routing, cargo and transit times.
Saloodo, which DHL launched in Germany in 2017, puts OEMs and suppliers in contact with transport providers via an online platform to meet demand for freight shipments. The service covers booking, tracking, documentation and payment.
As well as Germany and South Africa, the platform is now available in the UK, Italy, Poland and the Middle East. DHL has customers in those markets making passenger and commercial vehicles, as well as component manufacturers and tyre makers. According to Saloodo the service is currently used by 30,000 shippers and over 12,000 carriers.
Supporting growth in Africa
The South African automotive sector accounts for 7% of the country's overall GDP and, according to Tobias Maier, CEO of Saladoo Middle East & Africa (Saladoo MENA), the ratification of the African Continental Free Trade Agreement (AfCFTA) and the revamped framework under the South African Automotive Masterplan (SAAM) means growth in the automotive sector in Africa is set to continue.
"Saloodo is perfectly positioned to meet this demand and capitalise on this growth [and] brings a whole new dimension to the South African automotive landscape," said Maier.
According to DHL, much of sub-Saharan Africa's road freight operations remain "fragmented and highly traditional" and do not have the "visibility, efficiency and security" that the latest technology offers.
"As the automotive sector is built on just-in-time and just-in-sequence supply chains, a highly performant, reliable and transparent logistics solution is needed," Maier told Automotive Logistics.
He went to say that the security and connectivity that the service offers, combined with DHL's logistics expertise for the industry would be "a compelling proposition for auto makers and OEMs seeking efficient automotive logistics in the country and continent".
"With real-time visibility, Saloodo will inject greater transparency and efficiency to the road network in the region, enabling shippers – from small enterprises and start-ups to large multinational groups – to find trusted and reliable freight carriers in South Africa," added Maier. "This will in turn help carriers manage existing fleets and optimise capacity with full truckload shipments."
The latest automotive logistics developments in the Middle East and North Africa (Mena) region will be under discussion at the Automotive Logistics MENA conference being held next week (November 19-20) in Dubai, UAE