China's Jiangnan Shipyard has just finished building the latest hybrid car carrier vessel for United European Car Carriers (UECC). The vessel, which was floated on August 16, is powered by a combination of liquefied natural gas (LNG) and battery power, and is the second of three newbuilds the short-sea finished vehicle carrier is commissioning as part of plans to upgrade its fleet with low-carbon vessels.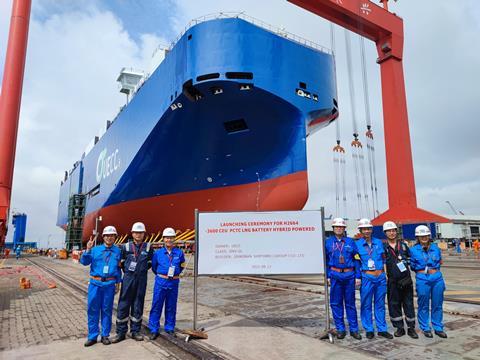 The vessel, which has yet to be officially launched, will be delivered to UECC in the first half of 2022 along with the third vessel on order. The first is expected to be delivered to UECC in the autumn of this year.
The latest vessels will join two LNG-powered pure car and truck carriers (PCTCs) that UECC has had in operation for the last four years – Auto Eco and Auto Energy.
"The intention was to further improve on these two E-class vessels… by rationalising fuel consumption through the use of hybrid battery power," said UECC's head of ship management and newbuilding, Jan Thore Foss.
He added that the yard "responded to the challenge" by employing Jiangnan Shipyard Group's internal design firm to conduct the engineering work necessary to adapt the hybrid technology supplied by WE Tech of Finland for this innovative new project.
"There have been a number of technical challenges to overcome, such as streamlining the shaft generator for a dual-fuel engine and determining whether the bow thruster could run on battery power when entering and leaving port," Foss said.
According to UECC, the yard and shipowner overcame staffing and logistical challenges caused by the Covid-19 pandemic to ensure that delivery happened on schedule.
"The newbuilds were contracted in 2019 just before the pandemic broke out so, fortunately, we had equipment vendors in place, but the main challenge has been getting service engineers into China," said Foss.
A temporary site team comprising solely Chinese nationals was set up to get the newbuild project moving as flights into the country were cancelled. Digital tools such as conferencing apps to supervise the project remotely also aided in the process.
"The yard… has performed exceptionally well to re-allocate labour resources to maintain progress on the project," Foss explained.
Operational efficiency and further lower emissions are expected to result from battery power onboard the vessel.
Once all three vessels are delivered, UECC will have five lower-emission PCTCs out of its 17-vessel fleet.