The third and final in the current series of advanced dual-fuel, LNG battery hybrid car carriers built for European short-sea ro-ro shipping provider UECC has been launched at the Jiangnan Shipyard in China.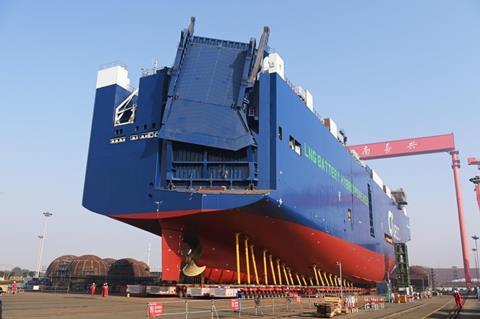 Work will now continue on the vessel's infrastructure, and it is expected to leave the shipyard at the end of July this year.
The vessel, which has yet to be named, has a capacity for 3,600 vehicles on ten cargo decks, in line with the two other ships in the series.
UECC's chief executive Glenn Edvardsen paid tribute to the "monumental efforts" of Jiangnan Shipyard in dealing with the supply chain and workforce disruptions caused mainly by the Covid-19 pandemic and still delivering the vessel on time. He also pointed to the growth in the company's fleet of more environmentally sustainable vessels.
"We are rapidly building up our low-emission fleet to become the leading eco-friendly shortsea carrier in Europe through the addition of these newbuilds that will, alongside the use of alternative fuels on our existing vessels, drastically reduce UECC's environmental footprint," he said.
The company has put its first vessel in the series – Auto Advance – into operation, with vehicles being delivered to Europe from Japan. It has already called at the Greek port of Piraeus and will reach Zeebrugge in Belgium by January 13.
From there, the vessel is expected to be deployed on UECC's trade route taking in Vigo (Spain), Le Havre (France), Zeebrugge (Belgium) and Sheerness (UK) on an eight-to-nine-day rotation.
The second of the newbuilds is now in the final stages of construction after being launched at the yard last summer.
UECC said the battery hybrid technology and the ability to run on both conventional ship fuel and LNG enabled the vessels to exceed the IMO's goal to cut carbon intensity by 40% by 2030 compared with 2008 levels.
UECC said that with the addition of the newbuilds, it will have 80% of its total lifting capacity able to meet or exceed the target established by the International Maritime Organization (IMO) ahead of the 2025 deadline when all new ships have to be 30% more energy-efficient than those built in 2014. UECC would achieve a cut of 34,500 tonnes of CO2 emissions by then.
"We are taking advantage of available dual-fuel and hybrid technology with these newbuilds while proactively adopting existing low-carbon fuels on our operational vessels to make a difference for the environment right now," Edvardsen said.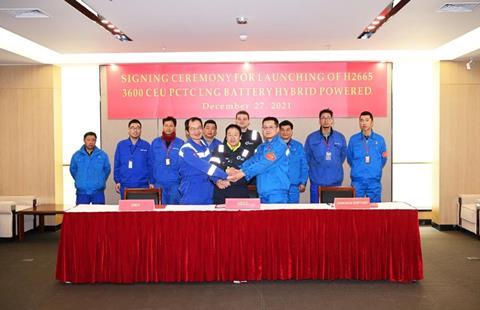 The latest vessels will join two LNG-powered pure car and truck carriers (PCTCs) that UECC has had in operation for the last four years – Auto Eco and Auto Energy.
The next edition of Automotive Logistics and Finished Vehicle Logistics magazine will include a feature on sustainability in the shipping industry.