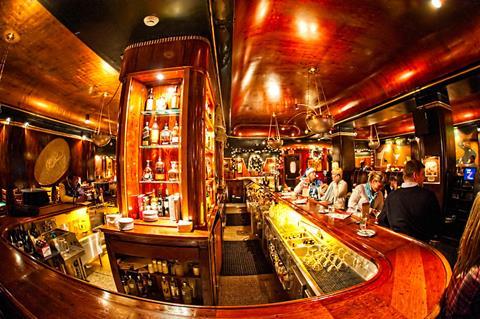 19.00 – 22.00 Tuesday 10 September
Cliff Bells Jazz Club, Detroit
Hosted by:

John Clifford Bell opened his signature club prohibition "speakeasy" Cliff Bell's on Park Avenue in 1935. It was a luxurious bar decked out in mahogany and brass.
Through the 30′s 40′s and 50′s Cliff Bell's anchored the end of what was Detroit's busiest night crawl with clubs, pubs and Burlesques dotting Park Avenue. During the 70′s and 80′s the Club operated under a series of other names.
In 1985 the famous club closed and remained empty until late 2005, when renovation began on the long, shuttered club under a joint venture. In just six short months (and much hard work despite rumors of a simple "dusting off"), the club was open again thanks to the help of friends, neighbors and family members and the much-appreciated support of the building owners Jerry and Lee Belanger.
Cliff Bell's is once again alive with spirit and song. Join your fellow delegates at this infamous speakeasy, mingle, exchange views and contact details with some of the finest minds in the automotive logistics sector.
If you wish to attend please tick the relevant box upon registration or alternativaly contact registrations@automotivelogistics.media to confirm your place.
Cliff Bells is just a short drive away from the event HQ hotel the Crowne Plaza – please see directions below.