More than a shipping company Neptune Lines, founded in 1975, is a leading car-carrier operator providing frequent, reliable and high-quality services to the automotive industry.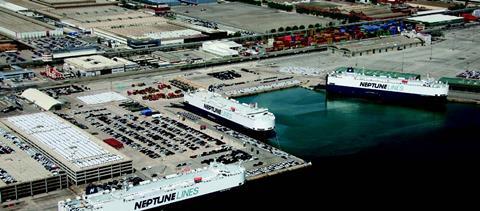 The company operates regular liner services in more than 30 key ports in 19 countries in northern Europe, the entire Mediterranean as well as the Black Sea. Neptune Lines has formed direct contracts and established long-standing relationships with all major car and commercial vehicle manufacturers, as well as with leading 3PL and 4PL companies, transporting more than 1.2m cars and light commercial vehicles annually. It also specialises in the safe handling of project cargo, high-and-heavy units, agricultural and construction equipment with a near-zero percent damage ratio.
A modern and young fleet Neptune Lines operates 16 Pure Car and Truck Carrier (PCTC) vessels with a total carrying capacity of more than 50,000 units. The average fleet age correlated with the carrying capacity is 9.5 years and comprises one of the youngest fleet of PCTC vessels in Europe.
Greener shipping vision
Neptune Lines is firmly committed to the protection of the environment through established environmental and energy efficiency policies. The last two additions to its fleet reveal not only the company's intention but also the outcome of its environmental and energy efforts. Specific measures, such as voyage and speed optimisation, application of advanced silicon-based antifouling products, and propeller re-blading are only part of Neptune Lines' energy efficiency programmes.
Since 2010, it has achieved a 10.66% reduction of its CO2 emissions and it aims to further reduce them by 0.5% on an annual basis till 2022.
Sustainability
Neptune Lines is the first Greek shipping company to publish a 'Sustainability Report' based on the Global Reporting Initiative's G4 Sustainability Reporting Guidelines.
Neptune Lines is a signatory to the United Nations Global Compact, submitting an annual 'Communication on Progress' report, publicly available on the UN Global Compact website. The company is also an active member of the Maritime Anti-Corruption Network.