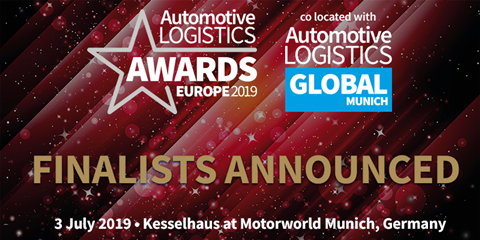 The finalists in the second Automotive Logistics Global Munich Awards have been announced following a tough judging process by a panel of independent industry experts, including carmakers, logistics providers and transport associations.
The awards, which are organised into ten separate categories, celebrate excellence and innovation throughout the automotive logistics industry.
"We have had a remarkable response to our second Automotive Logistics Awards, with many high-quality entries being submitted from across the sector," said Louis Yiakoumi, publisher, Automotive Logistics group. "The quality and quantity of these submissions highlights the level of innovation, talent, diversity and dedication evident across Europe's automotive logistics sector.
"We would like to thank our judges and sponsors for the vital role they play in helping to make these awards such a success," he added.
The finalists are:
Better Visibility Award
Hödlmayer – ETA: estimated time of arrival for direct dealer distribution
Wega A – Bond: innovative tool to increase efficiency of OEM stock and shipments
Daimler – Rekla@Tablet for logistical errors and claims tracking
FVL Innovation Award
Proact International and Bentley – Global finished vehicle automation with Bentley Motors
Bentley Motors and Degould – Degould innovative engineering for vehicle image process at end of production
CFR Rinkens – Vehicle containerisation with racking system
Fracht – The European Logistics Alliance powered by ALCS
Greener Supply Chain Award
Orbis Corporation – Orbis Europe GitterPak
Wallenius Wilhelmsen – Wallenius Wilhelmsen partnership with ship recycling transparency initiative
Kar-Tainer International – SKD System: going green while cutting costs
IT Innovation Award
Seat – Holistic internet-of-things vehicle distribution system
Sevatas – DVM mobile app with Degould for dealer vehicle damage reporting
T-Systems International – Logistics 4.0 for finished vehicle distribution together with Volkswagen Group, BLG and Inform
Logistics' Got Talent Award
Gefco – Gefco University, global digital employee training programme
National Vehicle Distribution – NVD improved driver recruitment, training, health and safety initiative
Manvesta – Manvesta Drivers' Academy for vehicle logistics carriers
Packaging Innovation Award
Opel/Vauxhall and 4flow – Container management for aftersales
Ford Motor – Eco-friendly recyclable 'Chocolate Box' packaging solution
Audi – Sustainable rack for sea transport of car bodies
Supply Chain Design & Engineering Award
FCA Tofas – Steel roll supply optimisation
PSA Group – From supply chain 'player' to 'Orchestra Leader': S&OP process
FCA Tofas – Tofas logistics cost calculation software
FCA Tofas – Plant layout optimisation
Supply Chain Disruptor Award
Proglove – Smart glove industrial wearable solution
Easy4Pro – Online platform for urgent, spot shipments
Degould – Auto-imaging system with Vector Mapping app
Supply Chain Partnership Award
T-Systems International – Logistics 4.0 for finished vehicle distribution together with Volkswagen Group, BLG and Inform
Gefco – Vehicle dismantling project or vehicle exports to Malaysia
TNT – Improving inbound supply chain performance with OEM customers
Transport Innovation Award
CFR Rinkens – Vehicle containerisation with racking system
FCA Tofas – Local inhouse material transportation management
Unikai Lagerei – Brown marmorated stink bug (BMSB) heat treatment for car exports
The awards ceremony will take place as part of the Automotive Logistics Global Munich conference gala dinner at the Kesselhaus, Motorworld on July 3, 2019.
For more information, please visit the official awards website.
*Note: this article was updated on 18 June to include FCA Tofas's logistics cost software as an additional finalist in the Supply Chain Design & Engineering Award