The Spanish ports of Barcelona and Santander have each made recent moves to provide more space for vehicle handling.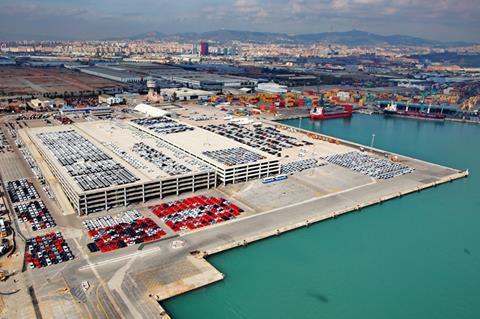 Barcelona Port Authority is looking to make permanent use of a 23-hectare area for the storage of finished vehicles. The area, which was part of the former Tercat container terminal, has been used by incumbent vehicle terminal operators Autoterminal and Setram since 2012, especially as a place to store transshipped vehicles. The area can accommodate up to 11,500 units. The port authority is now deciding on the terms and conditions for future use.
According to the port's commercial manager, Lluís Paris, the transfer of container handling operations away from this area has improved berthing facilities for car carriers, which no longer routinely have to wait to dock. The port is therefore eager to use the space to store more finished vehicles, given how busy Barcelona is for vehicle handling, including for Seat and Nissan, which have plants in the vicinity.
Paris stressed that ports in northern Europe are faced with capacity constraints, prompting many operators to explore alternatives in the south of Europe. Talks are under way to attract new manufacturers to the port, for both imports and exports, with Barcelona well placed to act as a hub.
In 2018, finished vehicles traffic in the port amounted to around 900,000 units, in addition to a further 60,000 vehicles that were moved entirely by inland logistics, using a combination of road and rail.
Paris says that quite a few German-built vehicles arrive by train and wagons that would otherwise return empty are loaded with imports bound for such areas as Hungary, Poland, southern German and northern France.
In a separate development at the port of Santander, on Spain's north coast, five companies have bid for a contract to build a multi-level storage facility at the vehicle terminal there. The car park will be built on the Espigón Central de Raos and cover an area of 73,000 sq.m. There will initially be one raised level, on top of which two more could be built if demand so warrants it in the future.
The project, which has a budget of €24.8m, will take 21 months to complete.