UK lithium-ion battery maker Britishvolt is ready to start shipping battery cells to carmakers and other customers following its success in passing battery cell transport safety certification.
Lithium batteries are required to pass section 38.3 of the UN Manual of Tests and Criteria for transport. Passing UN38.3 certification is a significant step for Britishvolt's business as it ensures cells are safe to be transported to customers.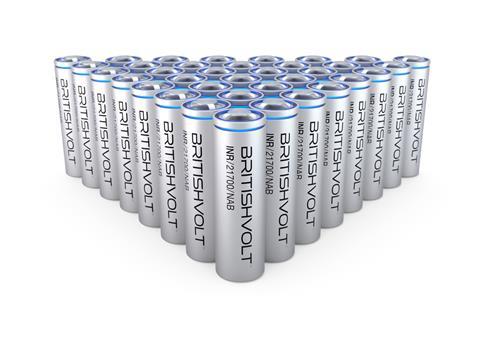 To pass the test, the lithium-ion cells must not show any signs of leak, rupture, disassembly or fire hazard. According to Britishvolt, an exhaustive test programme consisting of a variety of simulated extreme conditions such as high altitude, very low and high temperatures, and several mechanical abusive tests are performed.
UK battery testing firm AIS was chosen to carry out the safety testing and passed the cells.
"This is fantastic news, and highly encouraging that we have worked with AIS to qualify our first product samples for transportation safety testing, putting us on a path for our future development and enables us to ship test hardware to customers," said Dr Allan Patterson, chief technical officer at Britishvolt.
Supply strategy
The 21700 cells are currently being made at the publicly funded UK Battery Industrialisation Centre (UKBIC) in Coventry, UK. They will be moving to seven customers across the country, including premium carmakers Aston Martin and Lotus, for further testing. Britishvolt signed a two-year agreement with UKBIC in January this year to assemble and manufacture cells at the facility.
"Building battery cells of this quality on behalf of our customers is further endorsement of the state-of-the-art UKBIC facility and our 'baseline-cell platform' developed to support rapid industrialisation," said Ian Whiting, Commercial Director, UKBIC
Britishvolt will eventually be supplying larger format cells from its £3.8 billion ($4.4 billion) gigafactory currently under construction in Blyth, in the north-east of the UK. In addition, from 2024 certain B-sample cells will be produced at the company's scale-up R&D facility at Hams Hall in the UK Midlands.
The Blyth gigafactory is expected to have an annual battery cell production capacity equal to 38GWh, though production may now not begin until 2025 because of increasing energy prices, according to outgoing founder and CEO, Orral Nadjari, who was speaking to the Financial Times. The plant was originally planned to come online next year.
"We have rescheduled some of our plans with a focus on R&D and scale up considering the current energy crisis," a spokesperson for Britishvolt confirmed. "We are focused on delivering our gigaplant, Phase One, from 2025 onwards."
Carmaker MoUs
In January this year, Britishvolt has signed a memorandum of understanding (MoU) with Lotus to advance lithium-ion battery cells. The companies will develop an electric sports car powered by Britishvolt cells and with advanced electric propulsion technologies developed by Lotus.  
Following that, in March, Britishvolt also signed an MoU with Aston Martin, which plans to launch its first battery electric vehicle in 2025. A joint research and development team from Aston Martin and Britishvolt will design, develop, and industrialise battery packs, including bespoke modules and a battery management system.
In other news, with last month's announcement that Britishvolt's founder and CEO Orall Nadjari is stepping down, Graham Hoare is taking over as acting CEO. Hoare is currently Britishvolt's deputy CEO and president of global operations. The former Ford UK chairman is also chair of the UK Automotive Council.