Electric vehicle startup Canoo has reached an agreement with Panasonic to supply batteries for its forthcoming Lifestyle Vehicle, expected to begin production under contract in late 2022 at the VDL Nedcar assembly plant in Born, Netherlands.
"Our team is very focused on continuous optimisation and creating IP [intellectual property] in the areas of battery module technology, higher energy density and on a flexible thermal management platform that contributes to enhanced safety and lower cost of ownership," said Tony Aquila, investor, chairman and CEO of Canoo.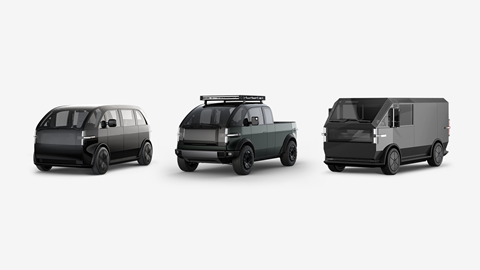 He added that the battery systems were designed to account for future advancements in cell technology and lauded Panasonic as a leader in the lithium-ion battery industry.
"With billions of cells on the road, they are a proven pioneer and world-class manufacturer of what we believe are one of the most durable electric vehicle batteries," Aquila said.
Canoo entered into the agreement with Panasonic on October 19, 2021.
Batteries will be produced at one of Panasonic's several worldwide production sites. As part of the agreement, Canoo and Panasonic have arranged for the cells to be picked up from one of Panasonic's several worldwide production sites and transported to the VDL Nedcar facility.
In a press release, the startup announced that the Nedcar facility is slated to build up to 1,000 units for both the US and European markets in 2022, with a target of 15,000 units in 2023. A US factory in Oklahoma is planned for vehicle rollout and scale up production. The 'mega microfactory' facility will be overseen by VDL Nedcar.
Canoo has developed proprietary battery system technologies in its multipurpose platform, including a structurally integrated battery module with safety features built into the structure.
The California-based carmaker said that its engineering team prioritised lowering cost-per-unit of energy stored while aiming to ensure adaptability with future cell technologies. Canoo also integrates the battery modules directly into the platform structure, rather than installing the battery modules into an enclosure that is then sealed and bolted into the chassis.
This follows the announcement in June this year that the former head of logistics at fellow US-based EV startup, Nio, Govin Ranganathan, would take up the role as Canoo's director of logistics, materials and transportation.
Ranganathan said he was excited to join Canoo and support its mission to bring affordable, purpose-built EVs to the consumer.