European shipping line CLdN has taken delivery of MV Hermine, the fourth con-ro vessel and sixth in the company's current building programme.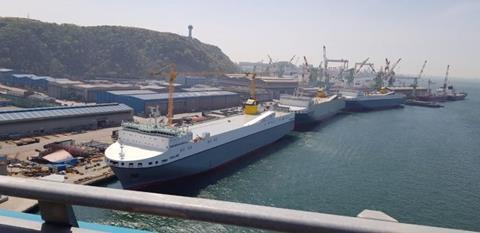 Like its sister ships, MV Hermine will have additional car decks to serve automotive clients combined with container and trailer decks. The vessel is 5,400-lane metres long.
The group's ports division is investing around €200m euros ($220m) on expanding terminals for the next-generation vessels. Part of the outlay includes value-added services tailored specifically to the car manufacturing industry whose requirements are, said CLdN, evolving at a very fast pace.
The first ships delivered under the new-build programme were two 8,000 lane metre ro-ro vessels. The six ships have expanded the shipping operator's capacity by around 70%.
The programme's target is 12 new vessels and earlier this year CLdN ordered two 5,400 lane metre ships to be built at Hyundai Mipo Dockyard in South Korea, with the main engines powered by liquefied natural gas (LNG) to reduce fleet emissions. An LNG supply chain is being set up in Rotterdam and Zeebrugge ports where the ships will bunker.
"The latest orders will copy the proved design of their four predecessors, which are proving to live up to their expectations and have bedded in very well into their respective services," said CLdN.
The company runs 130 sailings a week between Belgium, the Netherlands, the UK, Ireland, Sweden, Denmark and the Iberian Peninsula.
With regard to the UK and Ireland, politics is playing its part in future trade.
"Brexit is still overshadowing the industry with uncertainty for the UK and Irish market," said the company. "CLdN believes this can also be viewed as an opportunity, especially as six new vessels have been received to date, allowing us to be best positioned to provide unaccompanied solutions."