Electric vehicle distributor Innovation Automotive has launched the DFSK EC35 electric van on the UK market this week and will deliver it to customers with BCA, the UK's biggest finished vehicle transport and logistics provider.
[Updated March 9] The light commercial vehicle, which is made by Chinese joint venture DFSK Motor, is being imported through Portbury Docks in Bristol from where BCA will handle vehicle processing, management, preparation and transport to the customer. Innovation Automotive is distributing the vehicles directly to the end customer.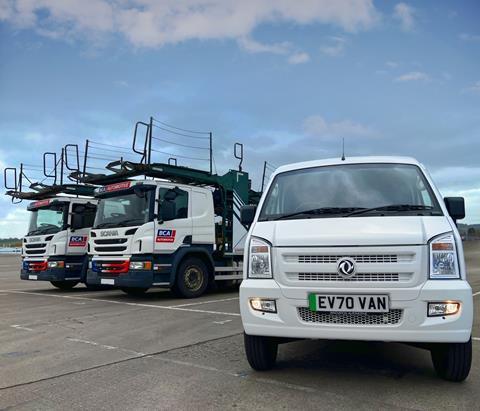 "Our commitment to delivering a first-class customer experience demands that every touchpoint with the business is seamless," said Paul Brigden, CEO of Innovation Automotive. "That includes ensuring that every vehicle arrives with the customer on time and in perfect condition, so it is imperative that we work with the very best logistics partner."
BCA said it was providing a range of specialist services to Innovation Automotive at the Import Centre in Portbury, including vehicle reception, management and administration, handling, storage, pre-delivery inspection (PDI), accessory fitment and EV charging.
Logistics services include delivery by bulk transport or single vehicle movement to UK customers as well as support for fleet and corporate customers. It is also handling specialist movements for events.
"We are delighted to be working with Innovation Automotive as they bring their exciting range of new electric vehicles to the UK market," said Mark Hindley, sales and marketing director at BCA Vehicle Services. "BCA offers a complete end-to-end supply chain solution for the automotive sector, which means we can provide a great partnership solution."
Aftersales parts and services are being provided by Halfords Autocentre, with more than 50 locations initially included in the service network across Great Britain.
The EC35 van is powered by a 39kWh lithium-ion battery and comes in two versions, with one providing a single-charge range of 162.5km (101 miles) and another that delivers up to 267km range.
Innovation is planning to launch another electric van onto the UK market – the DFSK EC31 – and will follow these with electric passenger cars, according to the company. Innovation Automotive is a multi-brand supplier of EVs and currently also works with China's Skywell New Energy Automobile Group, which makes electric buses and passenger cars.