FLO is building an EV charger manufacturing plant in Auburn Hills, Michigan, its first US manufacturing facility. Production at the $3m plant is set to begin by the end of 2022 and FLO aims to make 250,000 chargers by 2028 for the US market, with sales forecast at $134m.
The company said the new facility will support existing operations in the production of both Level 2 stations and DC fast chargers. The Canadian company currently produces chargers at its Quebec plant.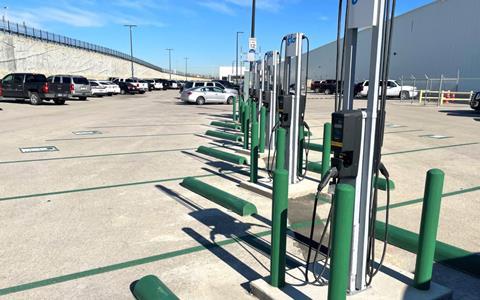 "Chargers produced here will serve a breadth of use cases, including public and private locations, residential, workplace and commercial solutions," said a spokesperson for the company.
FLO is benefitting from a $800,000 grant provided through the Michigan Business Development Program, an incentive programme provided by the Michigan Strategic Fund (MSF) in cooperation with the Michigan Economic Development Corporation (MEDC).
"The opening of this US facility marks a new chapter in FLO's efforts to support EV adoption across North America," said CEO, Louis Tremblay. "Our team brings over a decade of experience at all levels in the EV charging industry to the US market. From manufacturing and installation to charger maintenance, we are a part of the charging process every step of the way."
FLO will make charging units for houses and residential buildings, as well as public charging stations across the country.
The company said it had partnerships in place with vehicle makers, including GM, and had been deploying chargers for employees at GM offices across the US. Further partnerships are expected to be announced soon.
Re-energised Michigan
The historic car-producing state of Michigan has become the centre of a big electrification drive, spurred on by the Biden Administration's goal of reaching a 50% share of EV sales by 2030.
GM said it would spend $2.6 billion to build a new battery factory in the Lansing area and $4 billion to convert its existing factory in Orion Township to make electric pick-ups. That comes on top of spending $500m to make upgrades to its two existing vehicle assembly plants in Lansing. The company said the projects, tied to about $824m in state incentives, would create 4,000 jobs.
Earlier this month Ford also announced an investment of more than $2 billion across its Michigan plants, which the company said are expected to create more than 3,200 jobs.
The investments in five plants, contingent on approval of about $101m in state subsidies, were intended to advance Ford's electric vehicle future in the state while also securing its existing internal combustion vehicle operations, Ford said.
FLO has been producing industrial equipment for utilities, vehicle manufacturers, state and federal governments, and other bodies since 2017.