Kandi Technologies is the latest Chinese carmaker interested in opening a manufacturing plant in the US for its electric and off-road vehicles. The company, which also develops lithium-ion batteries and parts, said it could improve competitive pricing by eliminating shipping costs and tariffs associated with imports to the region.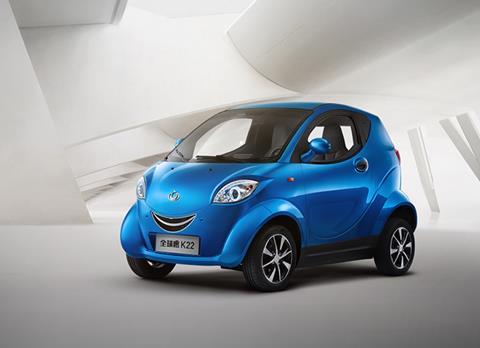 The carmaker wants to target sales growth in North America and said it was in preliminary discussions with several potential partners.
"We have achieved initial success with our strategic decision to expand to the U.S. electric vehicle market," said chairman and CEO of Kandi Technologies, Hu Xiaoming "Over the near term, we are confident we can meet the growing North American demand with our manufacturing facilities in China. Longer term, however, we are actively exploring the possibility of manufacturing EVs and off-road vehicles locally."
In the second quarter Kandi Technologies reported that total revenues were down almost 20% based on the same quarter in 2019 to $19.4m because of the impact of the coronavirus, though off-road vehicle sales increased by more than 27% to $6.6m.
"While maintaining growth of off-road vehicles, our American wholly-owned subsidiary has also prepared to launch sales of pure EVs in the US," said Hu. The company held a pre-sales virtual event last week.
"As a pioneer in the EV industry and inventor of the 'vehicle/battery separation' swap model, Kandi is well-positioned to benefit from growing demand for EVs," added Hu. "The market potential of online car hailing in China is huge, and with government support for the battery swapping model, we are confident that Kandi will gain market share in China's EV industry in the near future."