GM has signed a long-term agreement with MP Materials for the supply of rare-earth materials, alloys and finished magnets used in the electric motors that are powering its growing number of electric vehicles (EVs).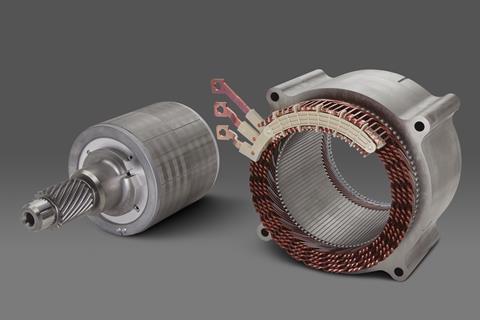 The motors will be used to power the GMC Hummer EV, Cadillac Lyriq, Chevrolet Silverado EV and more than a dozen models using GM's Ultium platform.
Vehicles made on that platform are produced by GM's joint venture with LG Energy Solution called Ultium Cells. That partnership is investing $4.6 billion in two battery cell manufacturing facilities currently under construction in the US.
According to GM the magnets supplied by MP Materials are part of the process that enables electric motors to transform electricity into motion. Production of the motors using materials and parts supplied by MP Materials will begin in 2023.
GM said there was hardly any domestic capacity to make sintered neodymium-iron-boron
(NdFeB) magnets in the US at the moment. "This strategic collaboration seeks to accelerate the restoration of the US rare earth supply chain at commercial scale with high resiliency and environmental sustainability," said the carmaker in a statement.
MP Materials owns and operates the Mountain Pass rare earth mine and processing facility in California, said the company, adding it was the only active and scaled rare-earth production site in America. The materials sourced there will be transformed into metal, NdFeB alloy and magnets at a new production facility MP Materials will build in Fort Worth, Texas.
"We are building a resilient and sustainable EV manufacturing value chain in North America, from raw materials to cell manufacturing to electric drive motors and beyond, further accelerating GM's vision to support a mass market for EVs," said Shilpan Amin, GM's vice-president for global purchasing and supply chain.
Carmakers across North America are looking to reign in the length of the supply chains feeding in core components for their battery electric vehicles having suffered disruption to the supply of parts since the Covid pandemic first hit. International freight movements have been disrupted since the second quarter of 2020, and the situation has only become worse, with lead times for ocean container freight stretching out to record delays from the fourth quarter of last year.
MP Materials chairman and CEO James Litinsky added: "Restoring the full rare earth supply chain to the US at scale would not be possible without US manufacturers like GM recognising the strategic consequence and acting with conviction."
By the end of 2025 GM wants to hit annual EV sales of 1m units in its two largest markets, North America and China. The carmaker intends to offer 30 new EV models, with Buick, Cadillac, Chevrolet and GMC all represented, and it says that more than two thirds of those models will be available in North America. The carmaker said that more than 50% of its factories in North America and China would be capable of EV production by 2030.
Read the most recent feature on GM's plans for EV production and a more resilient and localised EV supply chain