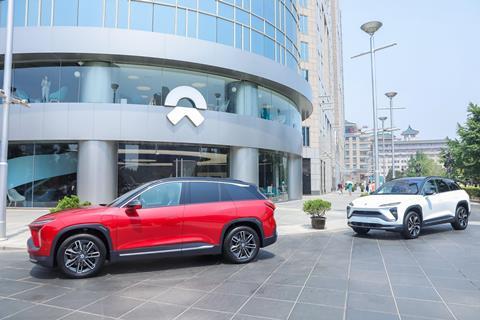 Chinese electric vehicle (EV) start-up, Nio, has started delivering its ES6 model to users in Beijing, Shanghai and Guangzhou. The vehicle, its second mass production model after the ES8, is a five-seater, long range SUV.
It is being built-to-order at the JAC NIO Advanced Manufacturing Center, which is part of JAC Motors factory in Hefei, under a partnership arrangement Nio has with the state-owned vehicle maker. The first production model ES6 rolled off the line there on May 28.
"In less than five years, we have delivered two mass production models to our users, fulfilling our promises," said chairman and CEO, William Li. "We will continue to work on production, quality control, and increasing user satisfaction."
Nio has also produced the Eve concept, the EP9 performance sports car and the Formula E racing car.
New energy vehicle makers, which includes EV makers, are operating on a build-to-order model, which brings with it lower inventory levels and less risk, though it can also mean more volatility and make parts ordering less predicatable.
"You can have less inventory but from a cost, lead time and transport perspective you are managed by your suppliers," said Nio's Marco Wang, senior logistics director, at the recent Automotive Logistics Global Shanghai conference in China. "We try to optimise our inventory level as much as we can, firstly by managing parts supply ex-works."
The trend toward greater customisation within the vehicle is also a logistics challenge as vehicle configurations become more complex and complicate the traditional fixed bill of materials.
In terms of outbound movements, for volume shipments Wang said Nio would use trucks conforming to the latest regulation on size and quality, known as GB1589 (2016). However, as part of its 'user thinking' approach, he said the company was also offering a premium service where individual cars would be expedited individually.
Read more about Nio's dynamic logistics strategy