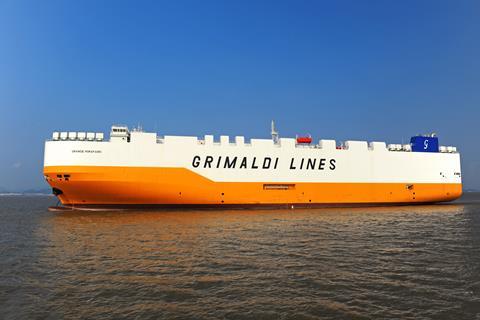 Italian shipping line Grimaldi has taken delivery of the pure car and truck carrier (PCTC) Grande Mirafiori – named after a Fiat car plant – at the Yangfan shipyard in Zhoushan, eastern China.
With a service speed of 19 knots, length of 199.90 meters, beam of 36.45 meters and gross tonnage of 65,255 tonnes, the vessel will be one of the largest PCTCs on the market, according to Grimaldi, based in Naples.
The Grande Mirafiori can transport around 7,600 car equivalent units (CEU) or, alternatively, 5,400 linear metres of rolling units and 2,737 CEU.
"This is an extremely flexible vessel: with her four hoistable decks, the Grande Mirafiori is able to load any type of rolling freight (trucks, tractors, buses, excavators etc) up to 5.3 meters high," the company stated.
The vessel is fitted with a quarter stern ramp, which allows loading of individual items of weighing up to 150 tonnes, and side ramp.
"The configuration of the various decks and the system of internal ramps reduce to a minimum the risk of damages during the loading or unloading of rolling units," Grimaldi said.
The PCTC will be added to Grimaldi's weekly ro-ro service between the Mediterranean and North America currently served by four ships, including Grande Mirafiori's sister vessel Grande Torino, which entered the fleet last December. Family-owned Grimaldi has ordered seven PCTCs from Yangfan.
The 14 ports served on the Mediterranean-North America route are Gioia Tauro, Civitavecchia, Livorno and Savona (in Italy), Valencia (Spain), Antwerp (Belgium), Halifax (Canada), Davisville, New York, Baltimore, Jacksonville and Houston (US), and Tuxpan and Veracruz (Mexico).
"With the delivery of the Grande Mirafiori, our fleet is enriched by a new PCTC among the biggest, most innovative and environmentally sustainable in the world," said CEO Emanuele Grimaldi.
"The name of this unit recalls the historic Fiat plant, which has celebrated its 80th birthday this year. We thus honour the long and fruitful partnership that has been linking us for half a century to one of the most important car manufacturers in the world."
The vessel's environmental credentials include being fitted with an electronically controlled main engine, allowing it to meet new regulations for the reduction of nitrogen oxide emissions (NOx), and an exhaust gas-cleaning system for abatement of sulphur oxide emissions (SOx). It is also equipped with a ballast water treatment unit to meet future international regulations, said Grimaldi.