With cuts, closures and a decrease in domestic vehicle production, India's automotive industry is facing a serious slowdown. Automotive Logistics delves into the details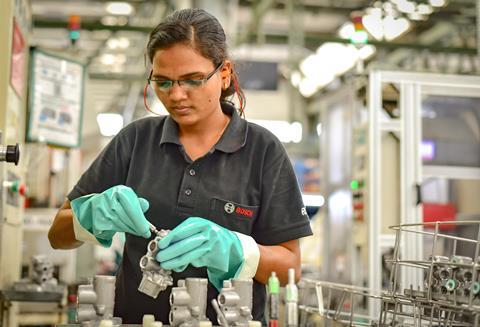 Slumping vehicle sales and production cuts are generating a sense of crisis for automotive part producers and their carmaker customers in India. OEMs are making cutbacks, around 1m jobs are said to be at risk among component manufacturers, and more than 230,000 jobs have reportedly gone from car showrooms.
Society of Indian Automobile Manufacturers (SIAM) figures show that domestic production of all vehicles, including three- and two-wheelers, fell 10.5% year-on-year to 7.2m in the fiscal first quarter to June.
Registrations declined 6.0% to 5.1m in the same period, according to the Federation of Automobile Dealers Associations (FADA). Initial reports suggest that passenger car sales in July have shrunk by at least 30%, making it the worst month in the past two decades. June's year-on-year fall was 5.4% to 1.6m.
Unprecedented slowdown
"The automotive industry is facing an unprecedented slowdown," said Ram Venkataramani, president of India's Automotive Component Manufacturers Association (Acma).
"Vehicle sales in all segments have continued to plummet for the last several months. Considering the auto component industry grows on the back of the vehicle industry, a current 15% to 20% cut in vehicle production has led to a crisis-like situation in the auto component sector. If the trend continues, an estimated 1m people could be laid off."
OEMs are cutting output to trim inventory amid weak demand, with Maruti Suzuki, Tata Motors, Mahindra and Mahindra, Ashok Leyland and Honda Motorcycle and Scooter India having all temporarily closed plants in recent months, according to Indian financial daily Mint.
Parts suppliers are being forced to follow the same path by either temporarily shutting plants or adjusting output by reducing the number of shifts, the newspaper reported.
It quoted Bosch of Germany, saying it had suspended operations at its Gangaikondan plant (Tamil Nadu state) for five days in July to "avoid unnecessary build-up of inventory". Shorter shutdowns have taken place at Naganathapura and Bidadi (both in Karnataka) plus Jaipur (Rajasthan).
Another German supplier, Brose, was said to have cut its daily production schedule to a single shift from three.
A senior representative in India for German parts manufacturer ZF said: "We are carefully monitoring the situation such as inventory levels on a daily basis and [balancing] our labour capacities between the different production lines."
Reduction in production
Jignesh Raval, managing director of Sintercom India, which makes sintered parts for engines and transmissions, commented: "The off-take continues to be low from our customers. This has forced us to cut our production to two shifts to control our inventory. If we don't see further improvements, we will have to consider a block closure for a week in August."
Exide Industries, Continental Automotive Components (India), Schaeffler India, Brembo Brakes India, Kalyani Maxion Wheels, Varroc Group, Eaton and IAC India were also named as having adjusted their production schedules to align inventory to revised forecasts from carmakers.
In its report, the Telegraph of India referred to a saying that when Tata Motors sneezes, the ancillary units (such as component suppliers) catch a cold. Tata Motors has implemented at least three block closures this year because of the industry's slowdown, the newspaper reported. The result is that most ancillary units have reduced the number of shifts while others have discontinued production.
There are indications of worse to come. Major OEM Maruti Suzuki has reported July's domestic passenger vehicle sales which were 36.7% lower year-on-year at 96,478.
Local media is reporting that the company has laid off more than 1,000 temporary employees, is planning to suspend hiring and is looking at other cost-cutting measures to protect it during the deceleration. Reuters news agency quoted chairman R C Bhargava as saying that the workforce is being reduced to reflect the slowdown in business.
The chief cause of what some commentators are calling a recession in India's automotive industry is financing for cars being harder to obtain because of problems in the banking sector.
But investments made for transition to the tougher BS-VI emission standards and lack of clarity on policy for electrification of vehicles, especially two- and three-wheelers, are also playing a part, according to Acma.
All those factors have combined to leave the industry unsure of its future and investments have stopped, association president Venkataramani said.
Taxing times
"The industry needs urgent government intervention. There is an immediate need to stimulate vehicle demand and also sustain it post BS-VI implementation, as vehicles will become significantly expensive thereafter. We strongly recommend that the government instates an 18% GST [general sales tax] rate across the entire auto and auto component sector."
The GST is 5%, 12%, 18% or 28%, depending on product or service involved. Other taxes can raise a vehicle's purchase price in India by a total of 50%.
Car dealers' association Fada said that around 200,000 jobs have been lost from showrooms in the past three months alone, in addition to the 32,000 made redundant when 286 showrooms closed down across 271 cities in the 18 months to April during the prolonged slowdown in car sales.
"Right now, most of the cuts that have happened are in front-end sales jobs, but if this [slowdown] continues, then even the technical jobs will be affected because if we are selling less, then we will also service less. It is a cycle," the Press Trust of India quoted Fada president Ashish Kale as saying.
Around 2.5m people are employed directly at around 26,000 showrooms operated by 15,000 dealers. Another 2.5m people are indirectly employed in the dealership ecosystem, according to numbers reported by the news agency.
Reuters reported that a big Maruti Suzuki dealership on Mumbai's outskirts had no customers in the first two hours of opening on a Saturday. Previously, the outlet had 15 to 20 bookings each day.
Liquidity squeeze
Car makers are pinning their hopes on a revival on India's September to December festive season, which traditionally sees a surge in consumer spending. "One can only wish that things improve sooner rather than later," Reuters quoted P B Balaji, group CFO at Tata Motors, as saying. "With festive demand starting to seep through, we should start seeing a gradual improvement in sales."
But industry observers are less sure, saying that the country's liquidity crisis needs to be solved first. Non-banking finance companies (NBFCs), known as shadow banks, have dramatically slashed lending following the collapse of one of the biggest, Infrastructure Leasing & Financial Services, late in 2018.
In recent years, NBFCs have helped fund 55-60% of domestic commercial vehicles sales, 30% of passenger cars and approaching two-thirds of two-wheelers, according to rating agency ICRA.
As NBFCs typically lent to less creditworthy clients, banks are reluctant to fill the void, especially as they have to deal with around $150 billion in bad loans, according to the Reuters report.
"The car doesn't sell, it's the finance that sells," said R Vijayaraghavan, a senior marketing consultant at the Maruti Suzuki Mumbai dealership. "Today the finance is not selling, so the cars are not selling."
The liquidity squeeze is aggravating the slowdown throughout the industry. "I've been making my payments for the last 30 years and the lenders know me," said Adarsh Gupta, finance director at component manufacturer Autolite (India).
"But even a two-day delay has people crying that I will default. I, too, want to pay, but because of the fall in cashflows I'm facing short-term issues and because of that it's difficult to get more financing. This is the vicious cycle we are in."