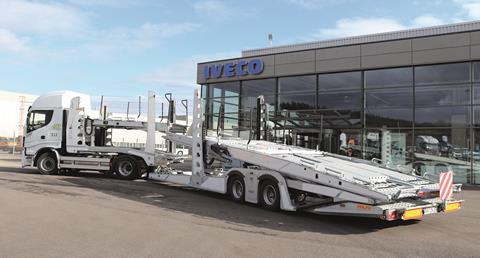 Finished vehicle carriers that have been trialling equipment powered by liquified natural gas (LNG) in an effort to reduce pollution may have been wasting their time according to trial results from the European Federation for Transport and Environment (T&E).
Transport & Environment (T&E) is a European group of non-governmental organisations promoting sustainable transport in Europe.
According to the consortium, LNG trucks pollute the air up to five times more than diesel trucks, a finding that contradicts truckmaker claims that LNG cuts nitrogen oxide (NOx) emissions by 30%.
Iveco, Scania and Volvo are all providing LNG versions of trucks to the transport industry in Europe.
However, the conclusions drawn by T&E are misaligned with the research, according to the Natural & Biogas Vehicle Association (NGVA). The association said that T&E omitted an intermediate report from the Netherlands Organisation for Applied Scientific Research (TNO) showing a reduction of NOx emissions in LNG trucks by more than a factor of six compared to diesel.
T&E tested three different LNG-powered trucks and six diesel trucks, including different models and specifications and found they emitted between two and five times as much NOx as a diesel truck when driven in a combination of urban zones, regional routes and motorways. The findings also revealed that when driven in towns and cities the LNG trucks released between two and three-and-a-half times more NOx than diesel trucks with low emissions.
In conclusion T&E issued a statement telling European governments they should stop encouraging the uptake of polluting LNG trucks by ending the extremely low tax rates that they benefit from in a number of European countries.
"Gas trucks are not clean and can actually be worse than diesel," said Stef Cornelis, clean trucks manager at Transport and Environment. "It's time for policymakers to have a fresh look at the evidence and put an end to gas truck subsidies, LNG infrastructure investments and tax breaks for what is just another polluting fossil fuel."
However, according to the Scania, the research does not support the conclusions.
"The input to this study comes from three different reports which were compiled for different purposes," said a spokesperson for the truckmaker. "From a statistical point of view, these few vehicles and variance in specifications does not provide a solid base for any conclusions."
He stressed: "Emissions from Scania's gas-powered vehicles are of lower levels than from the (fossil) diesel-powered engines."
In response to the criticisms T&E has published a detailed response and stated that it stood by the claims made in the original paper.
Transport providers
A number of finished vehicle providers have been trialling LNG powered trucks. Fiat Chrysler Automombile's own car carrier division, i-Fast Automotive Logistics, has been using ten LNG-powered Stralis tractor units supplied by truckmaker Iveco across routes in Europe since 2016. Launched in 2016, the Stralis NP 400 was the first natural gas truck specifically designed for long distance transport and i-Fast Automotive Logistics was the first car carrier to offer transport driven by an LNG tractor.
German finished vehicle logistics provider ARS Altmann has also been using a car carrier powered by LNG and supplied by Iveco for vehicle deliveries in southern Germany (pictured). It said at the time that the truck was an alternative to diesel and part of its response to stricter Euro 6 emissions standards, which limit sulphur oxide, nitrogen oxide, CO2 and particulate matter. Asked whether the T&E findings would influence its strategy, the transport provider refrained from commenting on the specific study but said it would be following developments.
Beyond the outbound sector DHL Freight also began trials earlier this year, using a Stralis truck powered by LNG to deliver parts between its logistics centre in southern Germany to the BMW plant in Munich. A spokesperson for the company said LNG was one of a number of innovative solutions it was exploring as part of its aim to reduce all logistics related emissions to zero by 2050.
"LNG is for us an innovative technology that has the potential to become significantly greener when using bio-methane in the future," said a spokesperson for the company. "Greenhouse gas emissions can be reduced up to 80-90% when using renewable gas, which we have started where possible, such as in Sweden."
In other markets, such as Germany, where biogas is expected to be available within a couple of years, DHL is now testing and implementing fossil LNG and CNG as bridge technologies said the spokesperson. That is part of a move towards blends with biogas as soon as it becomes more widely available.