In the first six months of this year, a total of 1.2m vehicles were exported from China, marking an annual increase of 47%, according to data released by the China Association of Automobile Manufacturers (CAAM).
Of this figure, passenger vehicles accounted for 945,000 units, an increase of 49.7% y/y, while commercial vehicles saw 274,000 units exported, up 38.8%.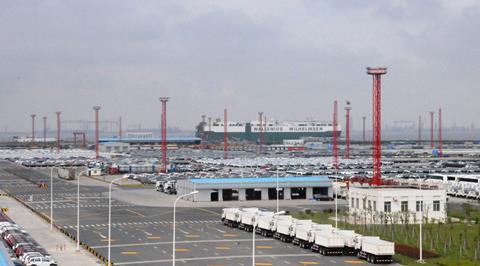 Within the mix, new energy vehicles (NEVs), which include pure battery electric and plug-in hybrid vehicles, accounted for 202,000 exported units. That compares to the first half of 2021 when only 88,000 NEVs were exported from China. This shows a significant growth in demand for Chinese built NEVs overseas.
CAAM states that, while some of its export markets have been affected by the Russia-Ukraine conflict, overall exports are up significantly.
"In recent years, the constant improvement of Chinese auto products has resulted in Chinese brands being more recognised in the international market. In particular, NEVs have become the current export highlight, with some enterprises successfully entering markets of developed countries in Europe," said CAAM.
The China Association of Automobile Dealers (Cada) said the main markets for Chinese-made NEVs are developed countries within western Europe, such Belgium and the UK.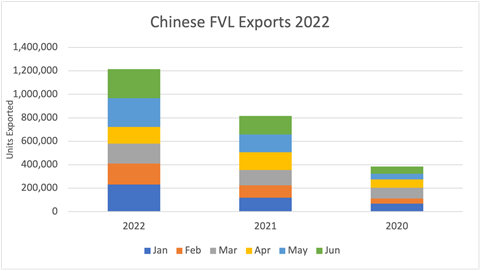 Shanghai fast tracks car exports
The Shanghai Haitong International Automobile Terminal is the largest vehicle exporting port in China and singlehandedly accounts for over half of the passenger cars exported from the country.
SAIC Motor, which owns brands such as passenger car brand MG and light commercial vehicle brand Maxus, sold 381,000 units (+47.7%) overseas in the first half of 2022.
SAIC aims to export 800,000 units this year. In June SAIC exported a total of 84,000 units (+59.4%), while in May exports hit 86,000 units (+97% y/y). SAIC's exports to Europe have increased over 200%, according to China's General Administration of Customs. Other growth markets include Australia, Saudi Arabia and Mexico. Overall, SAIC has sold 2.23m units in the first half of the year, with exports accounting for 17% of its total output.
Chery Automobile announced exports for the January to May period have reached a total of 112,400 units, up 18.4% y/y. Chery has launched sales of its Tiggo 8 Pro model in South Africa in the first quarter of the year, with plans to launch in Ecuador, Costa Rica and the Philippines.
Tesla has struggled through the April to June period because of Covid lockdowns and parts shortages, with full production at its Shanghai plant only resuming mid-June. In the first half of the year Tesla exported 97,122 cars from China, and is targeting annual exports of 300,000 units by year end, according to Reuters.
To fast track vehicle exports, the Shanghai Haitong car terminal has opened 40 fast lanes at the Waigaoqiao border inspection portal. This enables a 'zero waiting time' policy for customs clearance to ensure vehicle exports are not delayed. In May alone the port handled the export of over 78,000 vehicles marking a 31% increase from volumes exported in April, and a 6% increase compared to May 2021.
| Carmaker | H1 unit sales in Russia |
| --- | --- |
| | |
| Brilliance | 6 (93%) |
| Chang'an | 2,201 (-9%) |
| Chery | 11,147 (-27%) |
| Foton | 8 (74%) |
| Geely | 7,910 (-16%) |
| Havel | 11,65 (-28%) |
| Lifan | 56 (-87%) |
Policies to promote demand
The Chinese Ministry of Finance and the State Taxation Administration of China have issued a policy cutting the purchase tax of certain new passenger cars in China. Cars with engine displacements of under or equal to 2 litres, and purchased from June 1 to 31 December 31, 2022, are eligible for a 50% cut in the new car purchase tax. This policy is applicable only to vehicles priced under CNY 300,000 (£37,342).
The regular new car purchase tax is 10% of the cost price of the vehicle, before VAT has been added. With this new policy the tax is now 5% for small engine passenger cars, produced and sold in China.
Various Chinese automakers have added their own discount policies to further entice local buyers to their cars, calling the period a 'Duty-Free, Car-Buying Festival'.
In its first month, the tax cut policy has been used for the purchase of 1.09m cars in June alone in China.
Subsidy for NEVs
The Chinese authorities are considering extending subsidies for new EV purchases, which were due to expire 2022. Instead, these are poised to be extended into 2023, but as yet no official statement has been issued.
Meanwhile, city and state level governments have begun to issue their own incentives to entice car buyers to pure battery electric vehicles (BEVs) and plug in hybrid EVs (Phevs). For example, the Shanghai government will offer a subsidy of CNY 10,000 (£1,245) to those buyers who scrap or sell their existing cars in favour of a new EV from dealers in Shanghai. The policy is effective 1 June to 31 December 2022.
Policies on Covid
Covid-19 remains an issue in China, especially the Omicron variant, but previous lockdowns have now ceased in the major ports and cities, allowing trade and exports to resume. Truck drivers are now generally able to travel across the country as long as the driver's Covid test is negative and thus has a 'green health code' pass on his mobile device. Port congestion at the main car export ports such as Shanghai's Haitong Terminal have now returned to normal levels, with delays relating to ship berthing and arrival times.
China's General Administration of Customs held a press conference on July 8, where the '9th Edition of the New Coronavirus Pneumonia Prevention and Control plan adapted to form the 'New Corona Virus Pneumonia Port Prevention and Control Plan' was issued. This guides customs at all levels to duly strictly prevent the cross-border spread of the epidemic, whilst 'avoiding unnecessary interference to international traffic and trade.' These measures include terminal disinfection and optimizing non-contact cargo handover modes.
June car market update
Chen Shihua, Deputy Secretary General of the CAAM, stated on July 11 at a press conference in Beijing, that automobile production and supply were affected in the first half of this year by the shortage of chips and an increase in the price of raw materials for power batteries[1]. Especially since mid to end March when the Omicron variant crippled Shanghai and Jilin, as well as other areas of China seriously affecting the automotive supply chain in China. Therefore, from mid-March until the end of April the sales and production of automobiles experienced a "cliff-like decline" he said. But new policies to promote consumption and stabilise growth have been introduced since mid-May, including the 50% cut in the new car purchase tax for small-engine vehicles.
In June, a total of 2.49m vehicles were produced in China, with sales in the month of 2.5 million. Production volume has risen by 29.7% compared to the preceding month of April, and 28.2% up from 2021. Meanwhile vehicle sales have risen 34.4% compared to the preceding month of April, and up 23.8% y/y.
In the first half of the year, a total of 12.1m vehicles have been produced in China, with sales now reaching 12.05m, still down 3.7% and 6.6% y/y respectively. But the government's new policies aim to change this with the aim to hit annual sales of 27m units. Of this passenger cars are targeting annual sales of 23m units this year, giving the segment a 7% y/y increase compared to sales in 2021. Commercial vehicles are expected to hit 4m units, up 16% by year end.